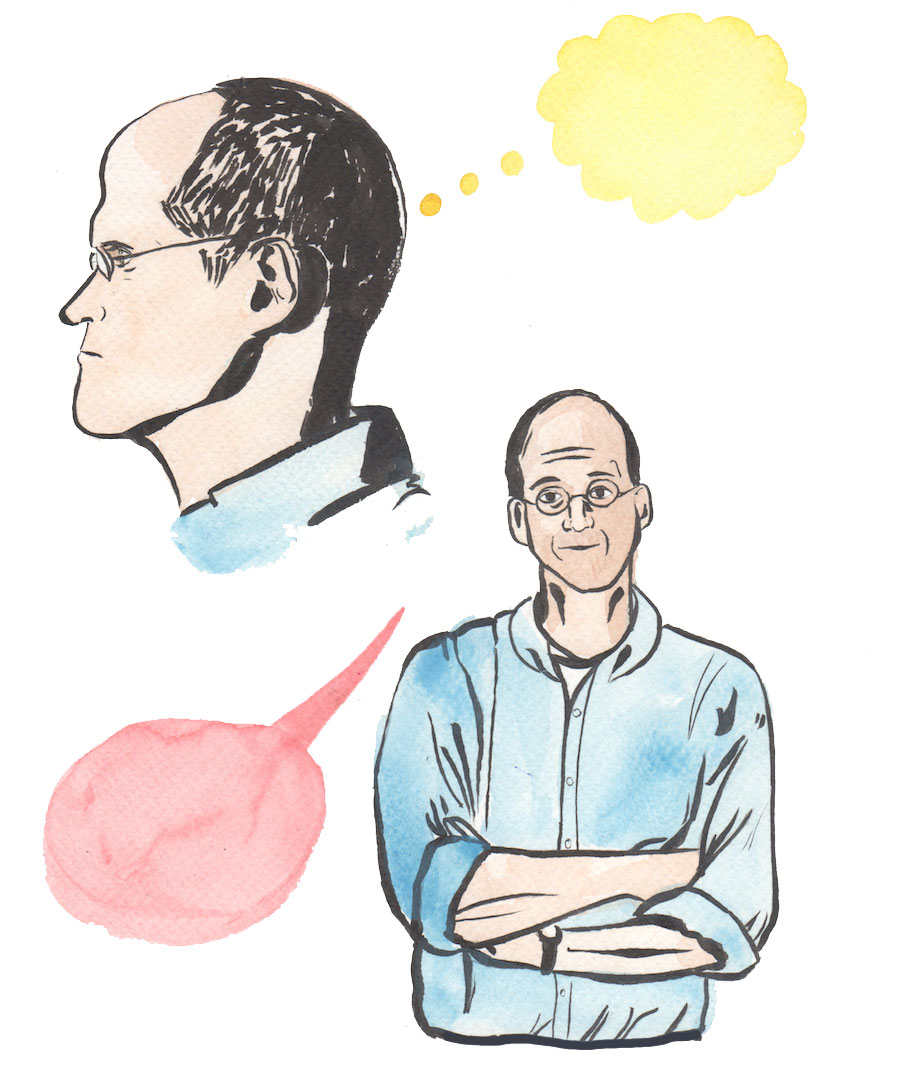 The corrigenda on the back inside cover of Chris Ware's first graphic novel Jimmy Corrigan, The Smartest Kid on Earth offers an apology. It is difficult to tell what exactly Ware is apologizing for: The note is a brief, heartbreaking essay on how closely (and somewhat accidentally) the details in "Jimmy Corrigan" align to Ware's own life and estranged father, with whom he briefly reconnected. Ware had intended to give the book to his father after it had been published, but couldn't: His father died of a heart attack before Ware had had the chance to spend more than a few hours with him. It's a weird apology. It feels more like a tiny shout into the dark cruelty of the world.
Weird apologies, however, are a strong suit for Ware. He apologized a lot throughout his conversation with Hamza Walker at Thursday's Visiting Artist Program talk. He apologized at length when he took a sip of water. He apologized when he felt like he was misinterpreting a question. He apologized mid-sentence at one point, adding, "Anybody who wants to leave, can. I won't be offended." In fact, the first thing that came out of Ware's mouth when he sat down for the talk was, "I profoundly apologize for whatever I bring here." After the audience laughed, he said, "One of the reasons I became a cartoonist was so I wouldn't have to do this."
Sitting on the huge stage in front of a full audience and a grand projection of a sample of his work, Ware looked strikingly approachable. He wore khakis and a button-down shirt with his sleeves rolled up, and he kept sitting on his hands and shifting his feet. He looked a lot like an optimistic guy at the beginning of a promising first date. If you didn't know differently, you'd never guess that he was one of the most unanimously celebrated living artists, or that he had had a massive impact on the way people worldwide saw comics.
Ware is one — and a significant one, to say the least — in a line of cartoonists who transformed the word "graphic novel" from a superhero-comics-digest term into something with a lot more possibility and breadth. In the shadows of Robert Crumb, Harvey Pekar, and Art Spiegelman (who became a mentor for Ware when he was at the University of Texas), Ware and others began exploring narrative, memoir, and realistic fiction in comic form. Ware published Jimmy Corrigan in 2003, which was named one of Amazon.com's 100 Books to Read in a Lifetime. He published Building Stories in 2012: An unprecedented box set made up of 14 gorgeous color comic books.
Ware's technical skill and obsessive attention to detail are unusual for a comic artist. That makes sense, considering his training: Ware studied painting and printmaking at the University of Texas and later pursued his MFA in printmaking at SAIC. Perhaps the main reason Ware ultimately committed himself to comics, which came out multiple times in the conversation, is that comics are unpretentious and accessible. They aren't to be marveled at on a gallery wall, or thought about for long periods of time; they exist to be consumed quickly and without a lot of mental energy. They make art and story available to all.
"The difference between comics and visual art is that visual art is meant to be looked at, and comics are meant to be read," Ware said, responding to a question about whether he ever had competing interests. "It's like the difference between speaking and singing."
Ware wants to make the kind of art that someone can take home without having to spend a lot of money; he wants art to be open and available to everyone, without the distance that seems to exist between a painting and the viewer at a museum.
"When you see a painting in a museum, and you don't understand it, you blame your own lack of knowledge. When you see a comic strip, and you don't get it, you think the guy who made it is an idiot," Ware said, smiling.
Something immediately apparent about Ware in watching him talk is that he is exactly the type of everyman he wants to make art for. He squarely eschews pretension, refusing to talk about "the art scene." When he spoke about his influences, he came off more like an excited, nerdy fanboy than anything else. As he clicked through slides showing the work of George Herriman (Krazy Kat), Charles Schultz (Peanuts), Frank King (Gasoline Alley), and Charles Burns (Black Hole), he spoke exclusively in superlatives. Even as he showed work by up-and-coming artists who are less established than Ware, he waxed on in reverence and awe.
It is exactly this quality which makes Ware such an exceptional artist: He has a deep empathy and love for his fellow man, and he seems to feel a sense of responsibility to create art that is deserving of the eyes of others. This is why he spends an entire week drawing just a page of comics, and apologizes for work that is all-but flawless: he believes in humanity, and wants his work to be a contribution.
Ware's conversation with Walker served as this year's William and Stephanie Sick Distinguished Professor lecture, and also marked the inaugural event in SAIC's Visiting Artists Program — a public forum that will this year feature Jeff Koons, Eija-Liisa Ahtila, Kunle Adeyemi, Sarah Vowell, Rona Pondick, Richard Mosse, and Christian Boltanski. Ware will be teaching at SAIC this year as a part of the William and Stephanie Sick Distinguished Professor program.