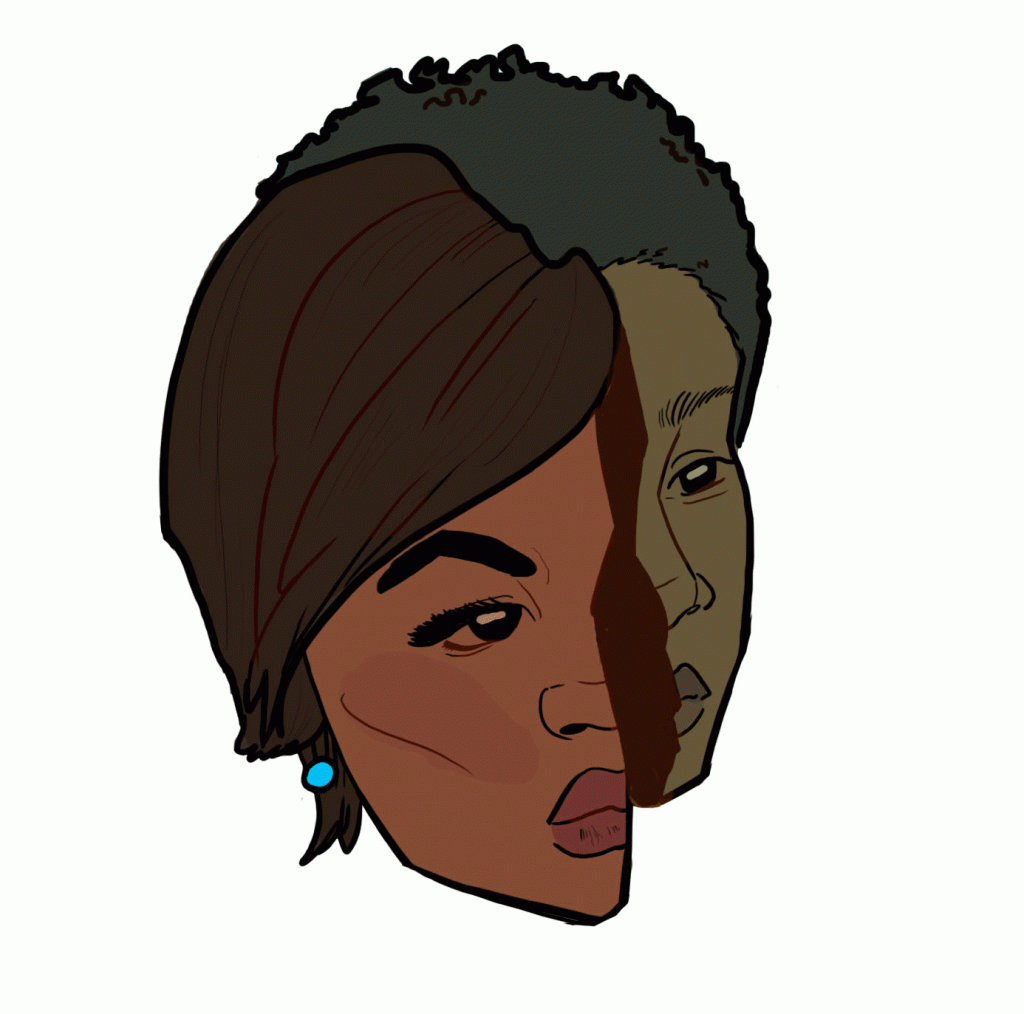 Illustration by Amber Huff
In September 2014, critically acclaimed African American actress Viola Davis gave an interview with Whoopi Goldberg and Rosie Perez on "The View" to promote her new television series, "How to Get Away with Murder."  In the show, Davis portrays the sexy, conniving, and brilliant attorney Annalise Keating. Davis, a Juilliard-trained actress with multiple Golden Globe/Oscar nominations and two Tony Awards, spoke of her enthusiasm and gratitude over being chosen by television writer/producer Shonda Rhimes to lead the show. Co-host Whoopi Goldberg turned to her to ask a question. Davis clearly seemed to know what was coming.
Just a few days before the interview, television critic Alessandra Stanley at the New York Times wrote about television, Shonda Rhimes, and her primetime shows, "Scandal" and "How to Get Away with Murder." In the article, Stanley wrote, "As Annalise, Ms. Davis, 49, is sexual and even sexy, in a slightly menacing way, but the actress doesn't look at all like the typical star of a network drama… Ms. Rhimes chose a performer who is older, darker-skinned and less classically beautiful than Ms.Washington or for that matter Halle Berry, who played an astronaut on the summer mini-series 'Extant.'"
The article faced a lot of backlash on social media and even from Shonda Rhimes herself. Davis laughed when the question came, but her face and tone gradually turned serious. She calmly stated, "I'm glad that Shonda Rhimes saw me. I think that beauty is subjective. I've heard that statement [less classically beautiful] my entire life. Being a dark-skinned black woman, you heard it from the womb. And 'classically not beautiful' is a fancy term for saying ugly. And denouncing you. And erasing you. Now … it worked when I was younger. It no longer works for me now. It's about teaching a culture how to treat you. Because at the end of the day, you define you."
"How to Get Away with Murder" is now a history-making television show. For her role on the show, Davis became the first African American in history to win an Emmy for Outstanding Lead Actress in a Drama. Davis's acceptance speech consisted of some of the most powerful words uttered on the Emmy Stage.
Much of the talk around the show in my own life and in public dialogue has centered around the character's hair. In several pivotal moments of the show, Annalise's hair is used to serve the story's narrative. There have been such strong reactions to these moments within public discourse that it became clear that hair — black women's hair in particular — represented so much more than aesthetic choice. Because of this, I decided to speak with black women about their opinions of the show and their own hair journeys.
In the episode "Let's Get to Scooping," Annalise discovers that her husband has had a sexual relationship with one of his students. Horrified and saddened, Annalise goes to her room, removing her makeup and wig to reveal her natural hair. It is short, coarse, and matted from being underneath a wig. The whole Internet lost its collective mind. Upworthy featured an interview with Davis and Ellen Degeneres titled "Her Character Was Only Supposed To Remove Her Makeup Before Bed. Then Viola Davis Made It Real." There was a Buzzfeed post called "Nothing Else Mattered After That Wig Came Off On 'How To Get Away With Murder.'"
In an article on NBC News, Yaba Blay,  co-director of Africana Studies at Drexel and author of "(1)ne Drop: Shifting the Lens" on Race describes the scene as "unapologetic" and "powerful." She writes, "In so many of the media images around black women, they come to the space as is. Audiences hardly ever get a three-dimensional look into them. We never see Olivia Pope do her hair, touch her hair, anything." The power of the scene lies in the reality that although black women are frequently represented on television, the intimate moments of their lives are seldom presented on screen.
My friend Dana offered, "It's not just that it's a black woman's hair. It's a certain kind of texture. Tracee Ellis Ross wears her hair natural all the time, and it's beautiful. But it's a more understandable kind of hair. Viola's hair is the kind of hair that you fix or manage. It's the kind of hair that you solve."
Consider that the TSA has only recently loosened restrictions on searches of black women's hair. Even the U.S. Army rolled back recent bans on a number of hairstyles for not being representative of Army standards of grooming — most of which were hairstyles commonly worn by black women.
However, for all of the work the scene does in validating black women's hair, the character's natural hair is revealed for the first time in a moment of deep personal pain. My mother, Nevetta, claimed, "People were saying 'Now [Shonda] didn't have to do all that with taking off the wig.' We are so embarrassed by our own hair. That's our hair! That's what it looks like."
Sydney Stoudmire, executive director of Women Made Gallery and owner of a hair business, offered similar insights. She said, "People are very protective of those moments. Some people don't want to see it. … I was happy because I know how many people saw that." For some, removing the wig represented a vulnerability that went too far and that couldn't be entertaining.
Hair was linked to a personal journey for everyone I interviewed. Each of the women has "gone natural," meaning they have stopped using chemicals or heat to straighten their hair. Sydney has been heavily involved in the natural hair movement since her time in college when she started a support group for black women with natural hair. "I had this weave on my head, and it felt like a weight. I just cut it out. I felt liberated," she said. "I started a Facebook group as a support group for girls with natural hair. The group was called Supernatural." In the Supernatural Facebook group, women talked about the stigma of natural hair, their concern with being seen as attractive and professional. "It was more than hair," she said.
Dana has gone natural as well. Dana is biracial and grew up in a predominantly white community in the Seattle area. She spoke of her experiences wishing she had hair like those around her. "I was the only one with hair like mine," she said. Dana spent years undergoing chemical hair straightening but grew tired of the time commitment and cost and saw going natural as both a personal and even financial liberation. She said, "When you go natural, you have to redefine what is beautiful to you. If you thought that long hair was pretty, you have to learn that short hair can be pretty. If you thought that straight hair was pretty, you have to learn that coarse, tight curls are pretty too."
In another episode entitled "Mama's Here Now," Annalise is distraught over the loss of her husband. She is more vulnerable and helpless than she has ever been, and she cannot leave her bed. In a moment of exasperation, she calls her mother, Ophelia, played by Cicely Tyson. Ophelia also wears a wig. The symbols of Annalise's depression are her unkempt house and her natural hair. Sydney explained it this way: "It became clear there was a pattern. Her natural hair was with a fight with her husband, she's drinking alcohol, or she's crying. I remember feeling that and recognizing that."
Despite having called her mother, Annalise seems disappointed and upset by Ophelia's presence in her home. One of the emotional climaxes of the episode erupts in an intense argument between Annalise and Ophelia in which Annalise reveals that she was sexually assaulted by a man she calls "Uncle Clyde." Annalise confronts her mother, demanding to know why she did not adequately protect her since she was aware of the assault. Without revealing too much, the scene highlights that Annalise's low self-worth and deep shame are related to this traumatic moment. What's the sign of her profound shame? Her natural hair.
Before Ophelia leaves, she and and Annalise exchange an intimate moment of reconciliation. Ophelia says, "Let me at your hair. Your kitchen is tired."
In this moment, Annalise sits bedside while her mom combs her hair. Her natural hair this time is the symbol of resilience, intimacy, and the maternal bond. Up until this point, Annalise's natural hair has been a signifier of separation from others and brokenness.
We are starting to see black women represented in novel, intimate, and complicated ways on primetime television. Black female characters are not purely the product of harmful and negative stereotypes or stifled by the burden of respectability. They are queer, trans, sexy, villainous, heroic, flawed, and have undeniable agency. Perhaps we come closer to liberating black women as a whole when we complicate the ways that they are understood in public space and by encountering varied portrayals of black women.
In speaking with my mother, it was clear she was acutely aware of how her natural hair may affect her professional life and may even cause some to deal in stereotypes about her suspected criminality. She said she gets followed by store security if she wears her hair natural or in braids. My mother did not know what her natural, unprocessed hair looked like until she was in her 50s. Her personal journey highlights the struggle to define individuality as a black woman. I think it is appropriate to end this exploration with her words: "I do not conform, and I love it."