Illustration by Sophie Lucido Johnson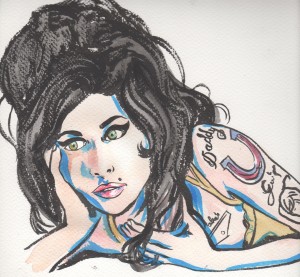 When Amy Winehouse first appears on screen in the documentary Amy, she is recognizable, but something about her is surprising. This version of Winehouse — who is 14, playing around with her friends in someone's living room — is unabashedly young and likable. As she cracks goofy jokes and sucks on a lollipop, she resembles anyone's lovably awkward teenage neighbor rather than the ubiquitous tabloid denizen who had become so infamous by the early aughts. It isn't until Winehouse sings "happy birthday" to the camera with that indistinguishable raspy lilt that it becomes clear that this giggly teenager is discernible as the perfectly tragic figure whose public downfall is known throughout the world.
This unfamiliar portrait of Winehouse is perhaps the greatest accomplishment in Asif Kapadia's documentary, which debuted at the Cannes Film Festival to massive critical praise. Kapadia was given full creative control over the movie, which was originally commissioned by Winehouse's label, UK Universal. Despite its purpose at inception, Amy is less glossy and much bleaker than the textbook celebrity documentary. It feels like watching a Greek tragedy: it is a train wreck in slow motion, with devastating attention to detail.
Most of America got to know Winehouse in 2006, when she released her Grammy Award-winning album Back to Black. By then, Winehouse was already a caricature: she wore a disheveled, bowling-ball-sized beehive hairdo and regularly smudged, over-the-top cat eye makeup. She appeared in public obviously drunk or high, with blood on her shoes and bruises on her arms; she dressed in low-cut tops so you could see where she had her boyfriend's name tattooed on her chest. While "Back To Black" was both mature and wise, Winehouse herself appeared to be neither. The world became fascinated with a woman who was, by all accounts, a broken genius. Her antics belonged to the press, and no one argued about that. After all, that's the known going rate of celebrity.
Amy paints a very different portrait of the singer. The movie's success rests on hundreds of home videos and early interviews, largely provided by Winehouse's original manager and friend Nick Shymansky. This crucial footage shows Winehouse in small, incredible human moments: putting on makeup before an early show, sleeping in the back of a van, and laughing with her friends while spinning little inside jokes. Winehouse is exceptionally charming, and very witty. Throughout the first half of Amy, she appears as the type of charismatic, goofy person you'd want to grab an ice cream with after a basketball game.
There's footage of Winehouse in 2004 on a British talk show. She's got sunny makeup on, and she looks a little nervous, as though someone is going to figure out at any moment that she doesn't belong there. The interviewer, Jonathan Ross, asks her if anyone on her record label has tried to mold her or change the way she behaves in any way. Winehouse, narrowing her eyes, says, "Um, yeah, one of them tried to mold me into a big triangle shape, and I went, 'No!'" The audience laughs, and Ross says, "You know what I like about you is the way you sound so common." He doesn't mean it as an insult: this scaled down version of Winehouse, like the rosy-faced teenager in the first scene, is refreshing and personable. It is nearly impossible not to fall in love with her.
As Winehouse's fame swells, she never becomes quite comfortable. On an early radio interview, she confesses, "I don't think I'll be at all famous. I don't think I could handle it. I'd probably go mad." Then, as her shows get bigger and her albums sell more, her anxiety and fear are palpable. She turns to every addictive substance in the book: most notably antidepressants, alcohol, crack cocaine, and heroin. She becomes obsessed with her boyfriend, and eventual husband, Blake Fielder-Civil. Additionally, she's suffering from bulimia, and her weight plummets exponentially. From this angle, the audience can see someone visibly suffering: she is the portrait of a person whose sickness no one wants to fully acknowledge.
But Amy makes it clear that Winehouse was, indeed, sick. What's more tragic, though, is that it is equally clear that as her mental health deteriorated, Winehouse consistently wanted to get better. Despite the success of her biggest single, "Rehab," which lyrically touted the opposite, Winehouse did go to rehab eventually. During her stay, she told a doctor, who was interviewed for the documentary, that she didn't want to die. After Fielder-Civil was sent to jail in 2008, Winehouse went to St. Lucia to retreat and ostensibly heal. There are graceful moments in the throes of her decline where she seems momentarily revived: she seems to be fighting her sickness, and winning.
There is a disturbing episode of the BBC's nature documentary series Planet Earth in which a Komodo dragon bites a water buffalo five times its size in the leg, injecting a slow-acting venom that the water buffalo doesn't realize is there. Over the next three weeks, the water buffalo continues going about its daily life, while the Komodo dragon follows, watching. More Komodo dragons join, all just watching. The buffalo's health weakens as the dragon's poison works its way through its body. Finally, after immense and drawn-out suffering, the buffalo dies, and the dragons feast on its flesh.
Watching the end of Winehouse's life through the lens in Amy evokes a similar sentiment. We watch her as she is barraged by photographers everywhere she goes. We see her visibly pained by the constant attention. We watch a comedian unapologetically compare her to "a campaign poster for neglected horses," to uproarious laughter and applause. We know that she is dying, and that in many ways, that's exactly what the hungry paparazzi want to see.
Kapadia's documentary is unapologetic with this lens, and as devastating as it is, his angle is important. Our cultural understanding of celebrity is that it abrogates humanity; Amy documents the real-world consequences of this publicly understood opinion. Surely, this was not the documentary that Universal UK had hoped for. The audience, on the other hand, is in for a treat.