Fellah Hotel in Morocco
On the outskirt of Marrakesh, away from the rumble of the souk and the city centre, the Fellah Hotel is a 27 acres dream for eco-conscious travellers who love art and culture. It combines varying activities, from sports to literature, for a complete experience. Guests can enjoy daily yoga and thai boxing classes, and then head off to the hotel's farm to pet the donkeys and the goats.
All rooms are unique, decorated in a tasteful blend of traditional Moroccan and Berber motifs, and modern furnitures. The Fellah Hotel's Spa specializes in Moroccan treatments, such as honey facials and traditional Hammam.
As you would expect, at Fellah Hotel all the food and beverages are local and organic, and the hotel's Touco Café is run by residents of the nearby  Tassoultante village.
Yet, Fellah's most unique and interesting feature might be its artists in residence program (currently hosting Aisha Sasha John, and Ma'n Abu Thaleb), as well as its extensive library (no less than 10,000 books) which is free and open to both guests and the public. Fellah Hotel is also a premier sponsor of the Dar Al-Ma'mûn foundation, and houses the UNESCO recognized not-for-profit organization's library and cultural arts centre. The Dar Al-Ma'mûn foundation supports Moroccan visual and literary artists and also puts together educational programs for women and children.
Six Senses Soneva Kiri in Thailand
The Six Senses Soneva Kiri in Koh Kood, Thailand, is made up of no less than 35 villas. Each comes with its own private pool and is built with locally and sustainably sourced wood.
Situated 350km southeast of Bangkok, Koh Kood is the fourth largest island in Thailand. However, it remains almost completely preserved from rapid and chaotic urban development, and is home to less than 2,000 residents.
Emphasizing Slow Life and sustainability the Six Senses Spa offers treatments based on locally sourced products; think bamboo mist shower and thai herbal candle massages. The hotel also receives visiting practitioners, specialists in their own field of wellness, from Japanese Reiki to Brazilian Jiu Jitsu. At Soneva Kiri, guests can also benefit from private yoga and pilates lessons, as well as meditation sessions and Chinese tai chi classes.
Soneva Kiri has its own private bay, makes its own honey, and prides itself of a "No news, No shoes" philosophy. Last but not least, the hotel counts with an open-air over water cinema, as well as a chocolate room and an ice-cream parlour.
Masseria Torre Maizza in Italy
Located in the southern region of Puglia in Italy, the Masseria Torre Maizza is surrounded by historical monuments and medieval villages.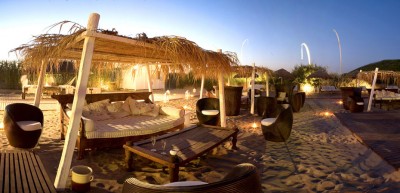 The hotel's Coccaro Beach Club has been voted one of the best in the world by Times Magazine, and the hotel's Spa Aveda proposes luxurious packages using all natural products from the brand Aveda.
At Masseria Torre Maizza, there are activities for children with a focus on nature, animals and ecological activities. There is a Botanical Park too, where experts give guests a few tips to grow their own plants and vegetables at home. Among the many activities it proposes, the hotel also organizes bicycle tours in the nearby WWF park, and even cooking classes.
Adept of the km zero philosophy, the Masseria Torre Hotel sources most of its fish from the Savelletri village nearby. Equally, the meat, fruits and vegetables, as well as the cheese are all sourced locally. The region of Puglia, where the hotel is located, is also a goldmine for some of the best wines and oil of the country, making the Masseria Torre Hotel the perfect destination for food-lovers.