Last Friday evening, roaming through Zhou B Art Center's four floors for the first time, I had an unexpected and entirely unforgettable encounter with the artist Martin Bernstein. His studio space at the Center also also happens to be his living abode.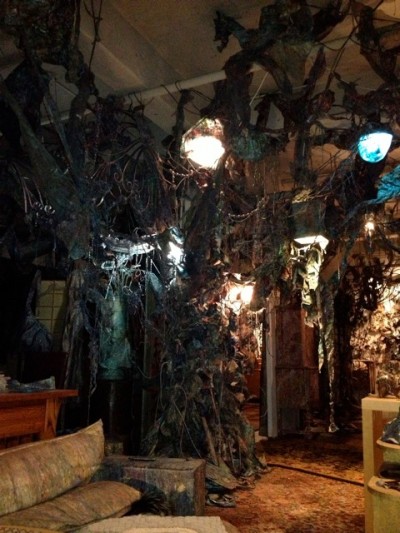 As soon as you step into the mysteriously lit room, Bernstein's universe swallows you whole. There is so much to see there, so many hidden treasures created with an astounding attention to detail, waiting to be discovered. The walls are covered with curtains and what appear to be papier-mâché sculptures. There are infinite layers of paint and textures. The ceiling drips with garlands of pearls, paper and fabric. His furniture has been transformed with multiple layers of material, creating luxuriously organic rococo-like effects. From every nook and cranny of this magical space a myriad of objects covered in pearls, shells, threads, jewels, ties and only God — and Bernstein — know what else, are sprouting off in every direction.
This is how Bersntein describes some of his work:
It is the layering of textures upon textures, objects upon objects that link the painted works and the assembled pieces. Whether it is the pirate's treasure hidden from view by 20,000 leagues of water, or ancient scrolls buried by the sands of time, something is always there to be discovered. 
In addition to the paintings, installations and objects, Bernstein also creates intricate and delicate jewelry, which is available for sale.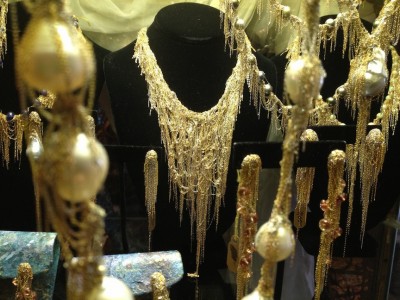 Bernstein's studio is a one of a kind, and an incredible experience. If you haven't visited his magical space yet, make sure you do it soon. At the beginning of October, Bernstein and his work will be leaving Zhou B Art Center to tour the country.
For more information, visit http://www.martinbernstein.com/