"Can someone tell me what this insanely long line is for?"
Attendees of SAIC's Spring 2013 Undergraduate Exhibition opening reception last Friday heard this question from passersby at least once every 5-10 minutes while, along with a line of hundreds of others which stretched from the Sullivan doors at 33 S. State St. all the way around the block onto Wabash, they patiently awaited entrance into the Sullivan Galleries.
Those who thought they might make a sly entrance from the back doors on Wabash (including me and my friends) were met with security along every possible route. Even students who displayed work in the show defeatedly flashed paperwork proof to indifferent guards, who, no matter the guest, could not exceed the fire codes' maximum capacity in the exhibition space. "This really wasn't well thought out," observed one member of security near Sullivan's rotating doors.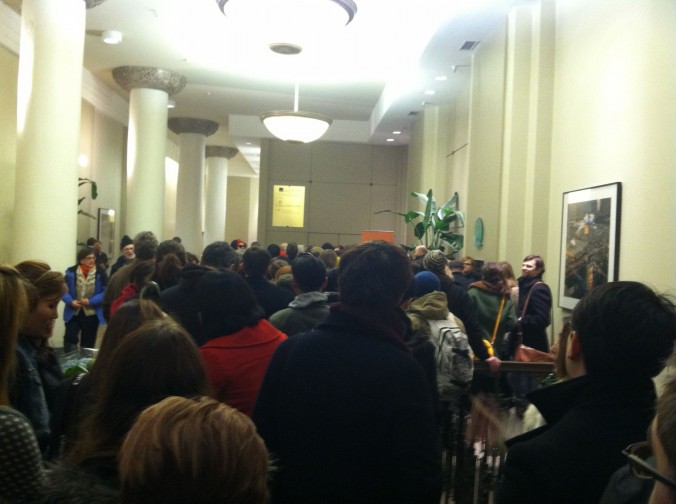 But the sensory overload that greeted exhausted, elated visitors inside was arguably worth the wait. (Apologies in advance for some hazy cell phone photos!)
F's own multimedia editor Sanglim Han offered one of the most captivating pieces in the mix. Her surreal "Packages for You" installation featured stacked cardboard boxes labeled with packaging standards like "Fragile" and "Scan Me." But with the help of projected video, many of the boxes were stuffed with Sanglim, struggling and wrapped tight with bubble wrap.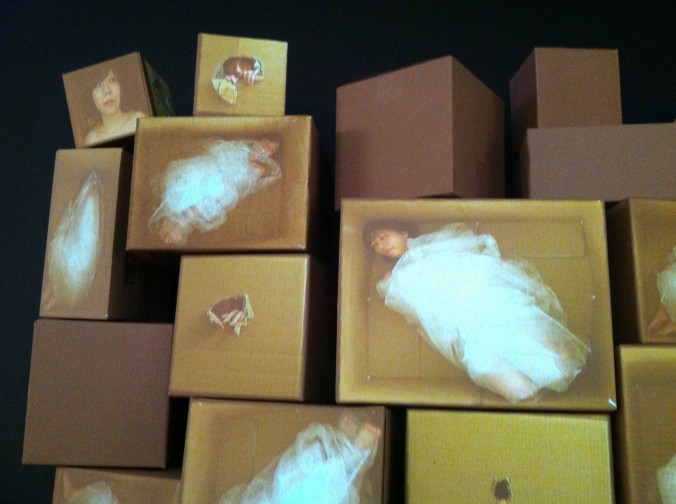 Jason Decker's stoneware "Desert Rogue" put a sci-fi twist on neoclassical sculpture.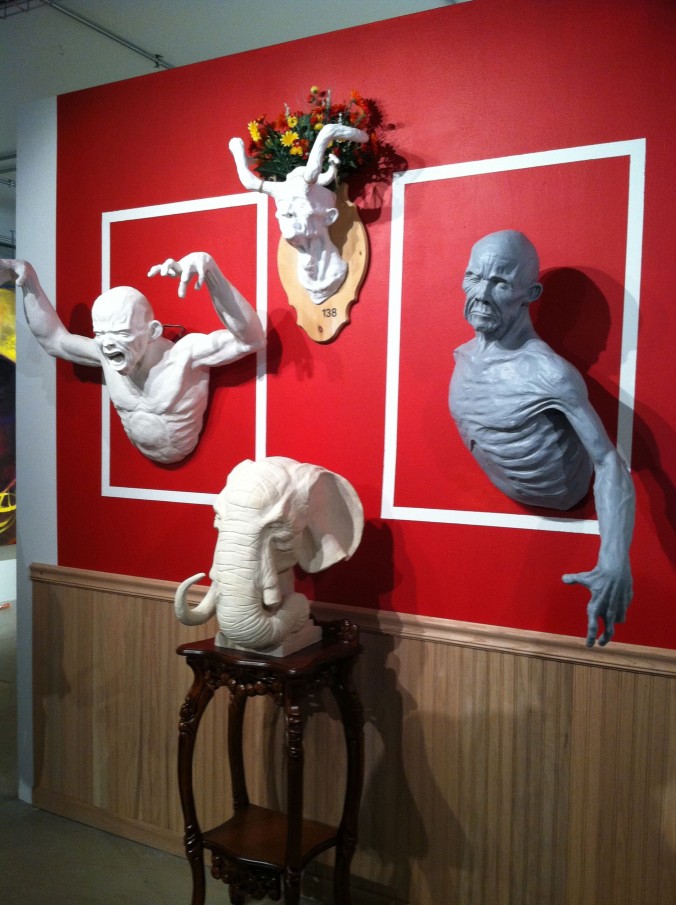 Ryan Niksic's (she was an illustration classmate of mine! So proud. . .) installation "Arabica Wars" immersed visitors in a twisted storybook narrative; a life-sized leather-clad soldier heroine plans for attack over a glass-top table housing a miniature landscape. She is bombarded by Sandy Skoglund-style sculptural insects hanging staggered in the air. Inexplicable donuts added a touch of humor to the dark, whimsical assemblage.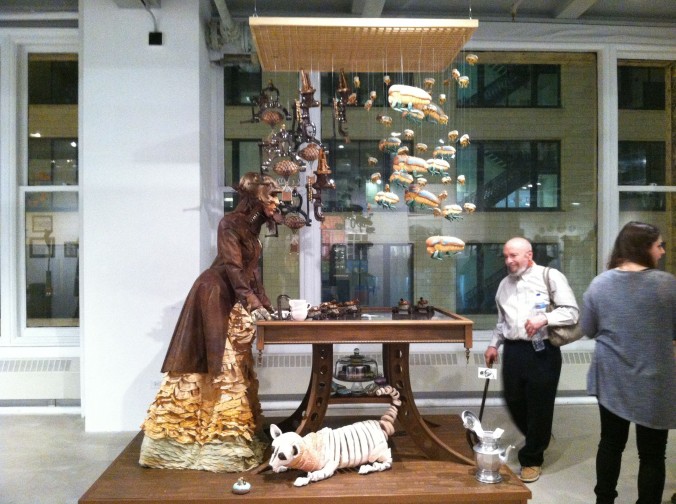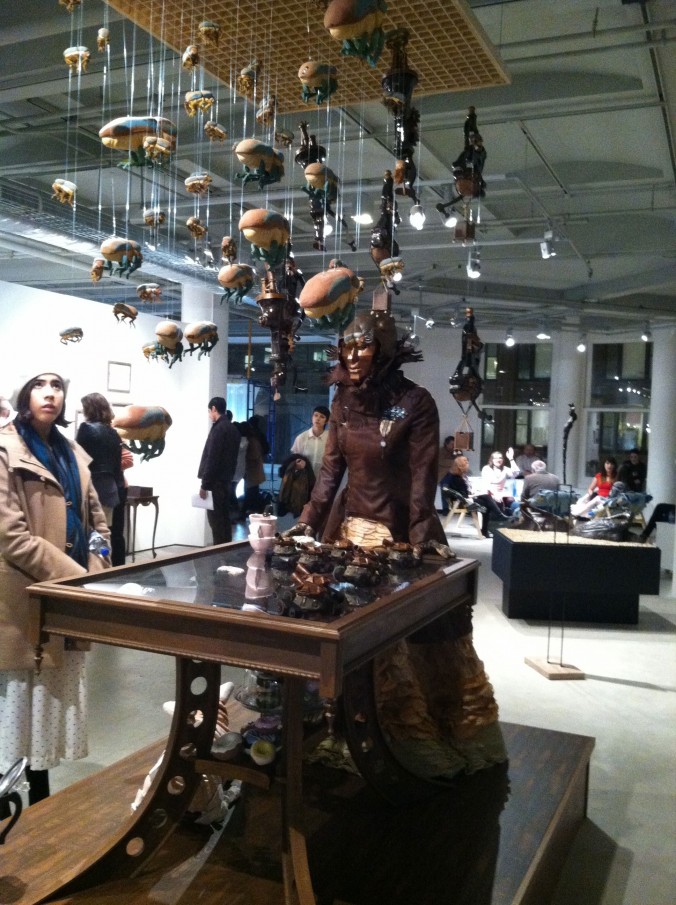 Bora Kim's video installation "Ah" hilariously and subversively spliced together a vast number of lady-sighs from soap operas.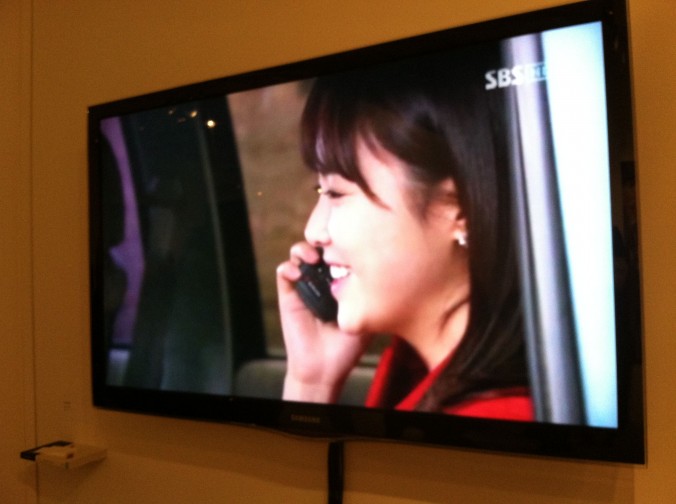 Allison Vellas created this eerie Lisa-Frank-goes-to-the-butcher (I meant that in a good way) installation called "Lunch," complete with a fancy teacup full of fuschia glitter.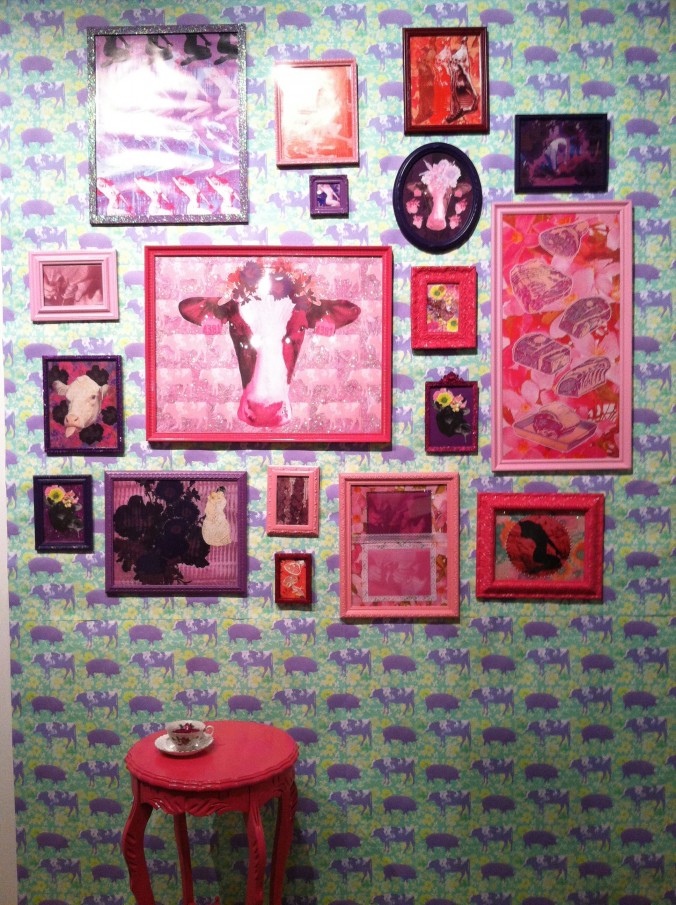 Katherine Walker's Untitled mountain screenprints provided an oasis of calm among the noisy chatter.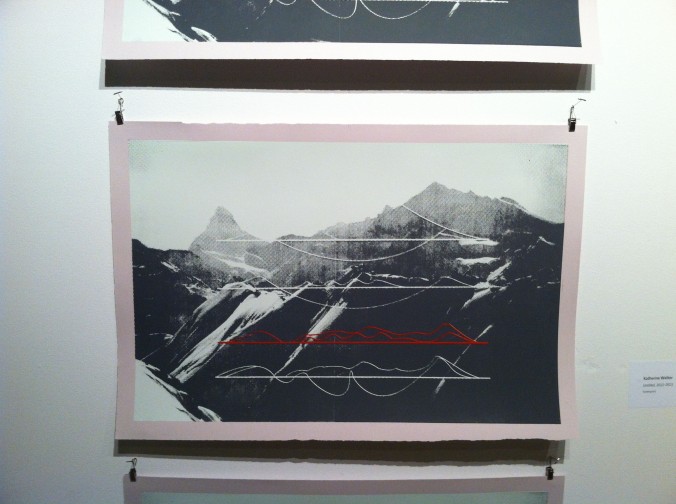 Harvey Moon's enormous drawing machine produced thin, elegant lines before a mesmerized audience.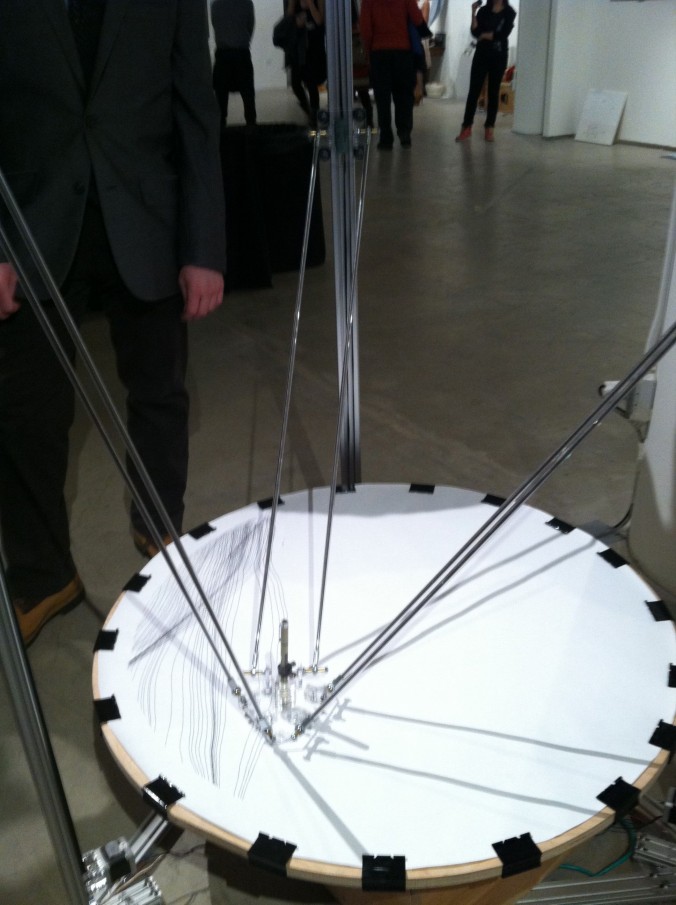 Taeksu Angelo Kim offered these haunting Untitled paintings.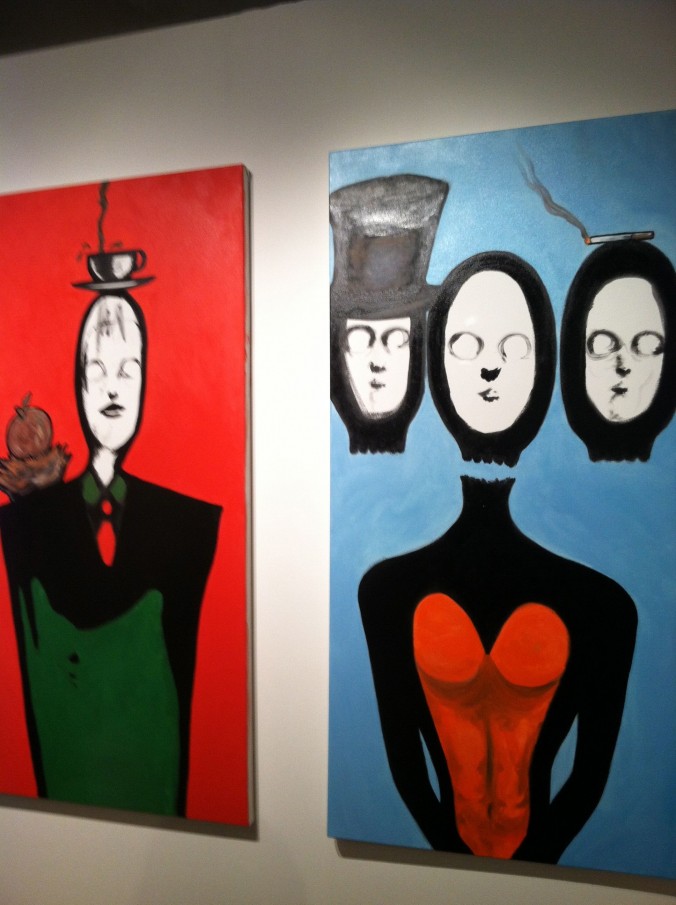 I was drawn to Lori-May Orillo's "Cloud House, or Claude" installation. Her surreal arrangement of objects created a world reminiscent of a rural childhood.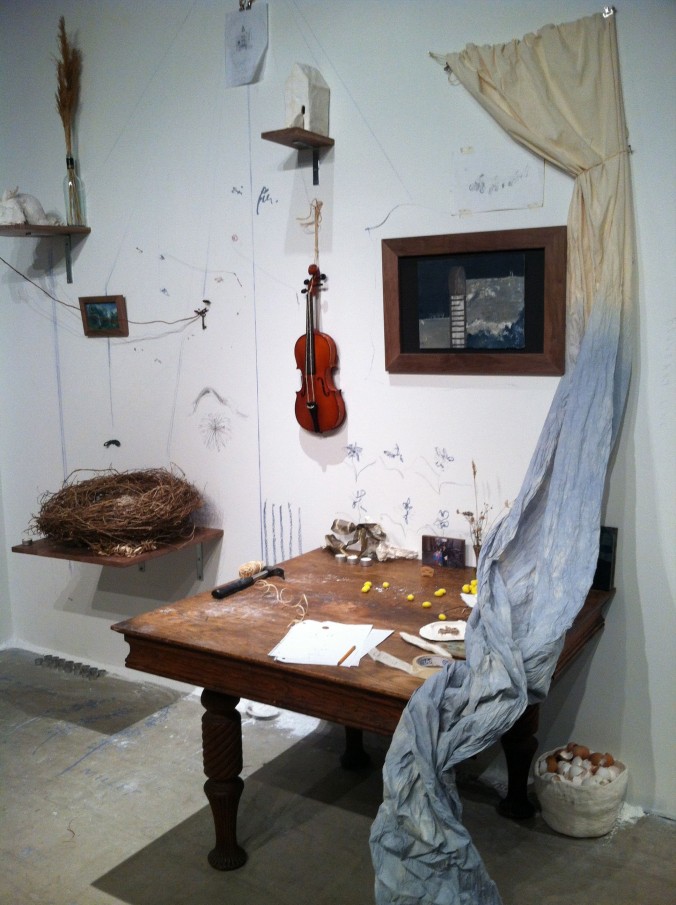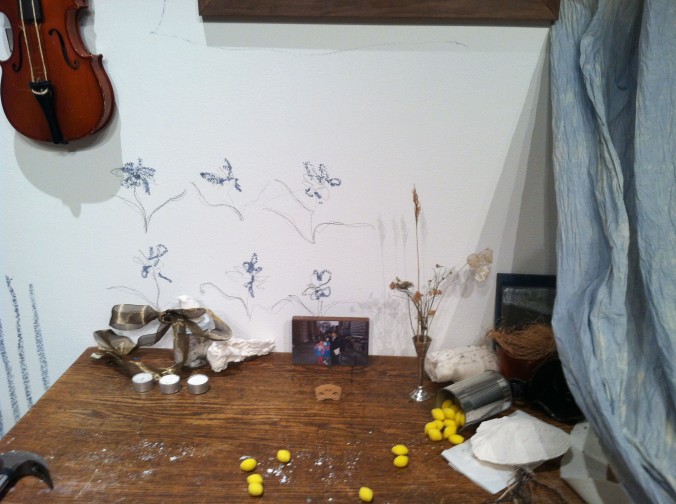 Dinah Goh made a colorful portal of advertisements called "A Wheel of No Value."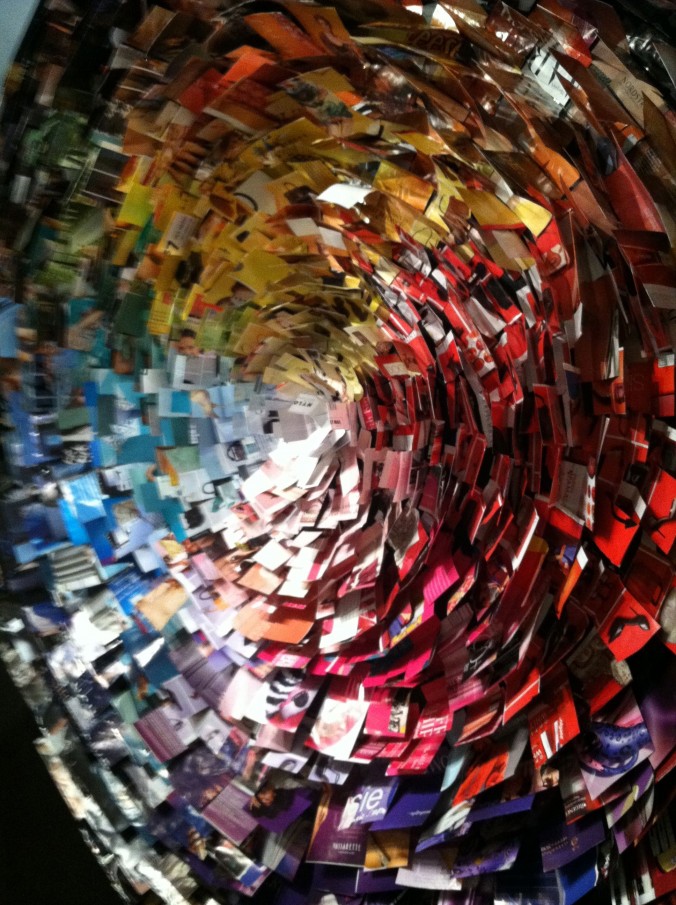 I thought this was a performance piece, but it was just someone mopping.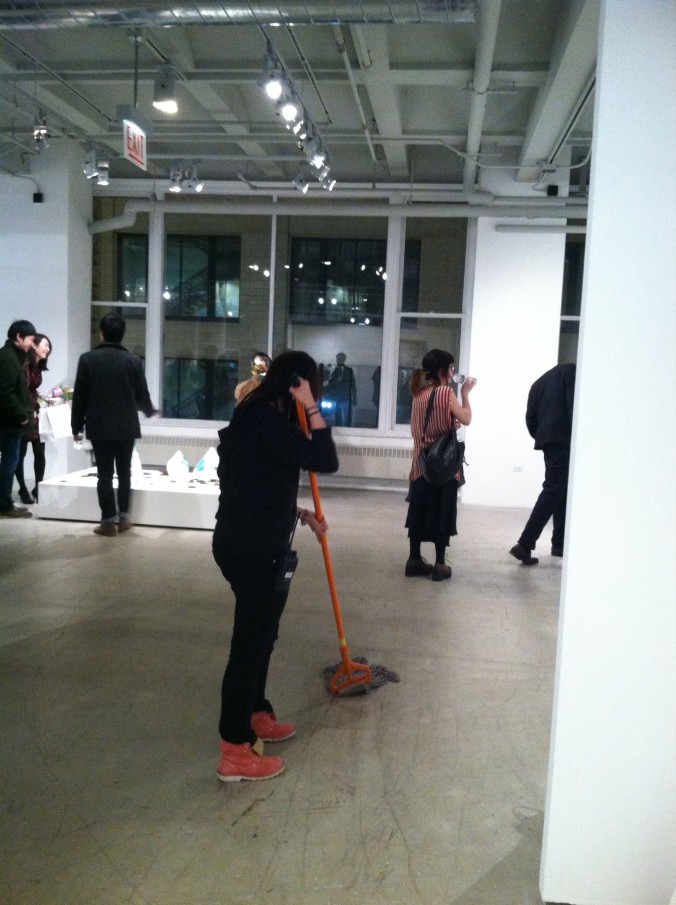 F's art director Alli Berry created this neon artist book/sculpture exploring methods of publication.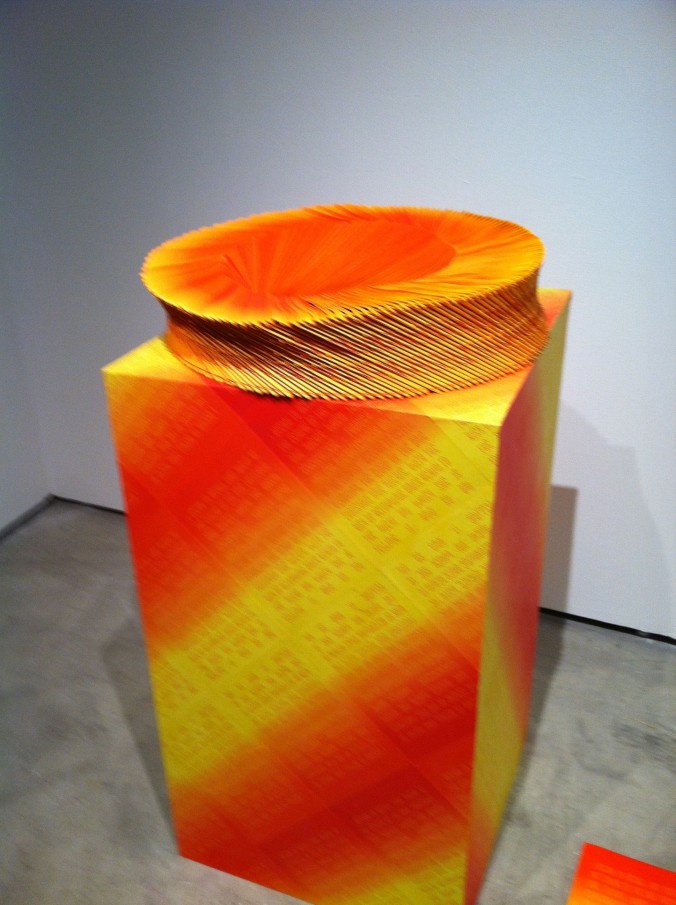 Jennifer Yung (another illustration buddy!) showed off her meticulous skills in this lush, insanely detailed watercolor diptych.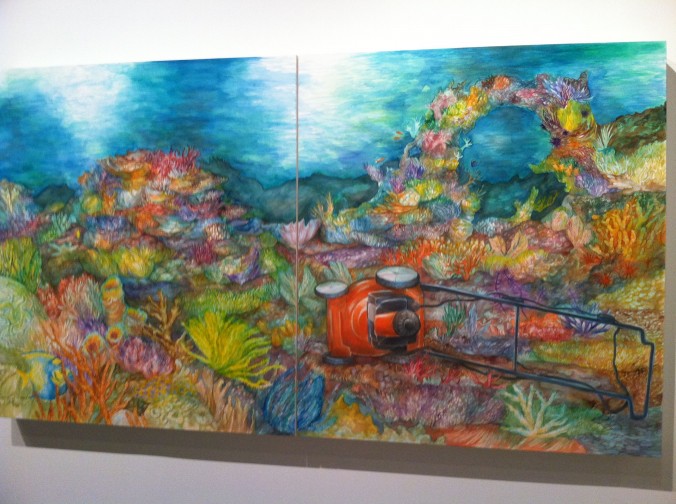 And Chottip Nimia-Orr filled a wall with a graceful figural mural with 3-D elements called "Doux Viandesfilled," with fluid movement that reminded me of  swirls on peppermint.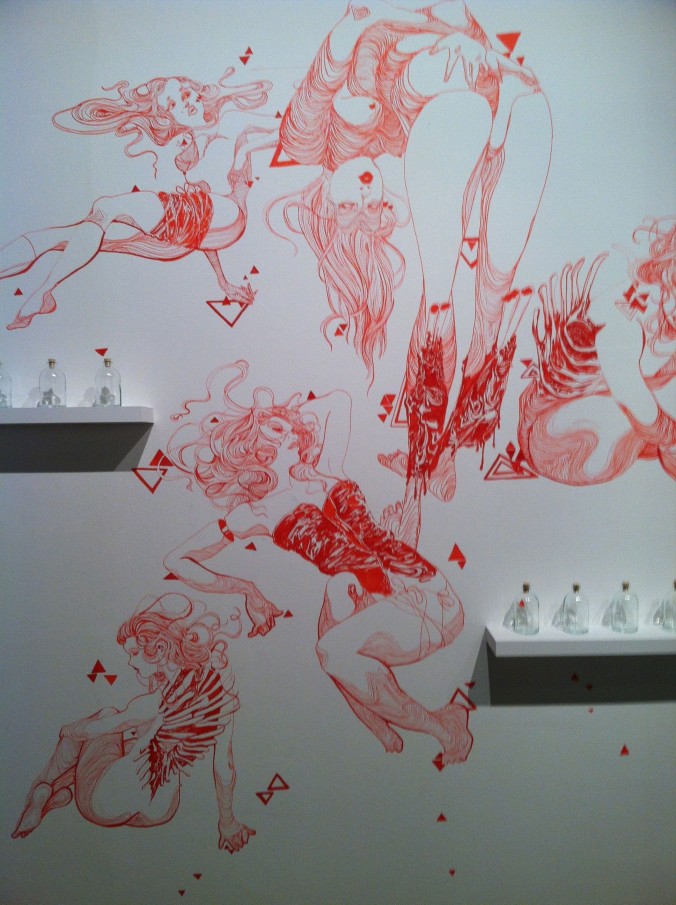 Fashion installations were spread throughout the gallery, including Adrianna Tenorio's ultra-feminine spiked "Corset," flanked by two agressive "Queen B**" colored pencil drawings.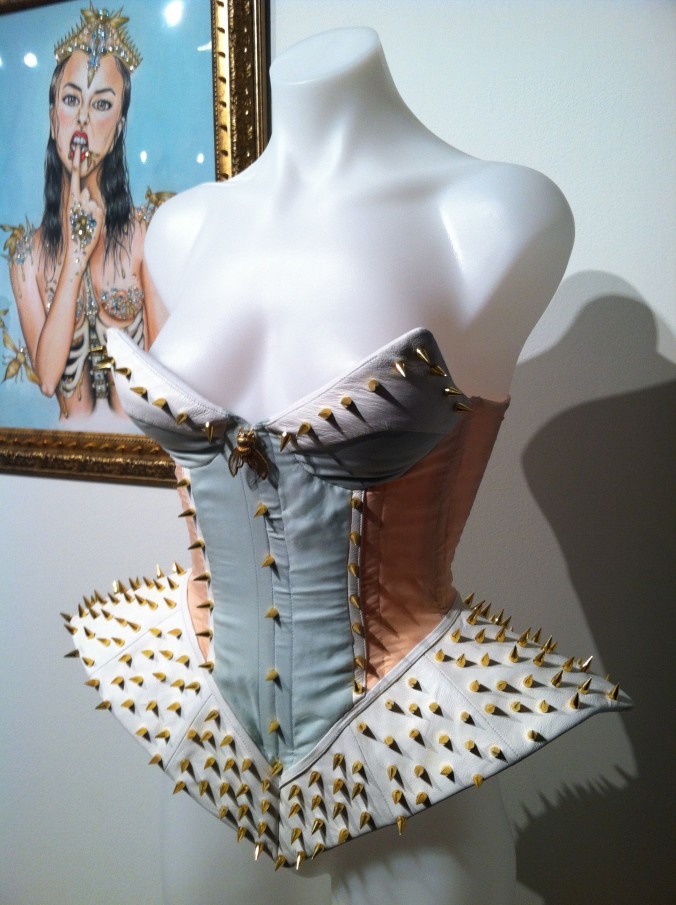 And Brooke Jenson displayed her handbag collection, including this knife-sharp bronze clutch from her recently-founded brand SNJOA.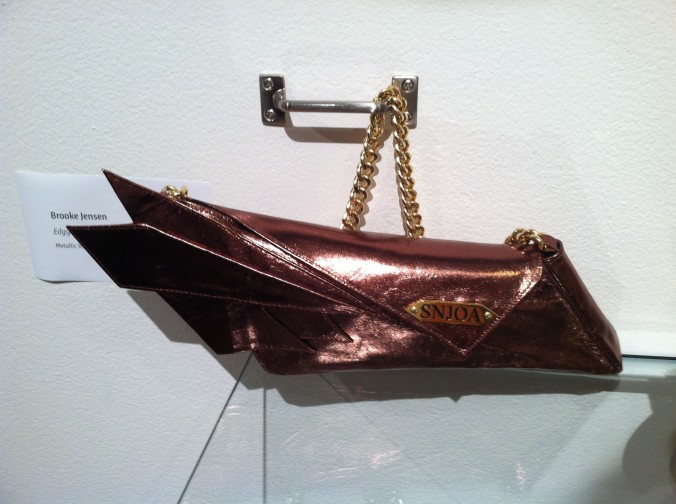 So yes, lots to see; I am still recovering. I only captured a snippet of the works on display, and iPhone photos hardly do the pieces justice. Visit in person at 33 S. State St., 7th floor. The space is free and open to the public Tuesday–Saturday, 11:00 a.m.–6:00 p.m.