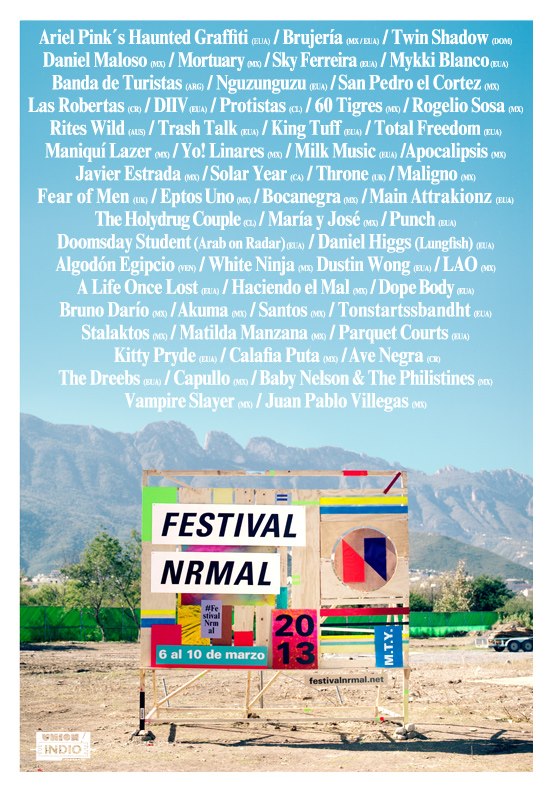 Last week, Monterrey, Mexico-based organizers at Nrmal announced the lineup for their annual music festival to take place in March. Nrmal has become a widely anticipated event among fans of the independent music scene in Latin America, and a more viable alternative to the nearby SXSW in Austin that takes place around the same time, which has become more of a corporate clusterfuck than a conference championing up-and-coming musicians. There are few festivals like Nrmal mainly because the organizers have been good at featuring a wide array of mostly independent bands from countries like Mexico, Venezuela, Chile, Argentina, and, of course, the U.S. The biggest names from the U.S. include Ariel Pink's Haunted Grafitti, model-turned-singer Sky Ferreira and DJ duo Nguzunguzu. From Mexico highlights include Tijuana's María y José. DIY'ers Capullo, and electronic artist Daniel Maloso.
The same playful disdain of hipsters occurs south of the border (the term 'mipster,' or Mexican hipster, is a thing), but it's an active community, so this is a beloved event for music fans all around the country. It has also become a way for U.S.-based media to take notice of the vitality of the community of artists that comes together for the event. The Fader covered the festival last year and Pitchfork has tuned in. Eventually, news of independent bands in Mexico will be less of a novelty and simply part of standard music coverage in the U.S.
Nrmal takes place on  Saturday, March 9 in Monterrey but the poster lists March 6 through 10 for all the pre- and after-parties and programming. Tickets are a whopping $23.66, not including service fees.