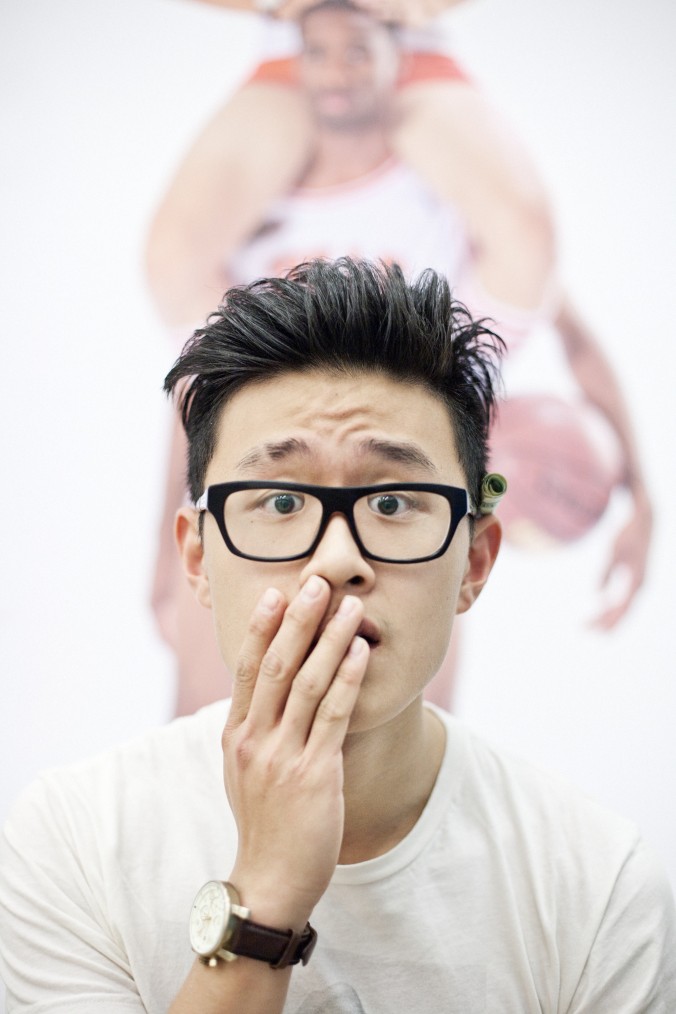 While most students head to Utrecht, Blick or hunt the streets of Chicago looking for art supplies, Jason Guo's most recent piece was completed with the help of Craigslist. His ad read:
Looking for a black model tophotoshoot!!!!!
100 $ / hour
The model must:
Be very lean, muscular and strong.
Be above average in height.
Must have a giant flaccid (sic) dick.
He received a response and dressed the willing participant in a Michael Jordan Bulls jersey, white sports socks and nothing else. For the photo shoot Guo sat atop his model's shoulders and draped his legs across the man's chest. The resulting photograph, printed on a 152cm x 228cm canvas, is titled "Billy Baller."
Although his main focus lies within the undergraduate Visual Communications department, Jason Guo has taken full advantage of SAIC's interdisciplinary BFA program. He incorporates skills learned from other studio classes into his practice as a contemporary artist. His studio work encompasses a variety of mediums, including two-dimensional and three-dimensional forms and video, performance and, of course, photo shoots.
Guo states that his latest work, the aforementioned "Billy Baller," is most in tune with reality compared to all his other work. "That is the most embarrassing thing a Chinese person can do to himself, ride on the neck of a guy with a huge fucking dick," Guo told F Newsmagazine. "It is two stereotypes clashing, and it's an exposure of vulnerability."
For Guo, the most successful artists are ones who recognize their vulnerability. In this vein his most recent work challenges the stereotype of being an Asian-born, America-living, spoiled art school student. "I'm not trying to solve world problems, or complain about them," said Guo. Instead of his work answering any questions, it gives viewers more problems to find answers to. He says he has received harsh feedback concerning the content of his work, but relishes the reaction and its intense impact on the viewer. "You can't evoke love without hate," Guo asserted.
His style did not always take on such risky forms. Guo came to SAIC wanting to pursue painting as his concentration but was introduced to other mediums through a sculpture class his first semester. "Instead of trying to become a painter or drawer, I'm trying to be an artist now," Guo explained. He does his best not to confine his studio work to any specific medium. "If the piece requires it to be a sculpture, I'll do sculpture. If it requires performance, I'll do a performance or a video."
Guo values the importance of presentation and cleanliness throughout all his work and attributes this to his enjoyment of design and his attempts to assert its purpose. "My design background is shaped by the need to make work presentable, easy for a client to take," said Guo. "Whether it is visual communications or architecture, they have a certain craft that they're selling to a client". He applies this mindset to his art practice by considering how a piece will endure time and how to increase its investment value through craft. "Craft gives authenticity to my work," said Guo. "Is my piece going to be a burden or am I going to leave it there and have it look pretty? Is it sustainable?"
He admits that his past work was too romantic and pitiful. One of his early pieces, "My First Red," is a diptych graphite drawing illustrating Guo's sharp transition in moving from China to Canada. Although this piece won first place in a competition held by the National Art Gallery of Canada, Guo says this was the last piece he created that evoked an unnecessary cultural pity-party around himself as an artist.
Post pity-party, Guo was featured in the Pop-Up Art Loop gallery in the lobby of the Inland Steel Building, where he presented three works, one of which was a Mao piñata. "I started to think about what my roles are as an Asian artist. I began to think that I should start making fun of China and thought that was pretty genuine."
Recently, Guo has come to realize that his work concerning China was not as genuine as it first seemed. "I lived in China for eight years but I don't think I was old enough to think about why I was living there," said Guo. "The pieces I'm making now are the most genuine, they're super in tune with where I live in displaying how privileged and spoiled I am."
Guo is working on a new piece that involves him boarding an overnight train to Pittsburgh for a day-trip to urinate on Andy Warhol's grave. He plans to document the performance with a Go-Pro camera attached to the front of a helmet. In the images, he'll imitate a point-of-view photo reel showing Warhol's grave enduring the piss streaming from Guo's visible penis. "I think people will either love or hate it," says Guo. "That's how most of my work is with different people, a hit or miss."
Guo is aware of money and its influence on the art world as he challenges its status as a product only the upper classes can afford. He addressed the relationship between art and money in a piece titled "My Canvas is Better Than Your Canvas." Belgian linen covers the surface of the canvas, embroidered on the top right corner with the tiny alligator of the Lacoste logo. "I want to beat you at painting before even laying my brush on the canvas," reads the description.