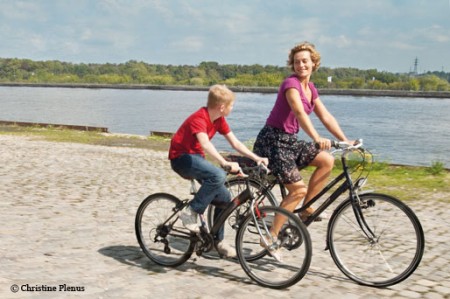 The Dardenne Brothers are indeed a cinematic package of sorts. Their range of influences begins with Truffaut and Lamorisse from whom they borrow the vision of a world comprised of children burdened with responsibilities; Bresson from whom they borrow the logic of constructing a single shot as a block and making the film function via sequences; and Jean Rouch from whom they borrow their curiously observant documentary technique.
"The Kid with a Bike" is the latest addition to their body of work that functions in this idiom. Like their earlier works "La Promesse" (1996) and "Rosetta" (1999), the Dardenne Brothers differ from their influences in their ability to approach the film through the everyday where the sequence emphasizes the presence of characters that creates a sense of duration. They function by clinically producing handheld images that are extremely constructed in such a way that emphasizes a keen tension between the content of the image and the matter outside the image.
The story centers around Cyril Catoul who, abandoned by his father, is left in a state-run youth farm. A hairdresser, Samantha who agrees to be his guardian on weekends, helps him. The Dardennes observe the material they have constructed through their trademark peering gaze until the drug dealer Wes befriends the protagonist resulting in an intriguing set of events that capture the Nietzschean notion of the passage of time as pathology.
Throughout the film one notices the cinematic questions the Dardenne Brothers raise: where should the camera be placed? How much of the story must be kept hidden from the viewer? How can the story and the shot have equal amounts of tension? Can the story be a mere vehicle for capturing duration? These questions are perhaps answered by the emphasis on the free will of the characters to diverge from the predicaments of the tightly woven mise-en-scene, as it is the free will of the directors to reach a shot without construction.