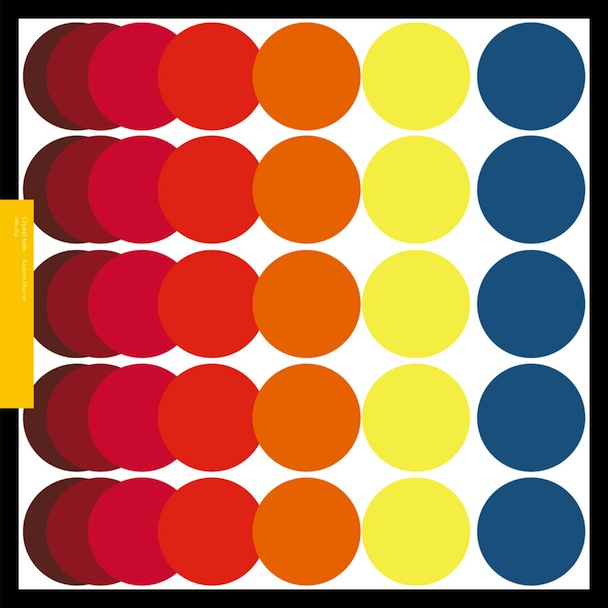 Here's that mid-century vibe everyone's been crazed with since Eames chairs came back into style and the first seasons of Mad Men proved nostalgia was profitable. Ben-Day dots, Pantone colors, and minimal geometry abound, and the deceptively simple graphic pops from whatever distance you witness it, constantly shrinking and expanding while standing perfectly still.
I've covered Crystal Stilts on PJH before, looking at their first self-titled EP and coming to the conclusion that the band mixes static and dynamic elements with effortless cool. The band's latest effort, on their most recent Radiant Door EP, still has some of the elements that made their early output exciting — the deadpan vocal delivery, the girl-group percussion, the sheer seduction of massive plate reverb. But the thing that's different is that it adds color to the equation, both visually on the cover and sonically in the tracks themselves.
Halfway through the EP, we hear Crystal Stilts harnessing a country twang that we've never really heard from the group before. The closest analog in their backcatalog has to be "Precarious Stair" on their second album In Love with Oblivion, but that song hid a good deal of its western flair behind a harpsichord and a characteristically Spectoresque shimmer in the verses. "Still as the Night" sounds more like it pulls directly from The Shadows' "Apache" and adds chronically uninteresting vocals. Without Brad Hargett's vocals, the band would sound comfortable in its emulation of shuffling postmodern homestead music, but with them the track draws more attention to itself with varied results.
On "Low Profile" the band seems to be harnessing the anthemic floor toms of U2, exploiting the repetitive goodness inherent in its bassy rolls. With guitarist JB Townsend's strident strumming, the track becomes a heroic march that successfully adds color to the composition without sacrificing the minimalistic groove. But at about the 3 1/2 minute mark, the vocals spoil the delicate drone as Hargett's voice cracks on the high notes, turning what could have been a rushing climax into an embarrassingly flat yawp. "Crippled Croon", on their self-titled EP, is an example of how Hargett can successfully modulate his voice to a higher register, working with the instrumentation to add just a subtle but devastating earworm to the mix. When compared to that, "Low Profile" is laughable, and I'm not saying that just to be mean, but you've got to admit that it falls utterly flat in spite of a strong start.
I'm all for bands experimenting and expanding their sounds, but not in this case. There's nothing wrong with wanting to grow — Radiohead flipped the bird to everyone and came out with the weird electronica of Kid A and U2 gained equal shares of notoriety and respect with Achtung Baby's aging take on acid house — but Crystal Stilts aren't exactly hitting cosmic heights with their latest tracks. Sure, it isn't exactly fair to tell someone to stop learning and building, but every time I listen to Radiant Door, I keep wanting to switch back four years to the lecherous strut of "Converging in the Quiet". Let's get it straight: innovation is fantastic, but Crystal Stilts are trying to build off an already perfect formula of drone and jangle. Keep it dark, keep it sallow, keep it monochrome.
Artist: Crystal Stilts
Album: Radiant Door
Year: 2011
Tracklist & Review (Allmusic) 
For more album art reviews, visit Probably Just Hungry.