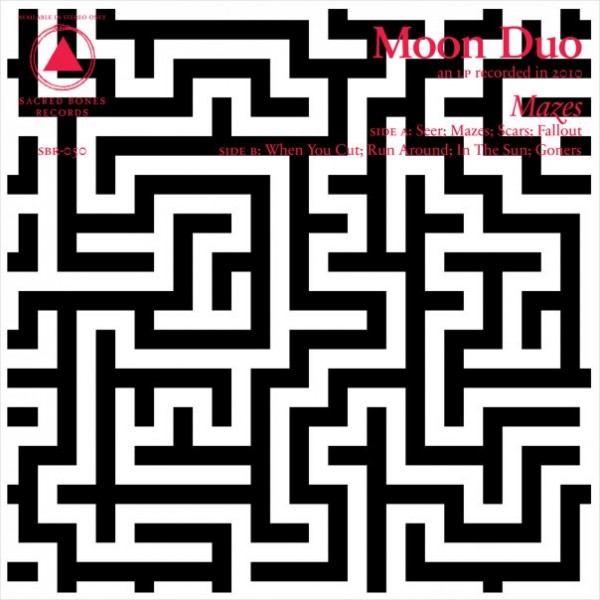 If you've ever traveled through the center of San Francisco, you know how disorienting it can be.  Surrounded on three sides by water, and riddled with nonsensical street plans, it's easy to find yourself completely lost in a matter of minutes.  Cresting over the steep hills in a car can make for a safari-like experience, and often works the car like an African savannah.  Attempting to walk the city can prove to be an exhausting and calf-cramping affair which puts you and your two legs at the base of seemingly impossible urban Everests.
On the other hand, all of the things that transform the city into an endurance test also allow it to be grounds for enlightenment.  It doesn't have to be "getting lost" as much as it can be "letting go" and exploring a place rich with content.  San Francisco natives Moon Duo explore the idea of both in their aptly titled album Mazes.  Drum machine workouts and two-chord rockers thrive here, thrusting in and out of mind-numbing repetition to deliver exercises in sonic wandering.  Sitting down and listening to the whole thing is a lot like aimless rambling in the big city.  It's a mountainous cycle of  calculated loops and soaring choruses, passing like the right angles of a sinister maze.
The main difference between this work and Moon Duo's scant backcatalog is the addition of an organic quality previous missing from their work.  One of the earlier examples is the album's title track, whose immediate hook echoes the blurry pop of the '60s.  The title track works very much like walking through an unfamiliar city – its pace is quick but not hurried, and there's a sense of relative clarity to the straightforward crunch.  In between the monotony of the verses and the choppy rhythmic loops, there's room for guitarist Ripley to fully explore his surroundings in a flurry of idiosyncratic solos.  It's like stumbling up and down the Haight, marveling at the whole spectacle of color and life.
This sample track also comes in with guns blazing, but the difference in cadence is instantaneous.  If "Mazes" was like walking through unknown territory, "Fallout" is like blasting through the same streets in a grungy muscle car, listless and carefree.  Before, where the confusion was from the sheer amount of sights and sounds, this confusion comes from blurring all the colors and noises into a strange kaleidoscopic dream.  You may not realize at first, but the tempo for the song is actually a bit slower than "Mazes", which is testament to the effectiveness of the group's murky instrumentation.
You can probably see by now that the band likes to follow a formula: two parts Motorik + one part acid rock solo, shake and strain.  Serve with reverb.  It might seem repetitive at times, but that's the part of the the maze of the big city too.  It hides itself in big blocks and little corners, until suddenly and all at once, it opens itself up to you in a wave of opaque and confusing gestures.  Mazes' tracks might seem too similar at first to truly enjoy, but immersing yourself (with a nice loud sound system) shifts the surrounding atmosphere and sparks an odd curiosity.  It feeds on your proclivity to explore.
Artist: Moon Duo
Album: Mazes
Year: 2011
Tracklist & Review (Allmusic)
For more album art reviews, visit Probably Just Hungry.