Ringside performances turn to profit
By Jennifer Swann, Web Editor
This March, graduating seniors will work tirelessly to add finishing touches to BFA projects, print business cards, set up websites, and finally start logging into those LinkedIn and Twitter accounts we set up when graduation was still months away. And while most seniors will spend more time in the studio than on their resumes this month, we still can't help but wonder how to make ourselves more employable.
Throughout the spring semester, F Newsmagazine will examine professions that are inventive and profitable, even at the potential cost of your mother's disapproval. This month, F Newsmagazine spoke with Steve "Puppet" Richardson, an entrepreneur and art school dropout, to uncover the high points of his 15-year career as a midget wrestler.
The Persona is Political
How did a four-and-a-half-foot-tall Chicago radio personality become the owner of a major sports league, the star of his own syndicated TV show on the Spike and MTV networks, and an actor in feature films like Jackass 3D?
It all started with a nationally syndicated talk show, a persona, and an idea. The show was Mancow's Morning Madhouse, which Puppet describes as a Howard Stern type radio show, in which he developed his now infamous persona. As Puppet, he began to gain a steady following that included wrestling fans and marketers, who first pitched him the idea of going pro.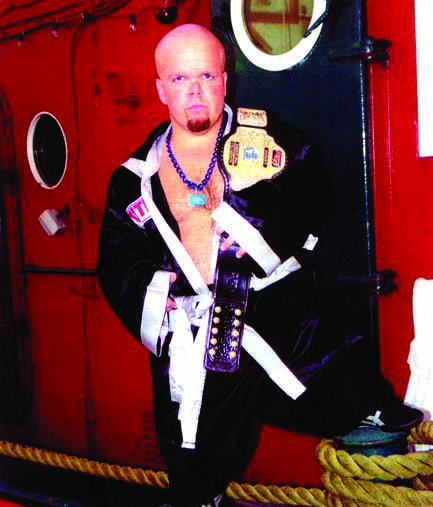 "At first I wasn't too excited about it because what I saw in midget wrestling was clowns, they didn't really wrestle. But then they kept hounding me and saying, 'you'd be great in this business,' so I went into it and I started training with Windy City [pro wrestling], which is [based in] Chicago, and I did a show, and I noticed that the little guys got a lot of attention," Puppet said.
"My brain started racking and I figured, man, what if I just start my own league with little guys and we don't clown around? We train, and we actually do the wrestling, we do everything that WWE does, and we do it hardcore style, which is the old ECW [Extreme Champion Wrestling] style."
Puppet knew he wanted to create a league that not only capitalized on his appeal as a pint-sized wrestler, but that also used the term "midget" to novelize and monetize his stature. The result was the Half Pint Brawlers, a team of eight wrestlers under five feet tall who perform at bars and arenas across the country, and on television sets around the world.
Intent to Sell-Out
"We were known as the Bloody Midgets before we were the Half Pint Brawlers, but that name was too controversial for the In-Demand pay-per-views," Puppet said. "I wanted to be taken into the hardcore company where we could do the thumbtacks matches, we could do all the crazy stuff that you see the ECW doing, but we're all little dudes. And that's kind of where I wanted to mix my market, and we were one of the very first companies to go into the bars, the clubs, the bigger clubs and set up a ring and come in and do a show."
Their first show was in the middle of January at Sluggers, the Wrigleyville sports bar. Puppet recalled his first glimpse of success: "We sold it out, people were looking through the windows, watching the show in the freezing cold, and that's when I knew we needed to do something with this and make it a tour."
Puppet attributes his success to the fact that he created his own market for himself, in which he wasn't competing with any other major or underground league. "We would come to the small towns, the big towns, wherever, we just packed our trailer and went. And so it kind of was like an underground band but we were underground wrestlers. We had very loyal fans and we just kept building the market."
Little Products, Big Profit
The Half Pint Brawlers weren't always so marketable. The owner of the company known as the Half Pint Brawlers knows that the loyal fans in his market might also be comprised of people who simply want to see midgets wrestling. For this reason and because of the use of the word "midget," the advocacy organization Little People of America has protested the wrestling matches, comparing their use of the word midget to the hateful and politically charged use of the n-word. For 42 year-old Puppet, semantics is of little consequence, except when it comes to the only m-word he's concerned about: marketability.
"Nobody's going to come out and see little people wrestling," he said, acknowledging that the term "midget" helps to sell what he refers to as his product. Although his cage-fighting, thumb-tack-throwing antics have caused an outrage from activists, Puppet defends the trained athletes in his league, who, for obvious reasons, could never pursue careers as professional baseball or basketball players.
"This is what America is about, man," Puppet said. "We started the company, had an idea, had a product, marketed the product, and got a lot of attention with it, and now are making great livings with it. This is how we feed our families. We're just like anybody else, and the fact that [Little People of America] doesn't like the way we market it, that's fine."
Little People of America isn't the only group of people that opposes the wrestling spectacles that are intricately staged by the Half Pint Brawlers. When they played a series of shows at Bannerman's Sports Grill, in Bartlett, Illinois last November, residents of the Northwest Chicago suburb tried to ban the Brawlers.
"I had to go to city council meetings because, whatever was wrong with my product, neighbors didn't want it, they were using the lamest excuses that you could come up with," Puppet said of the experience. Ultimately, Puppet prevailed by arguing that banning his shows would be unconstitutional. "The city council pretty much turned down the ban and said that we were getting all the permits and everything," he said. "It made a big stink in the papers and it helped me out. I love it when people try to protest this stuff because it just gets us in the paper and we win the argument."
Syndicated Spectacle
As a sport, wrestling has always relied on a certain level of shock value, and the Half Pint Brawlers are only contributing their performances to this spectacle as a whole. Their self-titled reality show on Spike TV and MTV Australia is giving the Brawlers a mainstream audience, and perhaps making their repeated performances less shocking to the masses.
"Before [the show] we were underground, but we're a little more mainstream now. Some people, they might think it's going to be a funny thing, but by the time they leave the show, they're buying our merchandise, t-shirts, DVDs, you name it. I think it's more mainstream now," said Puppet, who looks to the 1970s as the heyday of midget wrestling. The Brawlers' appropriation of 1970s midget wrestling aesthetics is as obvious as the members of the league themselves. Brawlers Beautiful Bobby and Little Kato are the sons of midget wrestling legend Lord Little Brook.
Though Lord Little Brook is a major inspiration for Puppet, the Brawler said his revival of midget wrestling is evolved and different from the old-school midget wrestlers in the WWE, who were forced to market themselves as the token midgets within a major league. "Back in the day, it was almost like a circus. They were very athletic, they did a lot of things, they did funny gimmicks to make people laugh," said Puppet.
His hope is that when the audience laughs at a Brawlers Show, it will be because of his opening stand-up act, not because of the wrestling itself. And if anybody's laughing last, it's Puppet, who is truly the master, not the puppet, of his own persona.