His antics, on and off stage, are the stuff of legend.
To call him "resilient" would be like calling your prolapsed rectum "discomforting" or "awkward."
I mean, in so far as that it would be an understatement.
Although he's now eligible to collect social security benefits at the robust age of 65, if Lemmy Kilmister and his minions are playing in your town, you can be sure that miscreants and riff raff of all ages are going to show up in droves to celebrate their shared love of Motorhead.
The band is currently touring in support of their 21st studio album, entitled "The World is Yours." I caught them in Chicago last night, playing a sold out show at the Congress Theater.
Sauntering to the microphone, Kilmister delivered his signature introduction: "We are Motorhead. We play rock and roll."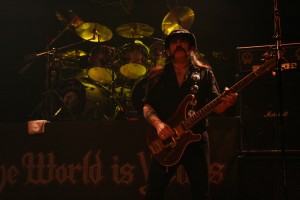 And with that, they dove into an hour long set, playing what at times would sound like the third or fourth variation of the same song.
And that's part of the beauty of it. It's unapologetically loud, structurally simple, driving rock music, with no pretension, and a healthy dose of humor and irony.
Rounding out Kilmister's distorted bass riffery and gruff barking is the guitar work of Phil Campbell, and stellar drumming from Mickey Dee.
The theatrics were minimal, with the most spectacular moment being Dee's drum solo as the fog billowed in the strobe light.
Campbell provides just enough wankery soloing to appeal to the "metalheads," without going completely overboard, least he alienate the "punks."
And that is absolutely one thing that is remarkable about the crowd drawn: you've really got every outdated hairstyle, and at least 25 people representing every single different trend that has existed throughout the course of Motorhead's existence.
Since the band formed in 1975, Kilmister, the one static member of Motorhead, has endured numerous trends and shifts in popular music. And while perhaps he hasn't gone on to enjoy the absurd level of commercial success of so many of the bands who drew heavily from his influence, throughout all of it, Kilmister seems to have retained everything that's of value to him, from his artistic integrity right down to his iconic "friendly" mutton-chops.
There was a film that came out recently entitled "Lemmy," which does little more than further perpetuate the Lemmy lore, and offer insipid commentary from uninteresting celebrities about how much of a badass Lemmy is.
What I realized at the show was that, beyond whatever scandalous behavior, the drugs and the womanizing and whatever else, Lemmy really is a badass. That, in my mind, has infinitely more to do with his persistance, his dedication to his craft, and to his consistency.
Before concluding the set with "Ace of Spades," perhaps their best known song, Lemmy said "this will be the last song, unless you make a bunch of noise and then we'll come out and play the next last song."
Encore, and then it's "Overkill."
And there we were. Soccer coaches with their children. Mothers and husbands. Gutter punks. Leather clad, mustachioed studs from a begone era, all swaying and headbanging in unison. Together. For one night.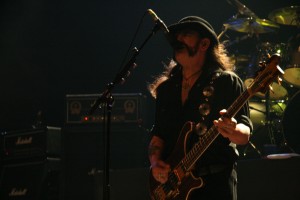 Thanks for that, Lemmy. You're a peach.
—Brandon Kosters, Editor-in-Chief