Master appropriator and SAIC alum Jeff Koons sues small San Fransisco gallery and store over balloon-dog bookends.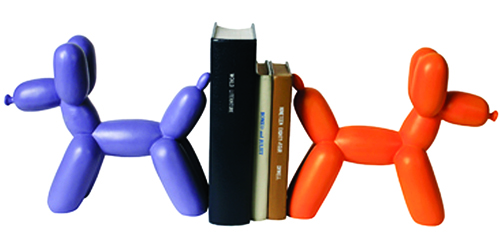 "For it was a witty and truthful rejoinder which was given by a captured pirate to Alexander the Great. The king asked the fellow, 'What is your idea, in infesting the sea?' and the pirate answered, with uninhibited insolence, 'The same as yours, in infesting the earth! But because I do it with a tiny craft, I'm called a pirate: because you have a mighty navy, you're called an emperor.'"
— St. Augustine, "City of God"
Master appropriator and SAIC alum Jeff Koons has secured himself a solid spot in the art historical canon, making plenty of cash along the way. Koons' sculptures, based on pop-cultural references and ready-made objects from daily life, are designed by the artist and then farmed out to assistants who re-create them for the gallery.
Like most artists who practice appropriation, Koons has had to deal with countless lawsuits. The most famous instance may be the case "Rogers v. Koons," where postcard photographer Art Rogers sued Koons for copyright infringement. Koons recreated a picture postcard by Rogers that depicted a couple holding a litter of German Shepherd puppies for his sculpture, "String of Puppies." Koons sold three copies of the work for a total of $367,000. The artist argued that his use of the image was a parody, and so was legally protected; the courts disagreed, and found in favor of Rogers.
In light of this, it is absurd, if not outright hypocritical, that Koons has recently begun to go after a gallery and store in San Fransisco called Park Life for selling balloon-dog bookends.
The balloon-dog shape is perhaps the most common of all the balloon animals, crafted daily by magicians and clowns at children's parties all over the world. In addition to making cute bookends, this particular shape is also the subject of a number of Koons' sculptures. For that reason, Koons has ordered the store to stop selling the bookends, send them all to him, and disclose the creator of the product and how much money had been made thus far.
Koons is not the only appropriation artist to want to have his borrowed cake and eat it. Only a few months back, another wealthy and canonical appropriator was screaming theft. That artist was Roy Lichtenstein, or, rather, his estate. On behalf of the artist, long since passed, Lichtenstein's estate threatened an obscure indie band, Elsinore, for appropriating an image for their album cover that Lichtenstein had also used as the source image for his "Kiss V."
Of course, we can't know what Lichtenstein would have said about the problem, but the pop artist supposedly disapproved of pop appropriator Elaine Sturtevant's copies of many of his works in the 1960s. Sturtevant claimed they were her own commentary on pop art in general.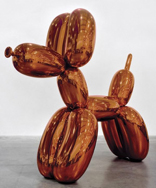 There are countless other instances of what critic and author Jonathan Lethem calls "source hypocrisy." In his essay "The Ecstasy of Influence," Lethem dates this practice back to its most prolific devotee, the Disney Corporation. Despite the fact that Disney has made its legacy and fortune by adapting classic folk tales (Snow White, Cinderella, Pinocchio, and The Little Mermaid, to name a few), any time anyone else lays claim to the tales, Disney destroys them through litigation.
Throughout the long history of "piracy," exactly who can be labeled as a "pirate" has been subject to debate. As Adrian Johns points out in his book, "Piracy, the Intellectual Property Wars from Gutenberg to Gates," it was not small-time plagiarists who were first accused of "piracy," but rather the Stationer's Company. The Stationer's Company was home to the licensers who owned a monopoly on publishing (essentially, the culture industry of the 16th century). Today, this original conception of "piracy" has been inverted. Small bands like Elsinore and independent retailers like Park Life are deemed the "pirates," while the big, license-holding corporations are the victims.
Whether Koons has a right to lay a claim to copyright infringement of the balloon-dog shape remains to be seen. However, instead of attacking these so-called "pirates," he might do well to consider advocating for a system in which both his own appropriations and those of others are fair game. So long as we try to turn ideas, concepts, and information into a form of property, culture will continue to drown in a pool of litigation.
UPDATE: FEB 12, 2011:
Koons and his lawyers have backed off. Park Life, deciding they weren't going to nervously wait around to see if Koons would take legal action, turn the tables and sued Koons, "asking the court to declare that Park Life wasn't infringing on Mr. Koons's [intellectual property] rights." Koons' lawyers decided not to put up a fight, especially after all the humiliation Koons received via disgruntled internet bloggers. They said so long as Park Life doesn't try to attach Koons' name the product they wouldn't take legal action. This shouldn't be a problem considering they hadn't done so and were never planning on it. Looks like David beat Goliath and his deep pockets.
Link to Park Life's statement.