Chicago art critics talk money
By Ania Szremski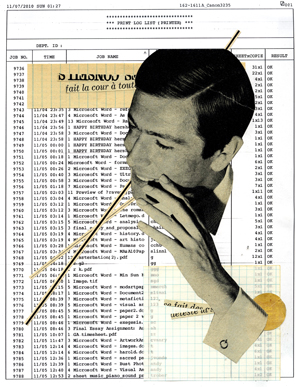 The "crisis of criticism" is old news. The rise of art criticism in the blogosphere and the decline of art criticism in print media has been a favorite hot-button issue for the past couple of years, especially here in Chicago. But the question of how current market trends affect the form and content of arts writing is a less examined angle.
How are arts writers getting paid, and how does getting paid affect where they write and how they're perceived by the general readership? How much is the rise of "amateurism" an ideological stance against an outmoded institution, and how much is it just the logical consequence of the lack of opportunities to get paid?
If not too much gets written about these questions, it's probably because "it's a bit of a no-no in the art world to chat about it," said one writer who asked not to be named. F Newsmagazine decided to talk to local arts writers to get their take on the value of their words.
Who Pays?
Despite all the anxiety about blogging putting "professional" writers out of business, a lot of arts publications still pay for writing, whether they're in print or online. Kathryn Born, founder and editor of the online platform Chicago Art Magazine, told F, "we've always paid writers (and staff — the administrative staff gets paid, too). Spotlights on a prominent collector would pay $125, heavily researched pieces are $50 for each 700 words, most short features are $35, and blurbs range from $5 to $15."
In order to pay her writers, Born says, "We are aggressive about revenue. We aren't shy, we knock on doors and sell ads and the reps get a huge cut of what they sell. We run a business. I never want to be a not-for-profit because I don't think the arts should be charity."
Newcity magazine, "Chicago's only locally owned and operated cultural weekly," also pays for content. Like Chicago Art Magazine, the fees they pay writers are contingent on advertising revenues, and according to their website, "the 'new economy' has not been nice to us, or to our ability to pay creators. Contributors to our web sites are currently doing so on a volunteer basis in nearly all cases. … We still pay for stories we run in print, albeit modestly and at a time lag that is equally absurd, about a year after publication currently. Fees for articles generally range from $10 (reviews and short items) to $50, with cover stories paying $100."
Pedro Vélez, a Chicago-based artist and writer, and a regular contributor to the online platform Artnet Journal, says that he's always been paid for his writing. However, according to Vélez, it can be hard to get a good fee for content, even before the economic downturn. "New Art Examiner paid something ridiculous like 50 bucks per review, and sometimes you'd get paid, and sometimes you wouldn't. And if they were doing an auction or benefit that you wanted to go to, they'd charge you," he told F. "But they were suffering, so no one was really bothered; and you were writing for a good magazine."
Other magazines pay better. "Arte al Día in Miami paid really well. For a feature article, you'd get between 300 and 500 bucks," said Vélez. "They paid really well because Arte al Día has different branches, and a version in English and in Spanish, and a subsidiary in South America, maybe Argentina, and they were doing art fairs, so they had a lot of money coming in to sustain the magazine."
What Vélez suggests is that different profit models are needed to generate the revenue that goes to pay writers. "Artnet pays really well," he says, "but what people don't understand is that unlike Artforum and magazines like that, the Artnet magazine is just a tiny part of this big thing."
"Artnet started online right at the moment of the transition between print media and this new thing called the Internet, and they were never in print. The structure of Artnet produces the money and that's how they maintain the magazine. Artnet is an auction database, galleries can sell their works online, and it's connected with art fairs, so it gets lots of advertisements. Artforum has to sell ads to be able to buy content, whereas Artnet doesn't."
Vélez cites art blogs like Art Fag City and ArtCat as examples of online publications that have successfully adopted different models of generating revenue (like running gallery postings in a calendar, and fundraising for projects over twitter), so that they're able to pay writers at least token sums. The problem, according to Vélez, is that these initiatives are based in New York: "It's different in New York. The whole structure is different, and there are more people. You couldn't do that here [in Chicago]."
Who Doesn't?
For the moment, the majority of blogs don't pay for content. The most infamous example is that of Huffington Post. James Elkins, chair of SAIC's VCS department and a prolific author and lecturer on the field of art criticism, writes for them. "It's an enormous site," he told F, "with 24 million unique visitors last year. They have a Darwinian survival-of-the fittest philosophy: 6,000 approved bloggers write for them; none are paid, and only the most popular get headlined. Everyone does it for free, because it supposedly has a knock-on effect: people get commissions from galleries, or invitations to lecture. Hasn't happened to me yet."
Vélez is skeptical about the project. "They won't pay you but they say, do you know how many people will read your stuff? There's no empirical proof that people will flock to your blog. There's so much shit in there [the Post] that the audience will stay there, forever. My mother, after reading your piece on Huffington Post, isn't going to go read your magazine."
A recent trend has been major newspapers getting rid of their art criticism section in print, and essentially outsourcing the writing to unpaid bloggers for their websites. Abraham Ritchie (NAJ 2012), Senior Editor for ArtSlant Chicago, says, "I think it's more of a problem when the media companies try to get content for free with the vague lure of 'exposure.' Take the recent example of the San Diego Union Tribune, which fired their longtime, well-respected art critic Robert L. Pincus and tried to replace him with essentially a scab, an unpaid blogger."
This unpaid blogger, Katherine Sweetman, ended up writing only one piece for the Tribune: an angry letter of accusation. "We were a small army of advanced-degree-carrying practicing artists, college professors, and arts writers," she wrote, "fixing the mess the Union Tribune created when it laid off its only art critic, Robert Pincus, last June.
"We were assured that we were not taking Pincus' place. He had, in fact, been replaced by James Chute, formerly the Music Critic and Special Sections Editor. … We hate the Union Tribune. We hate the way they abruptly ended the tenure of the most important arts critic in San Diego's history, we hate James Chute's pathetic coverage of artists — which just makes us look bad (seriously, read his stuff)."
Replace the proper names with Alan Artner and Lauren Viera, and Sweetman could have been writing about the Chicago Tribune, which pulled the exact same stunt in 2008. When Chicago institution Artner was fired, Viera, a general assignment reporter, was assigned his beat, to the consternation of many; and the paper attempted to amass a small army of unpaid bloggers to cover the art scene on their Chicago Now website.
The merits (or problems) of writing for free
The consensus is clear: the majority of publications don't pay very much for arts writing. Should writers just accept this fact?
Jason Foumberg, Art Editor at Newcity, thinks so. "Writers, like artists, should work hard and often to refine their craft. This may mean not getting paid in some venues," he says. But for young, unestablished writers, just getting experience writing regularly for a publication can make up for not getting a paycheck.
"Writing for a publication or a blog is a good way to cultivate a readable voice," he told F. "Deadlines are very helpful for writers, which a publication can provide. Editors can also be helpful for a young writer."
SAIC Art History professor Daniel Quiles agrees. Quiles has written reviews and essays for publications including Art in America, Artforum, the Art:21 blog, Arte al Día International, ArtNexus and several others. "I have no illusions about the fact that art criticism is, with rare exceptions, a 'love profession,'" says Quiles, "meaning that one does it for the love and not the money. I see something self-deceptively naive about ever crying 'exploitation' at a publication, print or web, that elects to publish you, particularly if you are an up-and-comer. I always felt fortunate to be writing for these magazines. … I never conceived of my critical practice as being enough to live on."
Kathryn Born begs to differ. "Everyone is broke because they see the arts as a charity, a pristine element on-high that's too elevated to deal with something as base as money," she told F. "So what follows is the expectation that everyone should work for free. … Chicago Art Magazine has always been seen as materialistic, but it's actually our way of combating elitism. I want the history of art to be written by working-class people (by working-class I don't mean blue collar, I mean simply people who need to work for a living), and not the leisure elite.
"We have always aspired to be an 'art magazine for the working artist.' We like the idea of work. You work hard, you get paid. And because we pay people, we've had some of the best art minds writing for, and working for, the magazine."
As for Vélez, he agrees that writing for your own blog can be a good way to develop a voice, but "even online platforms like the Huffington Post should pay young people for their work. Editors get paid, everyone gets paid on the chain, young writers should get paid too, always," he says.
"My main concern is that once you start giving it away for free, word gets around, and nobody is going to want to pay you. They're always going to hustle with you. The art world is tiny, and they don't give a fuck about you. You do one thing they don't like, and they'll find some other young hopeful to abuse.
"Besides, when people get paid they write better, much better and you, as an editor, can ask for more responsible writing on their part too."
So, in conclusion: It seems that getting paid makes writers feel good. And it elicits better writing, which is the lifeblood for any publication, be it a newspaper or a blog. When publications try to save money by cutting staff critics and outsourcing their work to other journalists and unpaid bloggers, the results are bad (really bad). So in order to survive, publications are going to have to seek out other ways to earn revenue than just running ads in order to pay for the good content.
In the last analysis, money is essential for good, authoritative, critical writing. And despite the dream of the flat, democratic platform of the blog that is freed from the bonds of commerce and exchange, that will continue to be the case.