"Stretching Destillment" features Chicago artists at Raid Projects in L.A.
By Allison Glenn
"As an artist and curator, I'm not interested in making statements, just questions."
–Joseph Cruz, BFA Sculpture 2011
The exhibition Stretching Destillment weaves a complex narrative of possibilities for a heightened critical awareness of systems. SAIC student Joseph Cruz (BFA 2011) organized the show at Raid Projects, a non-profit artist's residency program and exhibition space located in the Brewery Artist Complex in downtown LA. His goal was to organize two concurrent exhibitions in Chicago and Los Angeles featuring artists who cleverly repurpose prosaic items into their work. The artists in the L.A. exhibition are Chris Bradley (MFA 2010), Jon Brumit, Anthony Creeden (BFA 2011), Sarah and Joseph Belknap (MFAs 2009), Christy Matson and the collaborative trio of Amber Ginsburg (MFA 2009), Carla Duarte (MFA 2009) and Lia Rousset (MFA 2009). What emerged from this grouping was an ambitious system of objects linked to each other and dependent on the presence of the body to become activated.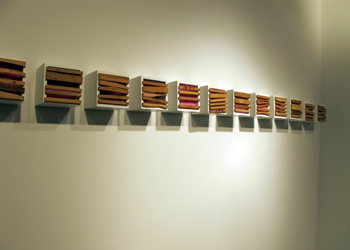 The crux of the exhibition was TWINS, QUICK, YELLOW, a large sculpture by Jon Brumit from his "Monsanto's Workshop" series, begun in 2004. Brumit is known for creating humorous and spatially commanding objects and installations which, according to the artist, "work creatively with interactive social design, structured improvisation and multilayered interventions". For Stretching Destillment, he wove repurposed yellow grocery bags together to form a larger-than-life cob of corn. Placed in the center of the room, TWIST, QUICK, YELLOW emits a loud noise and swells with air when inflated by fans that are activated by the dust and particles emitted by Chris Bradley's Cinnamon Scent Machine II.
Cinnamon Scent Machine II is an extension of Bradley's current investigation into the mechanization of everyday objects, and our relationship to them. The presence of the body triggers a motion sensor, which—with the help of a microcontroller—automates a basketball stuffed with cinnamon into a counterclockwise frenzy of olfactory stimulation.
Brumit began this project as a radical response to the highly questionable business practices of Monsanto Corporation, a multinational agricultural biotechnology corporation that holds a conspicuous monopoly over corn production in the United States. The company keeps a regulatory watch over their product by licensing their seeds to farmers and enforcing strict regulatory control over more than 90% of genetically engineered corn seeds in the world. The company, which also produces the weed killer Round-up, has laid many ludicrous claims to patent infringement over breeding procedures for livestock and corn.
TWIST, QUICK, YELLOW and its parasitic dependence on Bradley's cinnamon-stuffed basketball parodies Monsanto's relationship to, and control of, food reproduction.
Brumit has a long history of creating works that interrogate social structures, and the artist Anthony Creeden (BFA 2011) reveals a similar interrogative impulse into his own object making. Creeden works with prosaic materials to create site-specific conduits, or pipes, which mimic visible structures he finds at the location. He installs these conduit doubles in close proximity to the actual functioning pipe systems. Creeden's structures ask the viewer to take an investigative look at the doubles, and search for the inconsistencies in seemingly sound structural frameworks. Creeden's use of mimetic conduits advocates for an objective criticality when assessing systems, and his emphasis on process stresses an interest in preserving what he refers to as the 'tradesman aesthetic'.
Perhaps an equally literal approach to interconnectedness was Christy Matson's Untitled (Gong), a fusion between wall tapestry and sound sculpture. The audio is activated when the viewer runs her hand across the tapestry, eliciting a gong sound. Another fairly obvious approach to the theme was a material representation of continuous outward growth entitled Sprawl , a collaborative contribution from husband and wife duo Sarah and Joseph Belknap (MFAs Sculpture/Performance 2009). The piece consists of 51 cubes covered in lathe. Hung horizontally across the longest wall of the gallery, these miniatures seem to continue on endlessly.
Inspired by Joseph Beuys use of multiples in The Pack, the collaboration between Amber Ginsberg, Carla Duarte and Lia Rousset provided a different entry point into the conversation of systems. With his creation of The Pack, Beuys was interested in imagining the minimal amount of necessities needed for human survival. The trio of artists created a literal interpretation of Beuys installation by constructing three-dimensional bundles of material and seeds connected to a brick, each suspended from a tripod above a bucket of water via a pulley system. The wool, seeds and brick represent the essential human needs: food, clothing and shelter. In the exhibition, these packets needed to be tended to, and depended on someone to water them. The audience participation in this work created an open platform for the audience to meditate on the direct impact of an individual on a system and the act of labor.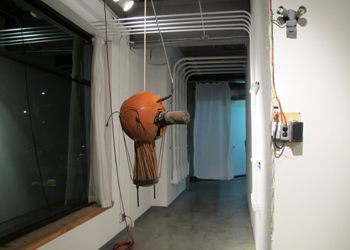 By problematizing the commoditization of food production, representing the banal, and exposing larger systematic problems within structures, the artists in Stretching Destillment subtly present a challenge to current systems of production, and our own impact on them.