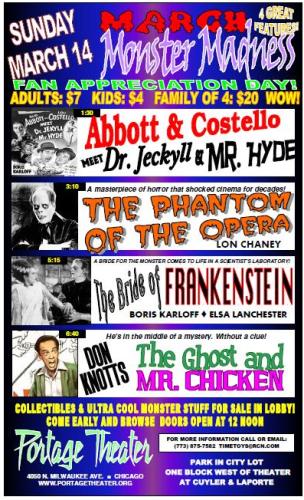 By Brandon Kosters
I went to a quintuple feature at the Portage Theater this weekend. A "Universal Horror Party," featuring Dracula, Frankenstein, The Wolf Man, Creature From the Black Lagoon, and The Mummy's Hand.
This was my first time there, and I have to say, it's pretty amazing. It was built in the 1920's, and the inside is breathtaking.
They have a lot of classic film marathons that you can get into for $10 or under. They also host live events throughout the year. Sometimes they'll show silent films with live musical accompaniment.
Check out their website to see what's going on.
On March 14th, they've got another Monster movie marathon.
Check it out.
The Historic Portage Theater
4050 N. Milwaukee Ave.
(773) 736 4050
http://www.portagetheater.org/