By Andrea Berggren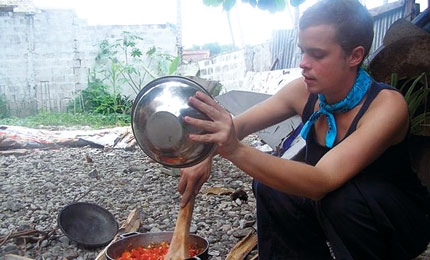 SAIC officials confirmed that three members of the SAIC community were in Haiti at the time of the earthquake which devastated that country in January. Flores "Flo" McGarrell was killed; Susan Frame, assistant director of the Sharp instructional shops and Marilyn Houlberg, professor emertitus of Liberal Arts and Art History are now safely back in the U.S.
McGarrell and Frame were in Haiti working for Fanal Otantik Sant D'A Jakmel (FOSAJ), a non-profit arts organization located in Jacmel, and had obtained a grant to develop a wood shop for the organization. The shop would exist to train local artists in artistic practices & trade skills. McGarrell is believed to have been trapped in the rubble of the Piece of Mind Hotel, which collapsed during the quake.
McGarrell came to Chicago to attend graduate school at SAIC in 2002 and graduated in 2004 from the department of Art & Technology and become a member of the SAIC faculty. He had been living in Haiti over the past year, serving as the Director of FOSAJ.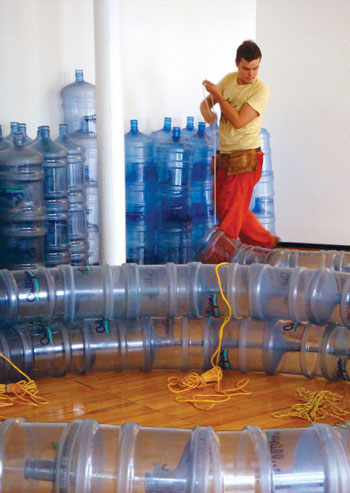 Frame was visiting Haiti at the time of the quake as a consultant to oversee the development of the wood shop and is the Assistant Director of the Instructional Shops at SAIC.
In response to the news of the disaster, SAIC president Wellington Reiter issued a statement where he indicated that he had spoken to both Frame and McGarrell's parents and recalled the work that McGarrell did as an artist and philanthropist.
"In August, the blog of PBS' Art:21 series published images and an interview from a studio visit with Flo, who said, 'I seem to be an artist-person who has only a little separation between art and life—if you will please excuse the cliché. Specifically, I attack whatever I am working on with an obsessive compulsion that we creative types are often afflicted with. It doesn't stop no matter where I am, regardless of whatever else I am doing.'
Flo specialized in what he called "agrisculptures" or home-scale, sustainable food production systems made with secondhand or found materials. He brought his enthusiasm and passion for sustainability and art to Jacmel by leading permaculture workshops and by constructing a rain barrel shower sculpture, a bicycle-powered washing machine, and a parabolic solar oven for the art center.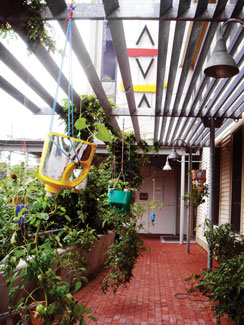 SAIC Alumni Relations has created wiki pages to keep members of our community updated regarding SAIC faculty, staff, students, alumni, and their families who may have been affected by the disaster and to post information about how we can support relief efforts at http://my.saic.edu."
Houlberg was safely evacuated by International SOS and is back in Chicago. She was in Haiti curating pathbreaking exhibitions.
Click here to see Flo McGarrell's instructions for growing organic food: http://www.instructables.com/id/Grow-organic-food-without-spending-$/

Click here to see his Flickr page: http://www.flickr.com/photos/gowithflo/sets/72157603820551756/
Top: Flo in Haiti, Courtesy Art21, from "Inside the Artist's Studio: Flo McGarrell" by Georgia Kotresos, August 28, 2009
Bottom two images: I Heart Agrisculpture Exhibition, Courtesy AVA Gallery