A behind-the-scenes look at making LEARNING MODERN
With the world on the brink of economic and political disaster, László Moholy-Nagy and Ludwig Mies van der Rohe carried Bauhaus principles from Germany to Chicago in the late 1930s, expanding the role of experiential education ideas. Working with their students, these modernists sought to change our perception of the world, while changing the world itself.
In "Learning Modern," the Sullivan Galleries become a laboratory for exploration with projects by artists, architects and designers who continue this modern vision and legacy of learning through experience. – "Learning Modern" curatorial statement.
by Joe Iverson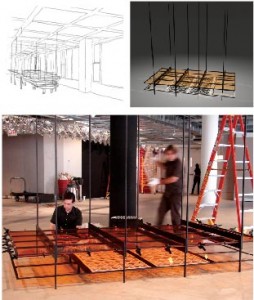 The works in "Learning Modern" are the result of two and a half years of conversation and collaboration that directly question the nature of modernism and its relevance to contemporary art practice today. Students, faculty and staff at both The School of the Art Institute of Chicago and the Illinois Institute of Technology worked extensively with artists, architects, and designers to conceive, manufacture, and execute many of the major projects in the exhibition.
The SAIC Department of Exhibitions has previously facilitated the creation of new works. However, both the number and sheer magnitude of commissioned and collaborative projects in this exhibition is a first for the school. Relying on the unique talents of dozens of students, faculty and staff from SAIC and IIT, the exhibition title is revealed as not simply a reference to the historical pedagogy being considered, but also a direct statement describing the critical importance of the process used to conceive and execute the exhibited works.
With a conscious use of a collaborative decision-making process for everything from the use of wall labels to the most technically complicated installation piece, a reconstruction of designer Ken Isaac's Knowledge Box from 1962, the notion of experiential learning has become a badge of honor for those involved with the project.
Moments of problem-solving have resulted in monumental opportunities for students to learn by working directly with Thom Faulders's architecture studio in the construction of their installation piece, Ames Spot, or with the installation of landscape architect Walter Hood's interior-systems prototype, "Bio-Line."
These encounters will continue throughout the duration of the show in what are being called "Modern Workshops." For example, First-Year Program faculty members Andy Hall and Erik Newman will be engaging their students to re-imagine the populist-oriented designs for "Living Structures" by designer Ken Isaacs. Their re-imagined "Living Structures" will be on view in the Sullivan Galleries later this fall, which Isaacs will be able to discuss and respond to during his "Modern Monday" gallery talk on November 16.
Not all collaborations that went into the exhibition have been so direct; many have been on an international scale. The individuals involved are rarely in the same room, let alone the same continent, so questions of communication in collaboration became increasingly important to the production of the exhibited projects works. While still in Lisbon, Ângela Ferreira was sending her fabrication needs for Crown Hall/Dragon House to Todd Cashbaugh, SAIC Associate Director of Exhibitions. According to Cashbaugh, "the challenge was to find a fabricator that a) could do [Ângela's project] on short notice b) could do it and c) could communicate with an artist in that capacity."
Similar issues of communication arose with the fabrication of Key Notes, a work by Narelle Jubelin and collaborator Carla Duarte, a recent SAIC Alum who received her MFA in Fiber Material Studies in 2009. Duarte spoke of her experience in collaborating across an ocean with Jubelin, saying "our practices are very process-oriented in how we look at cloth and think of cloth and think of it metaphorically… This is where the documentation of the process became so vital, because I was thinking about what I would want to see and during the entire thing I was looking at everything as kind of an installation. Both in terms of the way this room was laid out, but also thinking for Narelle to be able to comprehend the process and the fabrication and the scale. She knew what three meters of cloth was, but she couldn't think of the scale of the panel. And so by giving her things of scale to compare it to, and even the stacks of cloth, I was trying to make every stage kind of a tangible tactile moment that we could comprehend via the Internet."
The "Learning Modern" artists engaged in this type of distance-based collaboration are discovering that this shared language is not just about finding common words, but learning how one another think.
Images: Ângela Ferreira, Crown Hall/Dragon House, 2009.
In-process installation, SAIC Sullivan Galleries. Photo: Carla Duarte.
Concept sketch for Crown Hall/Dragon House, 2009 (left). Courtesy of the artist.
Alex Derdelakos, vector drawing of Ângela Ferreira's Crown Hall/Dragon House, 2009 (right). Courtesy of the artist.