A guide to Chicago thrift stores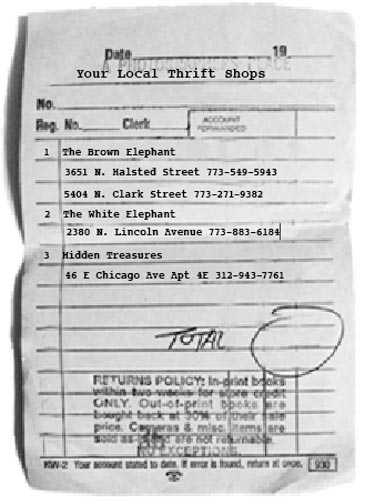 by Laura Goetz
Settling into a new place can be challenging on a budget. One way to ease the transition into a new place and make it "home" without having to choose between a required text, tube of titanium white, and a set of dishes is by thrifting. Not only do thrift store purchases make you an environmental steward, they often make you a charitable giver; many local Chicago area thrift stores benefit local area hospitals and charities.
Belinda Cook, a fourth year student in Fiber and Material Studies, goes to thrift stores in Chicago for a number of reasons. "I bought a lot of furniture from Brown Elephant…two chairs, coffee table, lamp" For Cook it was price and proximity that caused her to buy her new furniture and house wares at the Brown Elephant in Chicago's Lakeview neighborhood. "For furniture, I think it's the best one," she says.
Master of Architecture student Maureen Myers visits thrift stores in Chicago to find unique clothing and accessories, but not for furniture or house wares. Myers recently moved from the Gold Coast to Bucktown and bought new items at Ikea and Target because of "cost, style and delivery option(s)." Myers says she goes to Target for convenience, and because of its accessibility by train. She doesn't have a car in Chicago. "When I lived in Ohio and had a car I went all the time," Myers said.
Some students don't visit thrift stores because there is no time to search for what they are looking for. Jennifer Diaz, an undergraduate studying Painting and Drawing, furnished her place in Chicago's Gold Coast with her family's leftover furniture. Diaz prefers to "go to Target or Ikea…do it on-line."
While most thrift stores do not list items online, there are some in Chicago with delivery services (for an extra charge) that would certainly rival shipping fees from Target or Ikea.
The Brown Elephant: The proceeds from the Brown Elephant resale shops help to support the Howard Brown Heath Center, one of the nation's largest LGBT healthcare organizations. Your shopping helps the organization serve more than 28,000 adults and youths each year, according to the Howard Brown Health Center website. You can find everything from Kentucky Derby glassware for a housewarming gift to holiday decorations and furniture for your home.
The White Elephant: Proceeds from the White Elephant resale shop directly benefit Children's Memorial Hospital. This shop carries many housewares and accessories but less furniture than the Brown Elephant, however the furniture they have is usually in better condition and more expensive than the Brown Elephant.
Hidden Treasures: This small resale shop benefits Northwestern Memorial hospital. While it carries a little bit of everything it is especially a good stop for small antique furniture, throw pillows, lamps and table linens.