Playwriting is a collaborative process
By Anne Knight Weber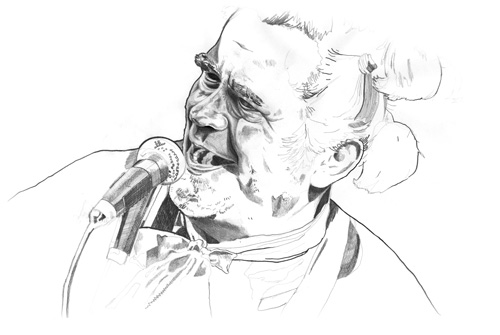 Beau O'Reilly, who has taught playwriting at SAIC for over a decade, has written 70 plays that have been produced and he has directed or acted more than 130 additional plays of new work. "My priority is writing. I don't write every day. I write in really long sustained bursts. Sometimes I write for three or four days in a row."
His play "No longer the Rock of the World" is in production now, opening on November 29 at Center Portion Gallery in Logan Square. He said his plays are "story driven pieces about people in relationships, the ethics of relationships…there's often a theme of broken family, reconstituted family…my plays usually have a lot of characters in them."
The upcoming show is unusual for him because it has two characters with a third character of live music that comes in from the side. His story is dialogue driven and unfolds while two people talk.
O'Reilly is from a theatre family and both his sons act. "My father ran the Court Theater in Hyde Park and then he ran The Body Politic, which was in the Victory Gardens… He was a director, but he also acted. He was known as a Shakespearean actor, which I have never done." His mother produced variety shows and musicals.
O'Reilly wrote the play "No Longer the Rock of the World" while in a writing residency for teachers at "The Catwalk" in upstate New York.
He writes in coffee shops, such as The Bourgeois Pig in Lincoln Park. He likes business around him, because he grew up in a large family with nine sisters and four brothers. "Sitting by the radio, for me, that's quiet," he said.
At the end of his residency, when he'd finished his project, he had another idea. "I'd been thinking about this play for awhile in the back of my mind, so I sat down and I wrote it in three days, which for me is pretty fast."
Usually he has specific actors in mind as he writes his plays. He mostly works with actors in his company, Curious Theatre Branch, that he co-founded twenty years ago, with a troupe of fifteen or so actors. SAIC students occasionally have been invited to join the group as writers or are cast in a role for a performance.
"No Longer the Rock of the World" will be performed at the Center Portion Gallery for a six week run. The space is great for O'Reilly because it is set up for about thirty people with a cabaret stage, "very intimate and small" he said.
He likes writing for the fringe or storefront spaces. "Its economically accessible work, blue collar theater," inexpensive to see and to produce, O'Reilly said.
Illustration by
Luke Armitstead