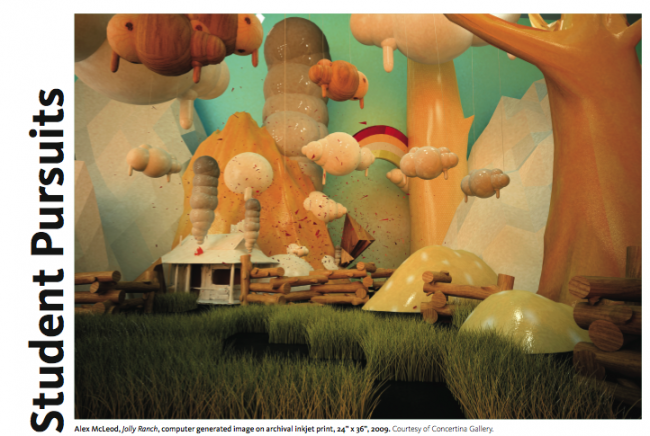 Text provided by organizations'
mission statements and compiled
by Emily Bauman.
Alogon Gallery is an independent art space that hosts shows coordinated by a rotating cast of outside curators. The directors of Alogon select curators based on an interest in divergent ideological positions and varying approaches to contemporary art. Through showcasing difference within the context of a fixed platform, Alogon hopes to generate interest and dialogue within the community on the values and approaches that are being adopted by artists, critics and curators today.
Location: 1049 N. Paulina 3R
(entrance on Cortez)
Gallery Hours: Sunday 1-4 p.m.
Thursday 4:30-7:30 p.m.
InCUBATE is a research institute and artist residency program dedicated to exploring new approaches to arts administration and arts funding. We at InCUBATE act as curators, researchers and co-producers of artists projects. These activities have manifested in a series traveling exhibitions called Other Options, an artist residency program and various other projects such as Sunday Soup (a monthly meal that generates funding for a creative project grant). We don't have non-profit status, instead we are interested in what kinds of organizational strategies could provide more direct support to critical and socially-engaged art and culture beyond for-profit or non-profit structures. Our core organizational principle is to treat art administration as a creative practice. By doing so, we hope to generate and share a new vocabulary of practical solutions to the everyday problems of producing under-the-radar culture.
Location: Orientation Center
2129 NB Rockwell St.
Website: incubate-chicago.org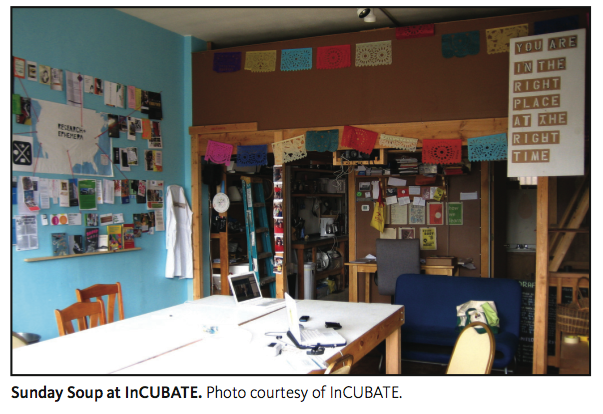 Concertina Gallery is located in Logan Square on the top floor of a two-story greystone that formerly housed the Star Concertina Manufacturing Company. As a curator-run space, we understand curation to be a creative response to contemporary art and the issues it presents, as well as a means to provide ample written documentation of art and exhibitions with an intention of maintaining dialogue between artists, collaborators and their audience.
Location: 2351 N. Milwaukee Ave.
Gallery Hours: Saturday, 12–5:00 p.m.
Scott Projects is a gallery started in 2008 as an effort to create a new art viewing experience for Chicagoans. The gallery has never shown work previously exhibited online, making every opening a true debut of new art. The artists are chosen based on the merit of their past work to create completely new work of their choosing for their opening. This makes the gallery unique in that it does not have a say in what art is shown in it, to an extent. Scott Projects shows international and local young artists.
Location: 1542 N. Milwaukee Ave.
Gallery Hours: by appointment, refer to scottprojects.com
Roots and Culture Contemporary Art Center's mission is to provide exhibition opportunities for leading-edge emerging artists and to develop the city of Chicago's cultural community as a center for art production and a destination for artistic discourse.Through two person shows, curated group shows, lectures, community gatherings and time arts events, Roots & Culture aims to provide a platform for the inventive practices of young artists. This programming helps to develop a dynamic community for the arts in Chicago and dialogue with the international discourse of contemporary art. By showcasing works by emerging artists, Roots & Culture offers a nurturing and often pivotal moment in the careers of young artists to develop inventive practices. By not only offering exhibition opportunities, but also by allowing artists to direct and curate programming, the program interacts with and shapes the community where it resides. Roots & Culture is a multi-disciplinary arts organization which aims to provide a welcoming and supportive social space within the Chicago art community. Roots & Culture is going to change and develop the ways in which art is experienced and exhibited through progressive and innovative practices.
Location: 1034 N. Milwaukee Ave.
Gallery Hours: Thursday 4-7:00 p.m., Friday 4-7:00 p.m., Saturday 12-6:00 p.m., and by appointment
[prak-sis] was founded in January 2009 as a not-for-profit art organization. [prak-sis] is a dynamic art experience, migrating to diverse locations across the cityscape. [prak-sis] wishes to transform building spaces rendered vacant due to a downturn in the market, obsolescence, or neglect into art galleries. [prak-sis] aims to create energetic art presentations that are entertaining and fun. Various productions include music, painting, performance, video, art installations and sculpture. Through the use of this media, our organization's productions will provide excitement to all senses. [prak-sis] can communicate our message of art in spaces of all sizes from a small booth to a huge empty commercial store. [prak-sis] shows that even in times of economic crisis, life can blossom, a culture can grow and most of all, hope need not die.
Location: 1513 N. Western Ave #106
Website: prak-sis.org
featherproof books is a young indie publisher based in Chicago, dedicated to the small-press ideals of finding fresh, urban voices. We publish perfect-bound, full-length works of fiction and downloadable mini-books. Our novels are filled with the liveliest of fiction wrapped in the loveliest of designs. Our mini-books are carefully designed short stories and novellas that may be downloaded from our website, printed and constructed by the reader, inviting all ten fingers to take part in the book-making process. We view all of our authors as creative partners, which means the author is involved in every step of publication, and always expected to buy the next round.
Website: featherproof.com