SAIC fashion students unveil their latest creations.
Sitting in the historic Sullivan Center minutes before the annual School of the Art Institute Fashion Show began, I turn to an elderly couple in neat black clothing and horn-rimmed glasses and ask, "Are you related to a designer?" They answer coolly, "No." I continue, "So, what business brings you here?" The woman leans over, "We're in the business of sponsoring." Still bent over towards me she pauses and her eyes glisten with sudden intensity, "If you've never been to the show before you'll see…" She leans back into her chair and adds, as if speaking more so to herself than to me, "It's going to be outrageous." And indeed, it was.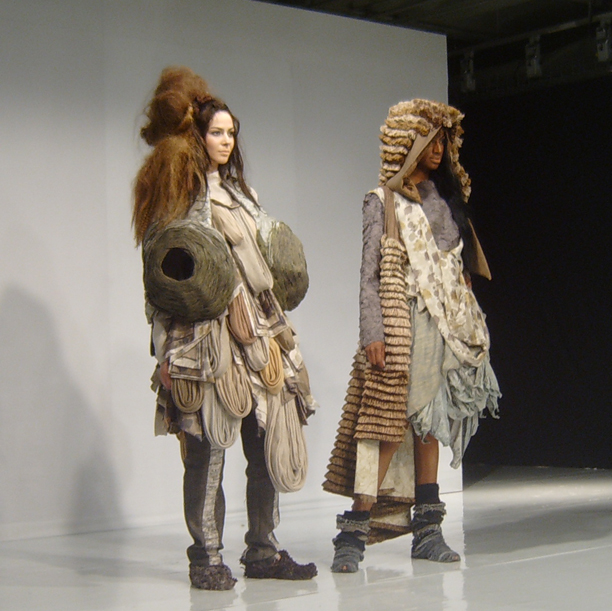 This year the fashion show took place on May 1st and 2nd. For the last seventy years the SAIC fashion department has used this annual event to showcase the talent of its undergraduate students. The show plays an important role in both the community and at the school. Tickets for the evening show on May 1st sold for $500 each and were used to fund the generous scholarships provided to students of extraordinary talent. Tickets sold on May 2nd (at $50 each) were used to offset the costs of the show.
On May 1st Broadway designer William Ivey Long made an appearance in which he spoke with student designers. Long regularly selects students to work as interns at his New York studio. It's no small wonder that he would search for interns at the same fashion school where so many important contemporary designers have studied (i.e. Halston, Cynthia Rowley, Laurence Steele, J. Morgan Puett, Eunwha Kim, Maria Pinto, Gary Graham, and Matthew Ames.) He is also doubtlessly aware of the fact that SAIC graduates hold senior design positions at Yeolee, Jones New York, Levis, Nike, Charles Chang Lima, and Tommy Hilfiger, and design for Anna Sui, Calvin Klein, Zac Posen, Betsey Johnson, Triple5Soul, and Moschino.
Back to my seat in the auditorium, the lights dim to signal the beginning of the show. Several screens across the room read, "Sophomore Collection." A barefoot model struts on to the stage, adorned in a light pink cotton and white canvas top, a heavy white canvas pleated skirt with a white tulle underskirt. The designer, Jin Hee Heo, wrote in her bio that she was inspired by the image of an umbrella in the rain. The energy in the crowd is eager with anticipation and excitement. On my other side, the aunt and grandmother of SAIC student designer Julie Adams are discussing her work. "Everything she's working on is electronic," explains Adams' aunt. "She's got ipods and cords hanging out of everything." Her grandmother pipes in with obvious pride, "Last year it was all breasts and butts!"
When Adams' models walk out onto the stage, the lights suddenly dim again, and the hundreds of lights embedded in their dresses iluminate. When the lights brighten a third model appears wearing a wire dress infused with the aforementioned electronic devices.
The crowd sighs and exclaims. One woman behind me calls out, "The work that goes into this!" This seems to be the predominate sentiment. A palpable sense of amazement flows from the audience. The sponsors, department members, designers, crew, family members, and community all witness this elaborate, labor-intensive, incredibly creative production with a deep sense of appreciation and awe.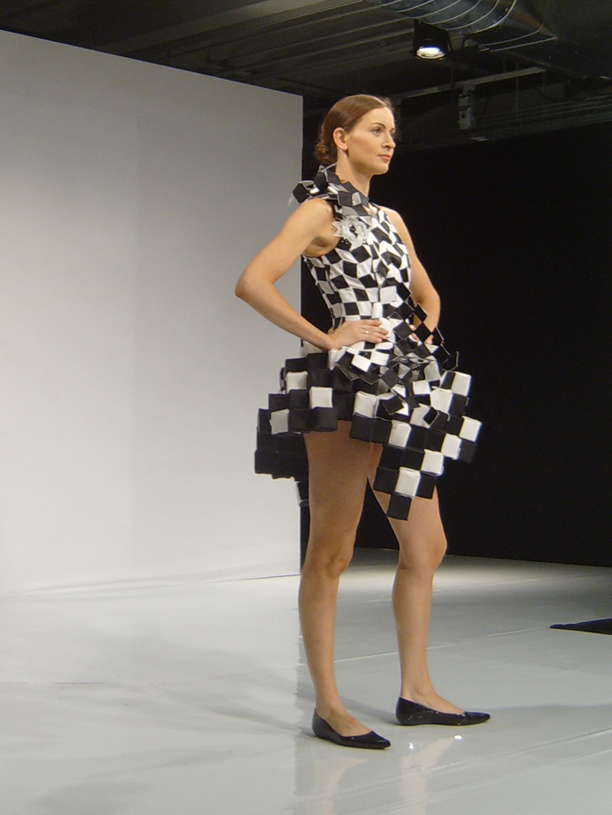 When reading the artist's statements included in the program, I learn that many of the works were intended to directly address societal issues or literary inquiries. A series of models walk down the runway blind folded with red gauze.
The clothing varies as widely as its inspirations: From Yoon Ju Lee's white pima and batiste cotton top that was inspired by "shells and bones," to Arushi Kumar's work based on the quiet rebellion of the woman of Iran.
Designer Seul K. Uhem said that her designs are a commentary on the fact that, while the media intends to represent reality, instead it creates "political illusions" that blind the viewer and render him helpless to act.
After the show I ask designer Arushi Kumar how many of the fashion designers are politically and socially charged . "Everything's been done," Kumar said flatly adjusting a model for a quick photo shoot, "If you think of it that way, you have to search for something deeper. Something closer to the truth."
The show lives for a short vibrant moment and then ends. The designers quickly gather their work and leave. On the way out I catch designer Rachel Frank whose incredibly elaborate costume design was based on the scenes and characters from Dante's Divine Comedy. She characterizes the show as a victory. "I don't come from a wealthy family," she explains, "I had $500 dollars to make the collection work." She draws an incredible brown chiffon and wool tiered dress with a tree branch armature that begins at the nape of the neck and hangs suspended over the head of the model towards her. The dress, she explains, was decorated with branches and bark from 35 different trees.
The last one out is Dijana Granov, the producer of the show. She cleaning, obviously exhausted. She's the hardworking curt type and I'm struggling to keep up next to her to ask her questions. When I ask her how the show went, in her opinion, over all, she pauses between a mannequin on wheels and a row of small mirrors. She smiles down quietly at the floor. Then she looks up and says, "very, very well." For a minute I actually catch her beaming and then she turns around gather lanyards and fliers off the floor and is gone.