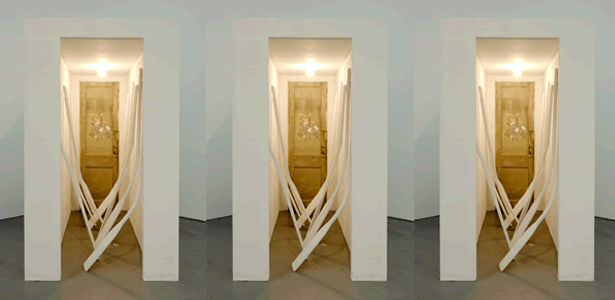 by Rowynn M. Jarvis
Upon walking into the Museum of Contemporary Art Chicago, the first thing the viewer is greeted with is a creaking, slowly spinning, rusted mobile. Trials and Terrors is a showing of large-scale multimedia installations the MCA describes as "transformation through hardship and evocations of sinister phenomena and events." Five taxidermy molds of what appear to be grotesque, Indian-yellow prairie dogs and half of a deformed bear suspend from the four points of an insane merry-go-round. A monitor attached to the mobile slowly makes its way to the viewer, emanating the buzzing thrum of a television with the volume turned up all the way. The reverberation of a powerful wind cuts in just as the image of a skinned fox, veins protruding, meets the eye. The imitation of life dances in the shadows of the wall, as I walk away from Bruce Nauman's "Hanging Carousel (George Skins a Fox)."
The short that is featured in Trials and Terrors is one by Torbjørn Rødland. The film has all the makings of a slow motion, conceptually picturesque fairytale of terror. Imagine an elderly, grey-bearded preacher man near the end of his years, his opposite a beautiful youth of blonde-braided pigtails with piercing ocean eyes and a crone weeping in nightmares. The room is dark and the candles go dim. A foul breath is in the air and the wind screams in the frozen wilderness. The headlines display the title of the short and we have come back to the beginning of "The Exorcism of Mother Teresa."
Another noteworthy appearance in this show of Terror is a still shot from Matthew Barney's Cremaster 2: The Drone's Cell. In this image, Gary Gilmore (a character from the film) is featured holding a gun in his lap, staring straight at the camera with hollow eyes. The description relates that this is a shot of Gilmore "moments before killing a gas station attendant and symbolizes the critical point when a criminal lifestyle becomes fatal."
Opposite this is a large black and white photograph, Gillian Wearing's "Self Portrait as my Mother, Jean Gregory." This photograph looks like it came straight out of a yearbook from the 1950s- so perfect and pristine. On closer inspection, though, it is actually Gillian wearing a wax mask cut from her mother's face.
Kara Walker's "Presenting Negro Scenes Drawn Upon My Passage Through the South and Reconfigured for the Benefit of Enlightened Audiences Whenever Such May Be Found, by Myself, Missus K. E. B. Walker, Colored" is brilliant, imaginative and bizarre. It is reminiscent of the old, romantic, historical South with its silhouetted Spanish moss and its Victorian imagery, but with a nightmarish freak show twist. Walker uses ebony cutouts to tell a tale of a minstrel being wound up like a marionette, by a dwarf mammy; a performer with a trumpet protruding from its arse; a voudou priestess seemingly pulling the spirit possessing her from her mouth; a two-headed woman, one stacked upon the other; and who is it that is being buried alive?
Other artists being shown are Larry Clark (KIDS), Mike Kelly, Mark Manders, Cady Noland, Rob Fischer, Chris Vasell and others. Trials and Terrors is showing at the MCA at 220 E. Chicago Ave. through September 25, 2005.
Photo "Untitled (Hallway with Oars)" Rob Fischer, 2001;
Image courtesy of MCA
September 2005