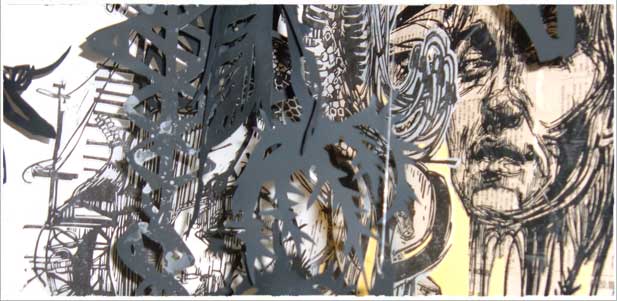 by Marisa Holmes
Deitch Projects explores the convergence of art forms and genres in contemporary gallery spaces. Since it's conception in January 1996 it has produced spectacular installations and performances, playing host to the likes of Vanessa Beecroft, Oleg Kulik, Todd James, Steve Powers, and, perhaps not so surprisingly, Yoko Ono. Most recently, it has been the site of the art world-turned reality show, Art Star.
As I prepared for my decent into the world of Jeffery Deitch I couldn't help but wonder if reality would disappoint. Would I unmask the wizard only to find a washed-up old man doing magic tricks? Surprisingly, I found my experience to exceed my larger than life expectations.
The 18 Wooster Street location, of Deitch Projects, housing West Coast's Barry McGee's "One More Thing," could easily be missed by the average pedestrian if it weren't for a small neon sign showcasing a caricature of a Chinese man grinning. He greeted me in a condescending manner as I entered at my own risk. Immediately, I was bombarded by a cacophony of images and sounds. To my left were overturned cars piled to the ceiling. Dangling wheels spun swiftly and flew past my head. I ducked. An interior of one car had been re-created upside down as if to serve as a living room and was filled with several television sets all flashing sequences of geometric patterns. Tiles painted in similar patterns were mounted in the hundreds on adjacent walls, thus creating a dizzying Op-Art sensation, while evoking the spirit of quilt making as it repeatedly grew as if from nowhere.
This continued toward the back staircase, which led to the second floor or platform. Here another video installation of sculptural quality demanded attention as brief clips of police brutality caught my eye. This surrounded a poorly erected closet, which, upon entering, revealed a precariously placed ladder leading into what seemed to be some sort of abyss, but was actually a single, secluded room decorated in sketches of downtrodden and disgruntled New Yorkers. Below lay, strewn about, a snake-like collection of discarded DVD players, sucessfully convey a sense of urban decay.
Emerging from the underground, I was confronted by a string of animatronic taggers, each shouldering the other so as to allow the top figure to write AMAZE, one of McGee's more famous tags from his days as a student. Barry McGee began tagging in 1984 and continued during his years at the San Francisco Art Institute, where he fell into what I suppose could be classified as the Graffiti Renaissance of the West Coast. Never restricting himself to exterior walls, McGee was known for using anything and everything he could find, from empty beer bottles to pieces of fence posts. He can still be found occasionally along train tracks in the Bay Area. However, he is doing quite well in the four white walls of the gallery.
McGee has exhibited large-scale installations at the Yerba Buena Center for the Arts San Francisco, the San Francisco Museum of Modern Art, the Drawing Center, and has had three previous shows at Deitch Projects. True to form, he always incorporated the vitality and chaos of the street in his work and this current exhibition is no exception. Using every possible medium, he creates an environment of noise, destruction and creation. The title, "One More Thing" definitely lives up to its promise.
The first solo exhibition by New York artist SWOON is on display at the 76 Grand Street gallery of Deitch Projects located just around the corner from Barry McGee's exhibition, but proximity is not the same as similarity. Both artists consider themselves to be urban outsider artists, but they have completely different notions of what it means to be an urban outsider. While McGee brute in his approach, SWOON is unassuming. I timidly walked into a state of reverie caused by the multiple interpretations inherent in his work. A fantastical city constructed of newsprint and tracing paper lay before me, and although I was re-assured by a gallery attendant that the work was interactive and I couldn't help but try not to step on egg shells.
The piece was on the brink of destruction. It was intricately crafted to allow me enough room to explore the inner workings of the environment. At every turn I found an intriguing portrait, whether it be of a boy riding a bicycle or girl dancing in the middle of the street. It was a virtual ghost town. Every character was carefully designed so as to be temporary and fragile, so if the air blew in the right direction their story would end and make way for a new one.
The scene was supposedly inspired by the sidewalks and subways of New York City, as well as the unregulated tenements of the Kowloon Walled City of Hong Kong, which was bulldozed in 1993. However, the city could really be transported anywhere at any time, for its main objective is to connect lives that wouldn't normally be connected and give importance to everyday occurrences. A boy riding a bicycle doesn't normally garner much attention, but he is still part of the experience of the street.
SWOON has been primarily known for her large-scale linoleum block prints and wheat-pastings, which can be found all over the Lower East Side and Brooklyn, thus gallery work is a huge departure for the artist. When street artists move into the gallery there is always something lost in the process, the immediate nature of creating or perhaps the political significance. But the aesthetic remains, and in the case of this artist it is more than enough compensation.
Works by Barry McGee, 2004; Image courtesy of Deitch Projects
September 2005