The story of how SAIC broke up with the bicycle, that most-potent symbol of egalitarian modernism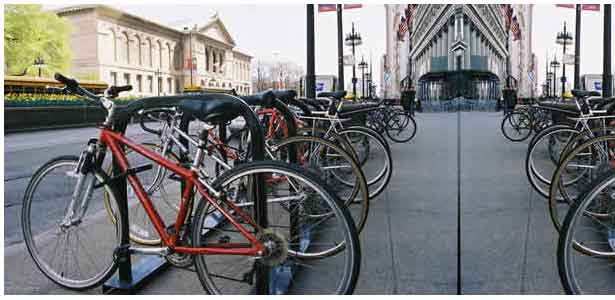 by Manda Aufochs Gillespie
It was still warm enough to want to ride your bike when F reported that SAIC, with only 24 hours notice, banned bikes from school buildings. Now, with spring bringing bikes back to the mind and to the bike racks in front of the SAIC school buildings, the question arises again: what is going on with bike parking at SAIC?
SAIC President, Tony Jones, says he hopes to have an indoor bike parking option by this autumn. He originally caused outrage among committed bicycle riders at SAIC when he announced at an all staff meeting held on December 8: "No bicycles in the buildings, it's as simple as that." He explained, "I am simply responding to fire marshals who have said bicycles cannot be in buildings because they are an impediment to safe exit. "It is only an issue for a fire inspector if a bike were blocking a fire exit," says Randy Warren, Project Director at the Chicagoland Bicycle Federation, "there is nothing specific about bikes." There is no reason that bikes can't be in buildings anymore than photocopy machines, garbage cans, desks or chairs. Bikes can not block fire exits or fire extinguishers: desks can not block fire exits or fire extinguishers. "There are no codes or laws that forbid bikes in the buildings," he says. "Many schools have established really good solutions for bike parking," Warren says. He describes a really good solution as providing a place: where bikes can be locked securely in a locker, in limited-access locked and fenced area, or other supervised area; that is well-lit and feels safe; protected from the elements; and that is easy to access. Warren says that many of the schools in the Loop provide bike parking that he would describe as really good, including: De Paul, Loyola, and the super dorm shared by Columbia, DePaul, and Roosevelt.
Kathi Beste, SAIC Director of Publications, says that she would settle for "bringing my bike to my office, where it is out of the way but safe from theft." Anders Nereim, Chairman of Department of Architecture, Interior Architecture, and Designed Objects, dreams bigger. His ideal parking solution is "in the unused pool in the basement of 112 South Michigan." In this scenario, "there [would be] room for hundreds [of bikes] in a dual level locked and hanging scheme and there is [already a] separate padded elevator in from the outside." He describes the whole scene in detail: "You roll past the security check; the basement level executive parking spots; and the all-important one hour, TA-driven, paid repair shop. Then you go down one more level in the padded freight elevator, set aside for this during rush hours, to a ramp down into the pool, with security cameras watching the whole thing." He has a class designing sustainable solutions, including the pool scheme, to present to the City on May 16th.
President Jones says that, ultimately, the reason bikes aren't allowed in SAIC buildings is because "there is a policy [against it] in the handbook." President Jones goes on to ask if bikes aren't allowed in the art museum galleries, why would they be allowed in the school buildings? Both Kathi Beste and Anders Nereim emphasize that being able to ride their bikes to work is very important for them and for others in the school. Beste explains it is "extremely important for all groups, for health, environmental, and financial reasons." Nereim says "I ride because 1) it saves me money which I desperately need to do to pay for college (for daughter number two at Yale), and 2) it is beautiful in every way, and 3) [it is] also very helpful to the sky, the park plants, and our lungs." Nereim goes on to say that he rides his bike for both pleasure and transportation, "but in the winter only because it is the right thing to do." President Jones says they are continuing to look at the old Walgreens' location as one possibility for secure, indoor parking for this winter. He emphasized that this solution would not be permanent and might only be possible for one winter. "Long term covered parking is going to be a problem." Despite the difficulties of finding a solution to the bike parking problem he does say, "It's important."
Anders Nereim says, "This is the most important problem to solve," when questioned about how great of a hindrance it is to not have secure, indoor parking for bikes. "Theft and salt damage are only solved by parking indoors, and 300 slots in far northerly Grant Park, at least four salty, slushy blocks away, does not work at all for the school community." President Jones introduced the possibility of the old Walgreens pharmacy, located just north of the 37 South Wabash Building, in the December staff meeting. He said at the meeting, "we're hoping we're going to be able to do this before the first flake of snow falls so that we would be able to give you protected indoor space for bicycle storage." That was, unfortunately, last winter, and bicycle riders were left, literally, out in the cold all winter.
"I appreciate that someone is talking about indoor access to the SAIC buildings [for bikes]," says Travis Culley, author of The Immortal Class: Bike Messengers and the Cult of Human Power and a student in the MFA in writing program at SAIC. "If the school took to accommodating bicycles in the city, we would be giving more students the hands-on feeling of a contemporary art school and a forward-thinking society. Maybe this sounds pompous, but cars are not going to make cities more brilliant: artists are; and artist on bicycles are visible to everyone," he says. "Cars lease public property for a hefty price," Culley explains. "Consider that more than 60 percent of the central business district [in Chicago] is allocated for storing cars. Chicago is famous for this. Look beneath Millenium Park! And yet we don't have indoor access at school," says Culley, as he calls into questions the example the school is setting for the city. "I think designers really have to fix this, and it should start here at SAIC."
"Now that the City of Chicago and the school are collaborating so closely on sustainability initiatives for the city as a whole," it is especially important for faculty, staff and students to be able to ride bikes to the school. "We have to walk the talk or it all collapses around our heads and we look bad," he says. Beste emphasizes that the school pushes the idea of sustainability in all of its marketing materials, and it "seems like this ban on bikes from the president goes against those kind of initiatives, and calls into question the sincerity of the school's self-promotion on environmentally-friendly ideas."
With no long-term vision for bicycle parking for the school, maybe it is time for students, faculty and staff to come together and question how the school can turn this problem into an opportunity. Maybe we will come up with an answer as impressive as the Crowne Fountain in Millenium Park or as encouraging as the new green collaboration with the city
May 2005