Reflections on Living in Space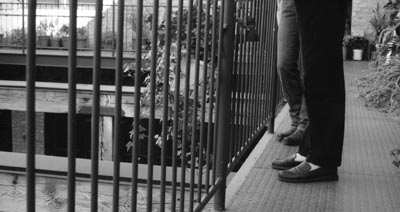 By Abby Glogower
Imagine it's two a.m., you just got home from work and have to be up again in four hours. Several hundred people are packed into your living room while a band is raging. "You can go to your room," my friend Mike once said with a smile about life in a venue space, "but there's really nowhere to hide." Even in your exhaustion you remember that you live here for a reason, so you grab yourself a beer, walk over to the sound table to see if they need any help, knowing that when you get home again tomorrow, a day's worth of cleaning will be waiting. What prompts people to create or seek out living environments that function both as private home and public space? What are the challenges and rewards of living in a collective live/work/venue space community? Last month I had the opportunity to visit the Acme Artists community, an established, government-subsidized home for artists. Acme is a legitimization of the kind of efforts that artists have been making here for years, efforts to create holistic environments for living, working, and sharing art.
Chicago has a long and rich history of independent artist housing collectives and live/work/venue spaces. A one-page write-up would hardly do justice to the phenomenon either past or present. I suspect this project is already rattling around the mind of Chicago native Ed Marszewski, founder of Lumpen magazine and the Buddy space in Wicker Park, and an all-around wealth of information on the past two decades of Chicago's DIY art scene. In the meantime, we offer some excerpts from informal conversations with residents of several local live/work/venue spaces: the Texas Ballroom/Diamonds on Archer complex in Bridgeport and the Buddy/High School/Heaven complex in Wicker Park. These artists, residents, and promoters share some reflections on the highs, the lows, and the not-at-all lucrative business of using your home to promote creativity and community.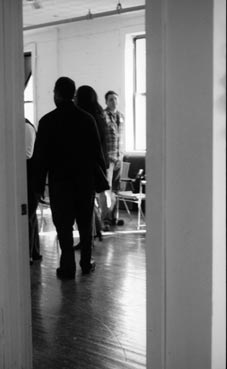 Why a Space? Why now?
Ed (Buddy): Spaces are the most important things people can create right now, in a world that's increasingly privatized. Bars and coffee shops are simply not enough. People need to take a proactive do-it-yourself approach to facilitating community and expanding the kind of cultures they want to create and share. Spaces are crucibles for promoting our cultures.
In the Beginning…
Mike O'Neill (Texas Ballroom): The building has a long history but the current incarnation came together about two years ago when (SAIC alumna) Cat Solen sought out the site to create an all-purpose arts and events place. The first wave of residents really built the house themselves (the bedrooms, the second floor, etc.) with some help from our landlord who has been very supportive of what goes on here. Around the same time, James Tsang (also an SAIC alum) coerced the landlord into renting out the commercial space on the first floor. This too was built up by the residents and became Nightgowns, now known as Diamonds.
Ed: Buddy started about two and a half years ago as a discussion at the bar. It was really a confluence of interests. We wanted a mixed-use space to run the magazine (Lumpen), for people to live and work and to showcase interesting work.
Lisa Flores (High School): First came Heaven Gallery, then came Buddy, then came High School in a baby carriage. Caton Volk, who was running a production company out of Buddy, was able to secure the space for his friends before anyone else got their grubby hands on it. As for a mission, we had one, but it was rather a far-reaching one and it changes after you start actually having events. Really, we just want to provide a comfortable place where people can meet and share what they know.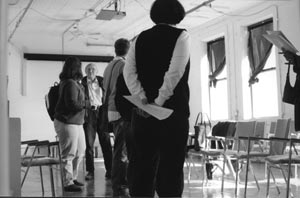 Like a Well-Oiled Machine
Mike: Our space is very expensive to run. The heating in the winter is outrageous so we have to manage our money wisely. Any money that comes in from events goes into a house fund, which we use to pay bills, host shows, make improvements to the house, etc. Living without this kind of buffer could lead to serious problems.
Lisa: We used to have meetings. That proved useless. We don't have meetings anymore, and what suffers the most is that the bills are not getting paid. The best system is to just do it yourself, and if you can't, ask for help. Most of us wanted a wall removed from the main gallery area; I did not know the first thing about it. Austin, our newest resident from Brooklyn, tore it down in 20 minutes. That was a lot of fun to watch.
The Best
Ed: Immediate access to crazy culture, the good feeling of bringing people together and getting to meet all the people who come through the space"socializing is so important to who we are, and it's great to provide a venue for that. For example, I loved the Lumpen Wave party from summer of 2002. We had over 500 people all dressed up in 80s costumes. I got to perform a medley; it was a very fun event.
Mike: Moving to a new city where I didn't know many people, becoming part of a project like Texas was great. A great bonus to living in a venue space is that it gives the residents an easy opportunity to showcase their own work. It gives you a chance to establish yourself before even having to peddle your material to outside venues.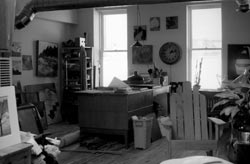 Lisa: Besides riding my BMX and beaming movies on a wall? The most rewarding thing about living at High School is that I was able to revisit a past passion of mine in dance, [and I] was able to hold classes which grew into rehearsals for a show that we presented in the space called The Tragedy of Triumph.
The Struggles
Ed: Burnout is unfortunate but it's also normal. It takes a lot to keep a space running, but overall Buddy feels very secure right now.
Lisa: Beyond the usual risks opening up to the drunken public at large, the biggest drawback for me was the lack of motivation my roommates displayed in the beginning. Some saw it as a playground, a convenient place to exist, and not a group project.
Mike: It's hard to share your space with people who don't always respect it. We have events and have to worry about stuff being stolen or damaged. We also feel responsible for people's safety as well as for providing them with a good time, two concerns which are sometimes in conflict. Sometimes you miss most of an event because you are tending the door or cleaning up a mess or talking to the cops. That balance between leadership and democracy is also a tricky one. As nice as it is to function as a collective, it still requires the strong hand and extra dedication of a few members.
Wisdom
Lisa: My first piece of advice is not to choose your space-mates based upon the fact that all of you enjoy a kick-ass dance party. Instead, be sure everyone has a steady income and that you share similar attitudes about social mores and work ethic, figure out early on what everyone will do to make it work, and hold them to it.
Looking Ahead
Mike: The space will be what it is depending on who inhabits it. Everyone brings their own flavor to the community and this influences the kinds of events we host. In the beginning, we saw our space as a completely multi-use arts arena, but we decided we'd rather have our sanity. Now we are having fewer events but making sure that we are really psyched about and committed to each one. More events like the Tracy and the Plastics show, or the Pilot trans-feminist media conference, stuff we stand behind ideologically.
Lisa: The future of High School is looking positive. We are in good standing with the landlord. At the time the residents are stable, but the events schedule could use some work. I've had an itch to host a photography show.
Ed: I am really excited about this year's Version conference on "Invisible Networks." It's a convergence for people involved with spaces to share art, information and ideas about starting and maintaining live/work/venue spaces. Using Buddy as a kind of "home base," last year we had 12 Chicago-area spaces and 16 days of projects around the city like workshops, screenings, and interventionist media events. This year we're taking it national and international. It's going to be a "spaces summit" with people coming together from diverse backgrounds the world over. If you have information about a space, or are interested in helping out, please send it to me at [email protected] It's going to take a lot of collaboration to make this happen but It's going to be awesome when it does.
This piece should not be considered a definitive guide to local residences of this ilk. If you know of or live in a Chicago area artists live/work/venue space and would like F news to report on you please contact [email protected]
The Home's Websites:
www.youngarcher.com
(Texas and Diamonds)
www.Lumpen.com
(Lumpen magazine and Buddy)
www.highschoolspace.com
(High School)
www.heavengallery.com
Photos by Stephanie Atwood
December 2004