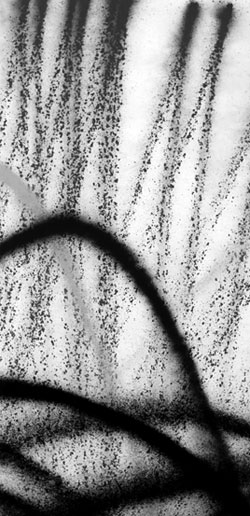 By Emile Ferris
Rosemarie Fiore's drawings, on display through December 4 at Bodybuilder and Sportsman Gallery, cleverly reveal that a machine, the Scrambler amusement park ride in this case, can be effectively employed as an artist's tool.
In order to accomplish this feat, SAIC alum Fiore attached a paint supply to a gas-powered spray mechanism, similar to an airbrush, that was connected to the cars. Fiore, who now resides in New York, manipulated the thickness of the strokes by controlling the speed of the ride via remote control.
Each monumental work is cut from the larger 60′ by 60′ piece of either vinyl or canvas. The edited drawings, like apportioned 1970s circus-colored mandalas, or Spirographic Jackson Pollocks, combine the thrilling mechanical energy of the Scrambler with Rosemarie Fiore's finely honed artistic sensibility.
Two videos play simultaneously in the gallery so that the thoroughly engaging process can be witnessed first hand. Also displayed at the gallery, and not to be missed, are Fiore's Evel Knievel Pinball Paintings.
Image: "Good Time Mix Machine: Scrambler Drawing #42" Courtesy of Bodybuilder & Sportsman Gallery