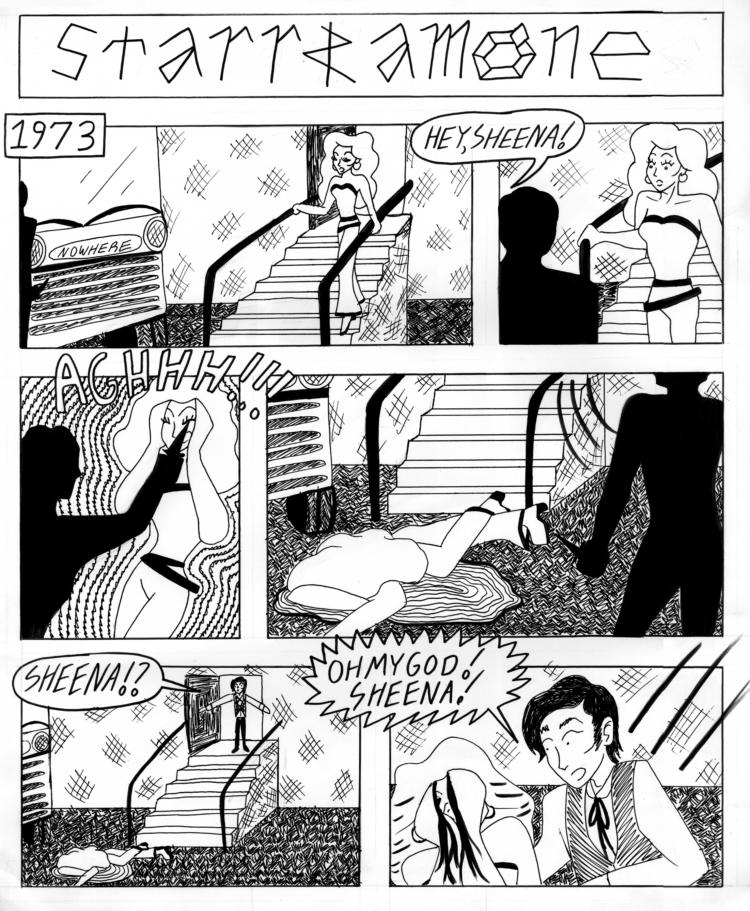 Transcript:
PAGE ONE
Panel 1. A caption box reads: 1973. Below, Sheena Glam walks out the back door of a venue.
Panel 2. A man walks up to Sheena, catching her off guard. The man yells, "Hey, Sheena!"
Panel 3. The man wields a knife to Sheena's eyes. Sheena screams out in pain.
Panel 4. The man runs away. Sheena is left on the ground, face down.
Panel 5. Kenji enters from the back door, and is shocked. "Sheena?!" he yells.
Panel 6. Kenji tries to help Sheena, knelt on the ground and covered in blood. Sheena's hands are over her eyes. Kenji shouts, "Oh my god! Sheena!"
PAGE TWO
Panel 1. In Starr Ramone's empty apartment, she and Kenji Davenport talk at a table in the kitchen. Starr says, "…she brought me back to life –and she saved my vision by giving me new eyes– but I was never the same. I could never go back to the industry that failed to protect me. I had to find a way to fight against it."
Panel 2. Kenji smiles slightly. He says, "Oddly enough, I felt the same. Music had let me down."
Panel 3. Starr listens intently. Kenji finishes his thought, saying, "It let us all down."