SAIC alum Rowynn Dumont was Houlberg's assistant for over six years. She first learned of the instructor while flipping through the course listings, excited to find offerings like Haitian Voodoo and Witchcraft. "When she would walk into a room, it was like a forgotten entity was walking in, like something you hear about in storybooks. It was like meeting someone who was the last of [her kind]." Under Houlberg's influence, Dumont was the first at the school to pursue a BFA in Studies of Taboo Religions & Sexuality in Art.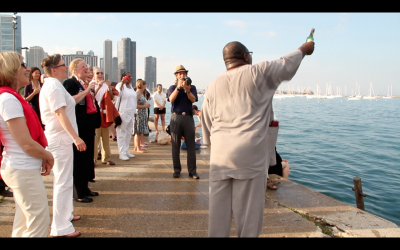 Soon after Dumont met Houlberg, the roof collapsed in the professor's studio. Much of her vast collection of Haitian and African Artifacts was damaged or destroyed. Hoping to gain Houlberg as a mentor, Dumont offered to clean the space and catalog the objects. The project, like Romero's, is not yet complete; of 10,000 image slides being made for the Smithsonian 7,000 have been completed. Pieces from Houlberg's collection made up a significant portion of the exhibit "In Extremis: Death and Life in 21st-Century Haitian Art" at Los Angeles' Fowler Museum last year.
Dumont recalled when Houlberg travelled to Haiti and was delayed reentering the country for almost two months. "I finally got word from her that she got stuck in Haiti because she was bringing back a human head that was still decomposing," laughed Dumont. "I'm assuming it was from one of the temples. Whether she ever got that head through customs, I am not sure." Houlberg, a rumored witch, exuded a powerful mysticism among the people of Haiti; in the Southern plantation house where the pair stayed, Dumont says they spent two to three hours daily visiting with the lines of people who came to see Houlberg.
Conversation eventually quieted down to make way for speeches. Don Cosentino, Houlberg's close friend and colleague since the 1970s, joked that Houlberg's spirit had a hand in the misplacement of his glasses on his flight from Boston, forcing him to spend the event in his elusive prescription aviator shades. Cosentino, who worked with Houlberg on exhibits including "In Extremis" and her 1995 traveling exhibition "Sacred Arts of Haitian Vodou," fondly recalled Houlberg's humongous Elvis altar, her love of miniature dogs, and her "utter contempt for bourgeois standards." "Wherever Marilyn went there was drama," he said, marvelling at the numerous natural disasters the scholar had survived in her travels.
Painter Tony Phillips affectionately remembered living downstairs from Houlberg — "I could hear the drum beats downstairs and smell exotic odors drifting up my floorboards." He read from a letter from his wife Judith Raphael, who was unable to attend the event: "Marilyn had an original vision." Diaby Diarra, a leading art dealer in Mali and friend of Houlberg, was overcome with emotion as he remembered her generous spirit — "Marilyn did so much for our community," he said.
Artist Dayo Laoye, who fondly referred to Houlberg as Iya, or "Mother," finished his speech with a ritual pouring of whiskey and water, sipping the whiskey and spitting it into the air full force. "By collecting African spiritual art, [Marilyn] has preserved our culture," Laoye later said of the display. "This is why I poured libation in her honor, with water (Omi) first, to calm her journey, followed by whiskey (Oti), for strength. I later sprayed the oti into the air, so the spirits and hers will partake."
After the speeches, the crowd took part in a long, humid procession to Lake Michigan. Baron Samedi and Mama Brigit danced at the front of the line, and the drummer never strayed from his rhythm. A few carried wooden boats with brightly printed sails.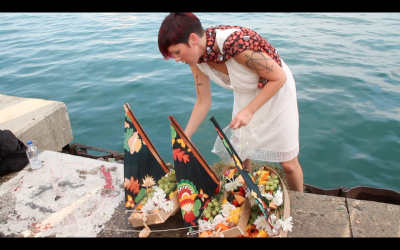 At the lake, Houlberg's friends and family loaded the boats with a vivid assortment of white flowers, grapes, melon and peppers — offerings to their departed companion. Laoye sang a song called Yemoja Olodo ("Yemoja, the Goddess of the Sea") as Magda climbed a ladder closer to the water and sent the boats and contents on their way. Then she and her wife Jenn Richards, to the group's surprise, jumped in themselves, immersing themselves in Houlberg's spirit and legacy. Laoye led the crowd in yelling "ODIGBA!," a Yoruba bidding of goodbye.
F Newsmagazine's Fen Chen presents a two-part video documenting professor Marilyn Houlberg's memorial service at SAIC