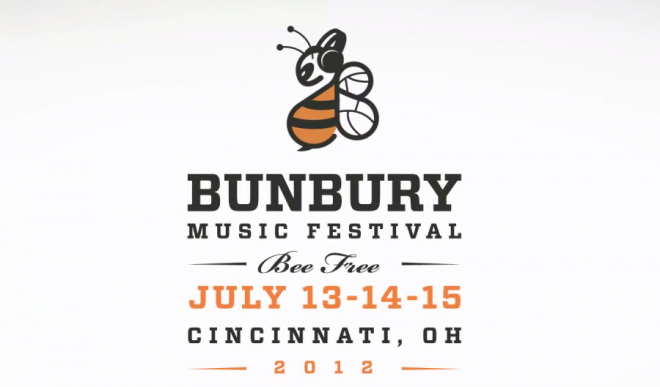 The inaugural Bunbury Music Festival will take place the weekend of July 13-15 at Sawyer Point & Yeatman's Cove in Cincinnati, OH and features headliners such as Jane's Addiction, Weezer and Death Cab for Cutie. The festival aims to bring regional Cincinnati acts together with national headliners to bring attention to their local scene.
By combining national acts like Guided By Voices, Dan Deacon, Ra Ra Riot, Passion Pit, Margot & The Nuclear So & So's, OAR and many others with up-and-coming Cincinnati bands such as Foxy Shazam, Pomegranates, The Tillers, Belle Histoire and tons more, festival founder Bill Donabedian thought that it was time for Cincinnati to be in the spotlight. With so many other major cities hosting large festivals, Donabedian thought that it was Cincy's time to shine. The festival will also feature "Techbury," a mini-fest with interactive games, product demonstrations and more, curated by CincyTech and Possible Worldwide.
Must-catch sets include Guided by Voices, who are notorious for producing some of the best short lo-fi indie rock anthems throughout the last 20 years. To the dismay of many fans GBV disbanded in 2004, but reunited in 2010 and have since been producing music again. Their new material does not disappoint — it's surprising that these rock legends aren't higher on the bill.
Chicago natives Maps & Atlases will be performing their sophomore LP Beware and Be Grateful, which was released this April and shows promising direction for the band. The experimental but accessible rock offers an interesting combination of both technical and folk elements, and singer/guitarist Dave Davison has one hell of a beard.
When it comes to the Cincinnati acts, Foxy Shazam is not to be missed. Foxy is definitely a band to keep an eye on — their pop rock hits are a Queen-meets-Portugal. The Man combination, consisting of fun, upbeat choruses to sing along to. The band has some seriously awesome stage presence, with crazy dance moves that keep the crowd going.
If you're looking for something to do other than Pitchfork Music Festival this weekend and haven't had a chance to get out of town yet this summer, this might be your opportunity. Cincy is only a 5-hour drive away and the lineup looks promising — hopefully this will be the first year of many years to come for Bunbury Fest!
Tickets and full lineup are available at the Bunbury Music Festival website.