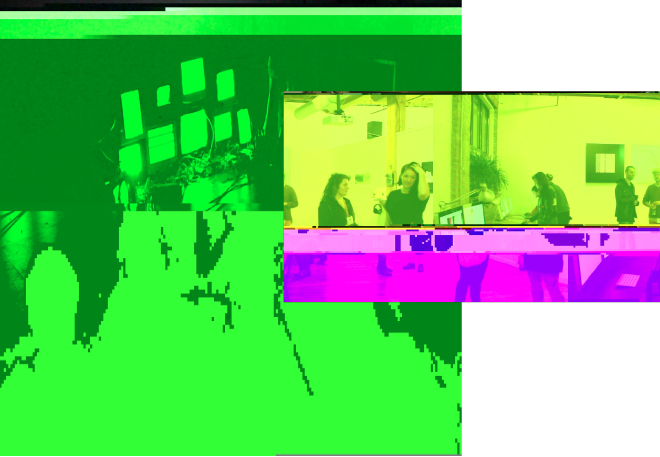 Photos by Chelsey Hoff
Above:The MB LABS Gallery Space.
Left:
November 4
th
real-time performances at Enemy featuring Cracked Ray Tube
[
James Connolly
+
Kyle Evans
]
.
"We've reached the point
where we're no longer
scared. The 'glitch' is no
longer uncanny."
Rosa Menkman
These were the folks who were the first to type 80,085 into their calculators in grade school. The ones who never "died of dysentery." The ones who rode in on white horses when modems/faxes/printers failed. These were the people who embraced the technology as they encountered it, and now they have become conductors of a vast orchestra of bent circuits and bleeding pixels.
Nowhere were those maestros more present than at the second annual GLI.TC/H Festival, which kicked off its three-city international tour last month in Chicago before moving on to Amsterdam, NL, and Birmingham, UK. The local leg spanned four days of exhibitions, lectures and real-time performances, which featured all types of tech-savvy denizens of the art world. The opening exhibition, held at MB Labs in the Near West Side, featured artwork that spanned a vast spectrum of media and origins. "We received 450 submissions from over 20 different countries," said Rosa Menkman, who curated the festival along with Nick Briz, Evan Meaney and Jon Satrom. The diversity of submissions showed at the gallery opening, which presumably displayed only a tiny fraction of the total amount of artwork received but still managed to encompass an impressive range of practices.
On display were several video works; one, by artist Chelsea Arden Parker, involved a jarring audiovisual loop of Heaven's Gate cult leader Marshall Applewhite. Melissa Barron's loom-woven screencaps, done in green and black to mimic an old MS-DOS interface, had a stable physical presence that complemented some of the more ephemeral works. A diptych by Anthony Antonellis hung high on the wall and attempted to bridge the gap between the two sides – one panel showed a projection of block ASCII characters scrolling through a slithering pattern, while one panel portrayed the same four foundational characters as static and austere.
"The technical definition of a 'glitch' is a break from technology, but I think we've reached the point where we're no longer scared. The 'glitch' is no longer uncanny," said Menkman. She attributes the recent and sudden explosion of glitch artists to the idea that artists are "no longer afraid of [programs] breaking," but excited with the prospect of creating something with "a new language."
This shift from experimentation to craft showed through both the gallery shows and the real-time performances. The most playful and entertaining aspects of the former were the interactive works, including a giant light table equipped with touch sensors and a glitchy world to explore and a "broken" operating system mounted on an iPad, encouraging tactile control over the chaos. The aspect of hand-crafting glitch art carried over to the more theatrical side of the festival at a set of live performances at Enemy Sound in Wicker Park.
The night was filled with sharp highs and rumbling lows as each act felt their way through their own particular sets of equipment. "It's always a collaboration with the system," said performer Morgan Higby-Flowers, "but I know it well enough that I can guide it."
Cracked Ray Tube, comprised of Kyle Evans and James Connolly, back up Higby-Flowers' statement with their rather bombastic stage setup. The two artists began their forays into the world of glitch art as separate artists, but as Connolly recalls, "Our projects were so compatible that we decided to do a collaboration." Evans chimed in, saying, "We thought, 'Why don't we get together and just plug one wire here, and plug one wire there, and see what happens?'" The result is a massive sprawl of technological antiquities in the form of stacked CRT monitors. Each screen, set to a flickering static, undulates hypnotically as Evans and Connolly switch jacks and tweak knobs.
GLI/TC.H Part 2: Gallery Opening
F News talks with Rosa Menkman, Nick Briz,Evan Meaney, and Jon Satrom about the nature of GLITCH at this year's GLI/TC.H festivities.
more info about Part 2 >>
The duo's act is particularly unique for Evans' controller, which resembles an old TV set with washers glued to the screen. "It's an analog video transmitter," the artist clarifies. "Ever since the conversion of television broadcasts from analog to digital, the channels have been cleared for me to transmit my own signal. From there I connected the circuits to washers, which I attached to the screen – I bend the circuit through my hand and the output differs based on the ways I hold the transmitter, how much I'm sweating, etc."
"Each performance is a curation of us searching for certain moments of chaos," adds Connolly.
The future of the GLI.TC/H Festival and of glitch art looks optimistic. From the viewpoint of the spectator, the feral beauty of this swirling hurricane-force event, just barely kept at bay, threatens to raise eyebrows and push boundaries. The curators themselves share a sense of optimism based on the booming success of this year's festival.
"It's hard to think about next year," says Satrom, "but we started big and hopefully it'll start cascading."
"Well, last year we had one festival and this year we have three, so next year … nine?" jokes Meaney.
"Spreading like a virus," adds Menkman. Fitting.
About the GLI.TC/H videos
Interview: Brandon Goei | Camera/Edit: Chelsey Hoff
PART 1
Real-time Performances/Executables/Events at Enemy, Chicago, IL. Friday, November 4th, 2011 @ 7pm.  
See video  >
Featuring:
PART 2
Gallery Opening at MLABS, Chicago, IL. Thursday, November 3rd, 2011 @ 7:00pm.  
See video  >