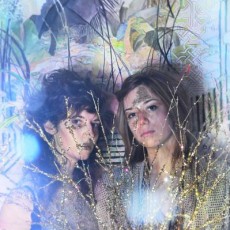 Prince Rama and Gang Gang Dance sharing a bill makes perfect sense: Both bands fall under the freaky experimental umbrella; both are female-fronted; both are from Brooklyn. All of these details make it too easy to put them in the same box, but their live sets were revealing of some notable differences in their approaches.
Prince Rama didn't let their opening band status prevent them from completely engaging the audience at Lincoln Hall on Thursday night. The trance-inducing aspects of their music weren't as potent as their ability to swerve, groove and rock within their songs. The music from their recent release "Trust Now" felt more immediate and driven than the recordings, which may have to do with watching them in person. To see a band with such lush and complex music on record, the live show is like a magician revealing his tricks — even if the big reveal is a collection of mysterious electronics.
Sisters Nimai and Taraka Larson parted ways with bandmate Michael Collins before recording "Trust Now," but their set didn't sound like it was missing anything or anyone. The duo managed to cover a lot of sonic ground. Nimai kept rhythm from behind a wall of eclectic drums while Taraka stayed bobbing like a hip character from Fraggle Rock behind a rack of synths and electronics, stepping out only to strum guitar on the triumphant "Portaling." The band's confident performance and mystic stage presence proved that they've got their own headlining power within them.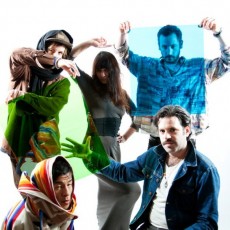 Gang Gang Dance focused on a different aspect of their music. Instead of clarity, the veteran "unclassifiables" (Experimental? Avant-garde? Art rock?) expanded the psychedlic-ness. Opener "Adult Goth" was a high point of the set, even if the instrumental freak-out that preceded it was an endurance test.
It was during the instrumental build-up that a confusing character came into the picture. Taka Imamura, the group's self-proclaimed hype man, danced on stage and played with props (making shadows on the backdrop, fooling around with a dried-out plant) throughout the night. His attempts at transcendentalism became a distracting gimmick early on in the set.
The group exhibited a deep knowledge of their instruments' capabilities, winding and mutating their songs into a muscular groove, which  drew on a wide array of influences. Their prowess was most clear during a point in the set when singer Liz Bougatsos and the hype man Imamura disappeared from the stage and the rest of the group jammed into the most ambitious territory of the night.
The band ended the night with "Eye Contact" closer "Thru and Thru." They were joined on stage by Prince Rama, who added extra drumming and ethereal vocals over the song's witchy snake-charmer riff.
The intensity of the 1-2, Rama-Gang Gang punch felt a bit overwhelming at times, but for anyone with an interest in starry-eyed percussive psychedelia, this line up delivered.