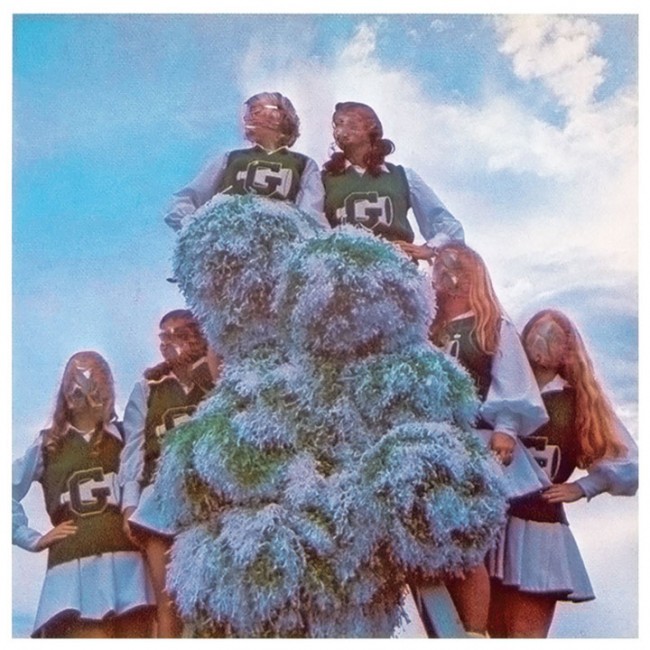 I have a serious love/hate relationship with this record.  It's full on manic-depressive.  Flat out unhealthy.  In the time it takes Sleigh Bells to finish one track, usually around three minutes, a self-contained soap opera occurs in my headspace:
"Oh, wow.  That kickdrum just shook my brain in its fucking skull."
"What the fuck is this shit?  Learn to write a goddamn song!"
"Ooooh…crunchy."
"I've had enough of this bubblegum vocal bullshit."
"These assholes only have one setting: stadium full of cokeheads."
"Well if that isn't the simplest and most effective fucking hook…"
"This is probably the most unforgivably idiotic album I've ever listened to.  I'd rather stab a baby to hear the sounds it would make."
(The soap operas in my head are very profane.)
The first time I sat down, I struggled to get through more than 2 tracks.  The second time, I felt myself getting dumber as I pumped this stuff through my brain.  The third time, I couldn't shake loose the opening segment from "Tell 'Em" or the guitar riff from "Riot Rhythm".  I couldn't tell if I actually liked the album, or if I was the victim of the "old saturated-distortion-bait-and-switch".  Yes, that's a thing.
Adding fuel to the fire was the cover art, which I overlooked for an uncharacteristically long time.  After recently re-exploring the weird dynamics of the record, I finally gave the cover photo a good, hard look, and something clicked.  Somewhere between the nostalgi-ploitation (yes, that's also a thing) of the vintage photo and the melted faces of an all-American cheerleading squad, I felt like I had just gotten to know the band a little better.  And that maybe their efforts to ironically exploit the nature of modern pop wasn't as successful as it seems.
The rolling thunder of "Tell 'Em" and the slap-happy beat of "Riot Rhythm" work well in their own right as pop songs, but the band's formula doesn't always mesh as well as those two tracks.  "A/B Machines" is one of the few songs that falls flat on its face, mainly by being mind-numbingly annoying.  A play on the theme of machines is apparent, but it's the unsubtle repetition that drives me crazy.  It's like a 30-second clip of Tarantino violence stuck on repeat.  Separate elements of the song work fine, but when the slapback echo of a surf-y guitar couples with calisthenic drumming and one shouted lyric for 3 1/2 minutes, no one wins.
The last track of the album, which follows "A/B Machines" is probably the most quietly effective use of the band's strengths.  Starting off with stadium reverb and a slow arena rock riff, the title track crafts a brash combination of tension and climax.  The vocal work on this track is stellar as well, with singer Alexis Krauss providing her own harmonies and counterpoints.  When everything comes together, it's a symphony of stop-start wonderment, jarring your head just enough to keep you waiting for the next beat.
Is this a successful album?  I don't know why anyone would ask me that question, seeing as how I have a Tourette's-like breakdown everytime I listen to it.  At the very least, Sleigh Bells has created a work that knows how to rock.  And sometimes, there's more to music than sitting down and contemplating how it echoes Baroque melodies or applies to Kant's epistemology, which, I know, can be hard to fathom.  Sometimes, an album is about melting cheerleader faces, and sometimes, you just have to deal with that.
Artist: Sleigh Bells
Album: Treats
Year: 2010
Tracklist & Review (Allmusic)
For more album art reviews, visit Probably Just Hungry.