This Sunday May 8, starving artists and hungry curators will unite for a friendly competition. This time, the art won't be displayed on walls or floors; it will be cooked and consumed for all to critique. Attendees will taste chili from galleries and project spaces including The Archer Ballroom, Julius Caesar, Molar Productions, Noble & Superior Projects, Hungryman, Peregrine Program, Paperjaw, Slow, and Murdertown. Only one project-space will be crowned the champion.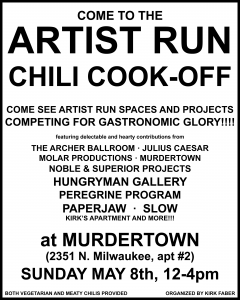 Judges include SAIC MFA candidate Steven Frost, SAIC alumna Stephanie Burke, and SAIC MFA candidate and F Newsmagazine's resident foodie Eric Baskauskas. Join the competition from 12–4 pm at Murdertown, 2351 N. Milwaukee Ave Apt 2.
Feeling inspired to cook up your own batch of chili? Check out Eric Baskauskas' tips in the canned food edition of Waste Not, Eat Lots.
—Jennifer Swann, Web Editor