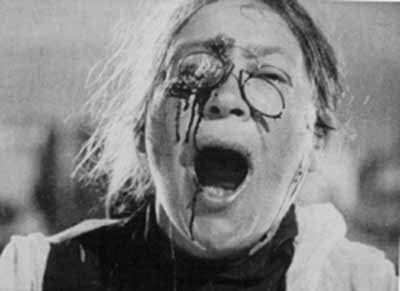 Paint FX
February 18 – March 19, 2011
antena
1765 S Laflin
www.antenapilsen.com
Antena has been a platform for experimental, internet-based art pretty frequently, and the gallery's current show continues in that trend. Paint FX is a web-based collective of five artists who spurn physical materials to create what they call virtual, "hyperformalist" paintings using computer software. They are meant to render apparent the basic tools of the Photoshop user, "from the emboss effect to the sponge tool." So what happens when you translate the limits of modernist formalism into Internet language, and then display those virtual images in concrete material form on a wall? Visit antena to find out.
---
Instruments of Resurrection
February 19 – March 19, 2011
Roots & Culture
1034 N Milwaukee
www.rootsandculturecac.org
Elizabeth Chodos has curated a star-studded cast of local artists in "Instruments of Resurrection," including Zachary Cahill, Theaster Gates, Mathew Paul Jinks, Aspen Mays and Cauleen Smith. The curatorial statement is frustratingly vague: "Instruments of Resurrection explores how artists breathe new life into historical figures, personal stories, moments in time, or forgotten scientific methodologies." When, oh when will curators learn! But regardless, the featured artists are bound to guarantee a high measure of interest.
---
Battleship Potemkin
Opening Friday, March 4
Music Box Theatre
3733 N Southport Ave
www.musicboxtheatre.com
Here's the "Noteworthy" homework for March: whether or not you've already seen it, the time has come to go watch "Battleship Potemkin" on the big screen. Eisenstein's film irrevocably changed the course of cinema across the world, and even more than that: there's the Russian navy! Violent protests! Massacres! Babies in baby carriages falling down steps! It's the kind of high drama best seen in the cinema, not on the small screen in a classroom.
---
Book Launch: Talking with Fear about Dying by Matt Austin
March 6, 12 – 5 p.m.
The Storefront
2606 N California
www.propellerfund.org
Matt Austin's artist book, "Talking with Fear about Dying," is the second book release for Brandon Alvendia's Silver Galleon Press since the artist/curator/publisher/writer (et cetera, et cetera) launched his new space, The Storefront. It's worth attending the book launch just to check out the new digs. Made possible by a Propeller Fund grant, The Storefront is home to exhibitions, an experimental film series, experimental pedagogical events, and more.
---
Ben Russell
March 11 – April 23, 2011
threewalls gallery
119 N Peoria #2c
www.three-walls.org
Experimental filmmaker, new media artist and curator Ben Russell is taking over threewalls for the gallery's second SOLO show of 2011. Russell is planning a jam-packed, completely immersive series of video installations that will take over the entire gallery space. Russell's films and performances have, in his own words, "been presented in spaces ranging from 14th century Belgian monasteries to 17th century East India Trading Co. buildings, police station basements to outdoor punk squats, Japanese cinamatheques to Parisian storefronts." His SOLO show promises to be no less intriguing.