It's sort of like a Spaghetti Western, but starring a Chameleon with an identity crisis.
Or at least, that's how director Gore Verbinski (of "Pirates of the Caribbean" fame) talks about his latest JDV (Johnny Depp Vehicle), "Rango."
Read my interviews with Verbinski and with actress Abigail Breslin.
Go take your little sister to see "Rango" on March 4th.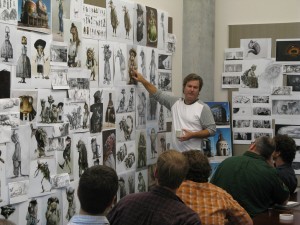 Photo by Greg Grusby, with Industrial Light & Magic.
—Brandon Kosters, Editor-in-Chief