by Jordan Scrivner
You know, I've always been quite fond of that Voltaire guy. Anyone who had the wisdom and foresight to defend civil liberties when all the founding fathers were still in diapers is okay by me. But while Voltaire was quite the philosopher, he was quite the story-teller too. His novella Candide, for its time, is a quick-witted, thought-provoking, and even thrilling adventure tale. Candide the hero, in spite of his naïveté, is a hero we can root for and who we genuinely want things to work out for, even if he must suffer to obtain them. His friends, in spite of their flaws (and in some cases, these flaws are quite horrible) are people who have paid enough dues in terms of survival that we genuinely want them to succeed in the end.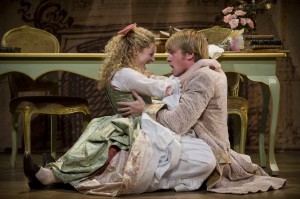 However, wonderful source material doesn't necessarily make for a great musical, as Candide's history has demonstrated. Originally produced in 1956, the operetta was a notorious flop, though the music by Leonard Bernstein was considered among his best. The operetta's rep began to change with its first revival in 1974 with a new book by Hugh Wheeler. There have also been contributions in the lyrics from such famed writers as Dorothy Parker and Stephen Soundheim.
It's from this pedigree that the Goodman Theater kicks off their "best of all possible seasons" this year. The show stars Geoff Packard as Candide and Lauren Molina as Cunegonde. While Packard is a handsome and competant actor, its Molina especially who shines, especially in the show's famous "Glitter and Be Gay." But the real bright star in the cast is Hollis Resnik, who plays the Old Lady. Resnik demonstrates an impeccable knack for physical comedy. In her big song, "I Am Easily Assimilated," Resnik dances like a broken marionette doll across the stage as she leads the cast in a Spanish-tinged.
Even after the story, the music, and the talented cast, the real star of the show is the set design. Director Mary Zimmerman and set designer Dan Osling create a somewhat minimalist (many of the sets exist in the audience's mind) somewhat extravagant (I would hate to be the prop-wrangler for this three-hour, accoutrement-heavy musical) set out of an oblong parallelogram, which serves as the countless countries that Candide encounters on his journeys. The cast use the many props and the perspective of the audience to create scenes that feel natural and fun.
Candide's three hours go by quickly and tell an enchanting story by a talented cast. If Goodman intends this to be the best of all possible seasons, they're off to a good start.
*Photo: (left to right): Lauren Molina and Geoff Packard star in the Goodman Theare's production of "Candide," playing September 17 through October 24. Photograph by Liz Lauren.