By Ben C. Pegram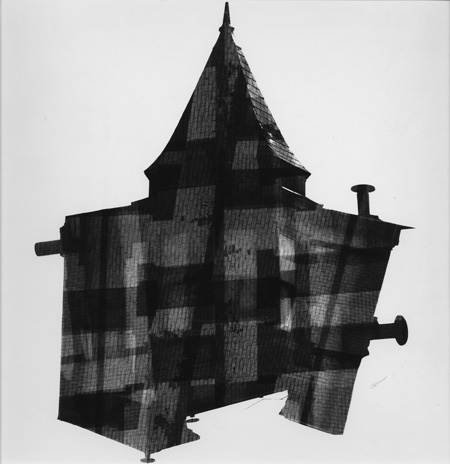 "Passing the Torch: The Chicago Students of Callahan and Siskind," at the Stephen Daiter Gallery presents work by photographers who studied under Harry Callahan and Aaron Siskind at Chicago's Institute of Design. Many of the nearly 50 images included in the show are being exhibited for the first time.
The opening on May 1st was well attended, and notably by the artists Barbara Crane, Joseph Jachna, Kenneth Josephson, Tom Knudtson, Mary Ann Lea (Dorr), Stef Leinwohl, Joseph Sterling, Charles Swedlund, and Bob Tanner. Paul Berlanga, one of the gallery's two directors, was kind enough to answer questions from F Newsmagazine editor Emily Evans and writer Ben Pegram after the opening.
Ben Pegram: I'd like to start off by asking what your role in Stephen Daiter gallery is, exactly.
Paul Berlanga: I'm one of two directors here, and over the 12 and a half years I've been here, which is from the day we opened the doors, I've done pretty much everything —from unload crates, to design and write for catalogues, go out and find photographers, decide which of their works we're going to show, if anything, and decide what is going to go into a show. [I] Confer with Steve [Daiter] about which of those artists might require a catalogue; sell, collect bills, interface with the public. So, pretty much every thing that you see or can think of being done in a gallery.
BP: More specifically, what was your role in the "Passing the Torch" exhibit?
PB: Well, I came up with the title [laughs]. And it's a show that Steve and I put together. I would say that he and I conferred on the choices that went into the show. In "Passing the Torch" we decided on the emphasis that given artists would have. The most interesting development was the inclusion of Chuck Svedlund into our group. Chuck is one of the most important artists to come out of the Institute of Design, who until now has not really had a profile in the professional market. I called Chuck at least once a year for the last 12 years saying, "Chuck, you're ID, we're ID. We're family. Come home." And he would say, "Yes, I'm going to do that. I just need to get organized." Well this year, I don't know if he was anymore organized, but he said, "Come down, I'm ready." So, Steve and I jumped in the car and drove down to the Carbondale area and signed him on. He is part of what was called the "ID 5," which was an influential group of graduate students from the Institute of Design. There's a special issue of Aperture which includes the five of them [students] in it.
One of the things that I'm most proud of in this gallery – that Steve and I have done, and everyone else here as well, is create catalogs. We published more than almost any other gallery that is devoted exclusively to photography. There are certain galleries on the East and West coast that have a higher profile than we do, and a lot more money, that slap their names onto sexy books. But in terms of, from the ground up, finding a photographer who's fairly well known, but whose body of work that we're showing isn't, we decide if that might require a catalog. Or an artist who is almost entirely unknown, like Lee Balterman – all of those decisions are all wrought with risk. It costs a lot of money to do all of this and we have to hope in the long run that we also sell enough to pay for what we're doing.
But we, probably more than most galleries, put a lot of money back into publishing. We put things back into the community. We sponsor original research. We send catalogs out to every major art institution that has a photographic department – whether it's a college or a museum – everyone that we know of that has a strong photographic presence, and that's satisfying. Steve and I both come from book backgrounds originally. He started selling photography books. I was in the general book trade. There's a love, a sense of progression of information and passion that the written word is responsible for transmitting.
EE: You mentioned that you're the only gallery in Chicago that shows vintage photography.
PB: Be careful about this. We are the only gallery in Chicago that regularly shows vintage black and white photography. It's our stock and trade. And I'm sorry to say that because I think that where there's more focus or emphasis everybody benefits.
BP: How did you pare down the images for the show?
PB: We pared it down with a couple of things in mind. We wanted to show work that had an individual stamp but also bore the DNA of the teaching experience with Callahan and Siskind. If you look carefully at each one of those you'll see what unites them first, and then the more time you spend with them you'll see what divides them. You'll see what the individual temperament has to say about the photographs.
Sometimes it's just the eye you want to show. When it came to the architectural artifacts here – I wanted a rhythm, a visual rhythm. As it turns out I think the Stef Leinwohl jumps off the wall, and the others are more cohesive. But on that wall you see a strong sense of fusion. But you also see a little bit of individual identity. The [Leon] Lewandowski of the footpath, with the woman at the end of the dark tunnel next to the ladder [referring to "Picture of Cora Ward"] is quite different from the Richard Nickel photography. In some cases it was limited in that we only have a certain amount of work by somebody.
Pages: 1 2