By Whitney Stoepel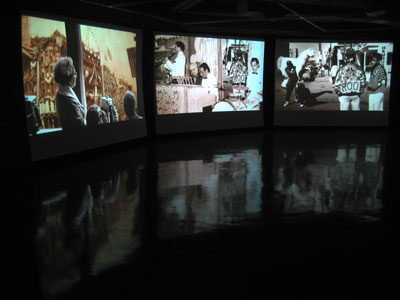 This year marks the 20th anniversary of the Betty Rymer Gallery at SAIC. The gallery has a long and varied history, exhibiting close to 120 shows in 20 years. Artists from all over the world have shown in the Betty Rymer, both legendary names and SAIC students and classes. This year celebrates the gallery's multifarious cast of exhibition artists as well as the mysterious Betty Rymer herself.
The mysterious Betty Rymer
When Rymer was 18, she was diagnosed with type I diabetes. At that time, in 1946, diabetes was as good as a death sentence, but Rymer never let it deter her from living the way she wanted to, almost to a fault. To mask her illness to the public, she ate copious amounts of sweets and enjoyed her alcohol. She was always a private person, and to this day, there is little documentation of her life.
Two years later, Betty met Barry, "dirt-poor from South Bend, Indiana." Just two months after they met, they were at Browns Lake in Wisconsin and they decided to get married. In 1954, they moved to Nashville, where Betty wrote and acted in musicals that Barry would direct. By the 1970s they were living in Skokie, a northwest suburb of Chicago, where they inhabited a modest apartment building and opened Rymer Foods, a meat packing company. Rymer Foods became fairly successful as one of the first companies to infuse meat with flavor before shipping. Just as the Rymers were becoming successful, Betty's diabetes began to takes its toll on her health.
After being diagnosed with diabetes, Rymer endured 32 surgeries in 32 years. She lost limbs along with her eyesight and by 42, was unable to bowl, her favorite pastime. Even with the loss of her eyesight, she took up painting and was actually very good, considering she only took a couple of drawing classes at the Evanston Art Center. After a series of strokes throughout her 50s, Betty Rymer died on August 10, 1980.
The gallery's prehistory
Two significant events occurred prior to the opening of the Rymer Gallery that likely impacted the reason for starting the gallery and the kind of shows the Rymer has become known for. First, in 1988, graduating SAIC senior David Nelson painted a likeness of Mayor Harold Washington in women's lingerie, a degrading representation seen as both racist and homophobic. The painting was up for less than an hour before aldermen and three police officers arrived and forcibly removed the painting against the protests of students and faculty, When the painting was finally returned, it had been slashed six times with a knife.
The next year, another SAIC student, Dread Scott Taylor, exhibited his installation, "What is the Proper Way to Display a US Flag?" in which audiences were placed in the awkward position of having to either walk on or carefully lean over an American flag, placed on the floor in front of them, in order to comment in a journal on the other side. Republican State Senator Walter Dudycz, representatives from the veterans of Foreign Wars, the American Legion, and Viet-Now, filed a suit in Cook County Circuit Court to shut down the show.
While these frenzied debates over first amendment rights were taking place, Mr. Rymer was a member of the Auxiliary Board of the President's Council of SAIC and was an advocate for free speech. SAIC's President, Tony Jones, approached him about opening a gallery. The timing was perfect. Mr. Rymer had extra money from the meatpacking industry and decided to donate the gallery to honor his late wife; the gallery would have as its mission the promotion and exhibition of progressive and challenging artworks.
The creation of the gallery was a way for school authorities to exercise more supervision over what work went up on school gallery walls, which at the time were easily accessed by a museum public more easily shocked than the school's artist community. A second, student–run gallery (Gallery 2) was established in the alternative gallery district a year or two later to offer students a space for wilder experiments.
Today, the gallery still holds varied exhibitions rooted in progressive thinking, involving artists from all backgrounds within Chicago and beyond. It is a space for both students and professionals who value freedom of expression. Over the years, the gallery's identity has shifted, but its mission has remained intentionally eclectic.
The shows
The first show opened June 9, 1989. It was a benefit for the school, honoring photographer and alum Victor Skrebneski and sponsored by the Auxiliary Board. Since then, the gallery has had shows by SAIC faculty curators, student curators, SAIC classes, and world-renowned performance, video, and visual artists. Today, the shows are reviewed by a committee that usually consists of 15 to 20 SAIC faculty members and four to six students. Trevor Martin, the gallery director, stressed that the gallery is a community-driven entity, saying, "Gallery directors don't make the decisions; it's not my curatorial vision." What makes the Betty Rymer Gallery what it is are the people involved. The community creates the vision, giving the gallery its own momentum.
From August 24 to January 27, 2007, the gallery explored the notion of space with FluxSpace, which incorporated two shows: "Empty Space" and "Manifesting Emptiness." "Empty Space" exhibited work by associate professor Douglas Pancoast and students from his "Visualizing Design" course. They emptied the gallery's interior space to explore "environmental work [that] aims to encourage the gallery's use and future identity as a forum for art-making, exchange, and social interaction." "Manifesting Emptiness" was curated by Milena Hoegsberg and "examine[d] the formal, spiritual, and philosophical engagements with empty space" with prominent artists like Yoko Ono, Nam June Paik, Felix Gonzalez-Torres, Kimsooja, and Iñigo Manglano-Ovalle. Later that year, New York-based artist and musician Paul D. Miller aka DJ Spooky performed "Link City Chicago," a collage installation projection in four sections: "City of the Past," "City of the Future," "Third World City," and "Industrialized City."
The compelling juxtaposition between this active public space and the private personality of Betty Rymer herself has surprisingly been left out of the history books until recently. Engrossed by the mystery surrounding Betty Rymer, SAIC teacher Amber Ginsberg and collaborator Katie Hargrave have compiled extensive research to tell her story by means of writing, art, performance, and a website. On November 30, they will host a 20th anniversary celebration at the Betty Rymer Gallery. 32 cakes will be served in symbolic recognition of Rymer's 32 surgeries in 32 years. Given her affinity for sweets, this is likely the kind of party Ms. Rymer would have made sure to attend.