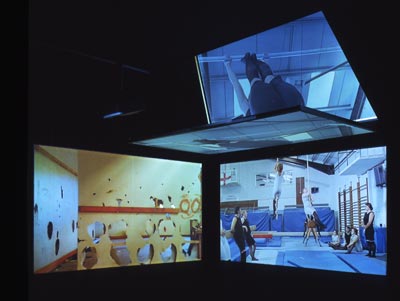 By Kelly Woods
Back at home in New York for a few days, I embarked on my usual Saturday morning gallery walk. I headed straight for 303 Gallery, eager to see "Erewhon," a new video installation by the English twins, Jane and Louise Wilson (open through November 6). Their work typically deals with issues of power that result from oppressive institutional structures. The video installation at 303 is no exception. Five screens surround the viewer, hung to suggest the walls and ceiling of a room, deploying various images of an abandoned sanatorium in New Zealand. Coupled with these lonely images of architecture are several women exercising in a gymnasium, dressed in athletic wear from the 1910s. Clothed in black or grey tank suits and knee-length black stockings, these women strike acrobatic poses, retaining their tight-lipped, austere facial expressions and an overall sense of silent dignity. The sound accompanying the video is eerily limited; the only audible noise is that of doors opening and closing, occasional footsteps and the clinking of gymnasium equipment.
Aside from the chilling sensations imparted by the piece, the images of the gymnasts are aesthetically mesmerizing. The exercise equipment used is comprised of mostly geometric forms: sharp-edged balance beams, parallel bars, ropes and hanging rings contrast nicely with the straight lines formed by the gymnasts' ever-pointing legs and firmly controlled bodies. One of the final sequences presents roughly 10 girls engaged in gymnastic poses. The camera slowly pans over each girl, holding various positions including splits and backbends. Their isolated movement is haunting when juxtaposed with the abandoned rooms of the sanatorium.
After leaving 303, I walked over to Matthew Marks to encounter works of a relatively different nature. Sam Taylor-Wood's third solo exhibit with the gallery, Sorrow, Suspension, Ascension, presents two new photography series and one film. While similar to the Wilsons' interests in control and isolation, Sam Taylor-Wood's series, Crying Men, deals with issues of vulnerability not seen in "Erewhon." Twenty-eight color and black and white photographs of famous actors, including Robert Downey Jr., Sean Penn, Dustin Hoffman and Paul Newman, portray these familiar faces in moments of sorrow. The portraits are intimate and are often photographed in the actors' homes. However, the viewer is kept at a distance; we are left out of the narrative that we, as their cinematic audience,
are usually a part of.
Also included in the exhibition is a series of self-portraits. Eight color photographs depict Taylor-Wood, impossibly floating in mid-air, suspended in her bare studio space. Clothed in pink panties and a grey tank top, Taylor-Wood's long blonde hair hangs beneath her, occluding her face. Her various poses lengthen and retract as if performing some sort of ritualistic movement. In one photograph her legs and arms dangle in the air, while in the next they have recoiled, curling into a fetal position. Having been hung from the ceiling by a bondage expert, Taylor-Wood then photographed herself and digitally removed the ropes from the image. Perhaps these self-portraits may be viewed in light of her recent bouts with cancer. A survivor of both colon and breast cancer, Taylor-Wood may perceive herself as having been "bound" by the disease and then released. The images are pristine, portraying her as a sort of floating deity, rather than a mere mortal, uncomfortably hanging from the ceiling.
Her final work in this show is a new film, titled "Ascension." Two men, both wearing black suits, appear in the film. One is lying on the floor, dead or sleeping, oblivious, as the other performs a tap dance on his chest. A white dove is perched on the tap dancers head, rhythmically bobbing up and down along with the dancer's movement. The film ends as the tap-dancing man walks away and the dove flies off, perhaps as the title would suggest, into a higher spiritual realm. This film is a delightful counterpart to her photographs; it captures a sense of absurdity in Taylor-Wood's usual quest for control.
Rounding the corner of 24th Street, I popped into Mary Boone to see the Will Cotton exhibit. His paintings depict photorealist landscapes made entirely of sweets. Hot pink cotton candy, creamy vanilla ice cream and other brightly colored confections constitute the setting of this series into which Cotton has inserted erotic images of nude women. Sprawled out amongst this sickeningly sweet scene, the women assume classical art history poses, sacrificing themselves to the male gaze once again. These images are so offensive that we can only hope that Cotton is using them as some sort of metaphor to criticize the developing state of art history.
Yet, somehow I doubt it. The New York fall season has opened with promise. All in all, I left New York, a satisfied Chelsea girl.
December 2004