Just near the corner of Ashland and Hubbard, with a foggy Chicago skyline to the east and brick industrial structures in all directions, sits a friendly red schoolhouse. Through a window of its late 19th century façade, pristine drafting desks patiently wait to be smudged with the graphite and eraser dust of a new student body. A yellow, ringed planet adorns the front doors — a futuristic twist to the building's vintage charm. This will be the new Scuola Internazionale di Comics, an Italian school of comics and graphic arts opening its first U.S. location in Chicago's Kinzie Industrial Corridor.
Headquartered in Rome, the Scuola Internazionale di Comics has locations in nine Italian cities. The school was originally founded 34 years ago by artist Dino Caterini as what he calls an experimental "creative factory," during his time working as a designer and illustrator for Italian publishing houses. "When I was young, all the artists wanted to work in the U.S.," explains Caterini in an interview with F Newsmagazine. "Now, I want to give American artists the opportunity to work under European instructors." More than 30 Scuola alumni currently work for U.S. comic publishers DC Comics, Marvel and IDW. A particularly prominent alumnus is Sara Pichelli, of Marvel's "Ultimate Spider-Man" fame.
The school's U.S. introduction is well-timed. In December 2012, Italy's foreign minister, Giulio Terzi di Sant'Agata collaborated with Hillary Rodham Clinton to announce 2013 as "The Year of Italian Culture" in the U.S. The announcement spearheaded a series of Italian cultural events to take place in the U.S. this year, including Italy lending key works by Caravaggio, Leonardo da Vinci and Michelangelo, and numerous tributes and festivals for renowned Italian scientists, designers and artists.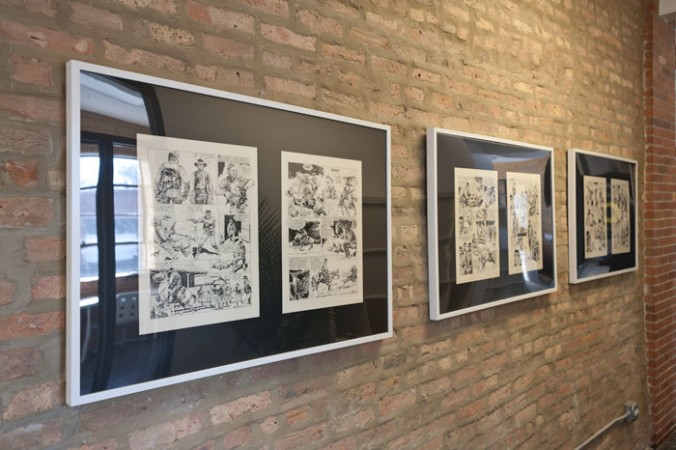 With an emphasis on a "master-apprentice" dynamic inspired by 15th century Italian art guilds, the Scuola Internazionale di Comics' curriculum recalls Caterini's experiences working as a young artist in Italy. Originally trained as an architect, Caterini's drawing ability led him to assist comics creator Alberto Giolitti, then later Guido Buzzelli, Vittorio Cossio, and Renato Polese, who he considers "a few of the greatest comics artists of all time." Caterini's workflow increased until he was driven to start a new studio with his own team of assistants. In 1979, the artist noticed that despite the comics industry's flourishing popularity, there was nowhere to learn the craft. The Scuola Internazionale di Comics was born. "The school started out as a combination training facility and small production studio," he explains. "Kids could get hands-on experience working on real projects. That is the model that laid the groundwork for the school as it exists today." The school's three-year program excludes general education courses in favor of an intensive all-arts curriculum.
Comics in Italy are called "fumetti," which literally translates to "little puffs of smoke"— the term refers to the cloudlike speech bubbles which accompany the images. Caterini pinpoints the characteristics that he feels make fumetti — and in turn his school's methods — distinctly Italian. The first is highly rigorous anatomy training with live models. Also key, he says, are ample material experimentation and aspiration toward "a highly individualized, mature artistic style," or what the director lovingly calls the "artistic soul." "The U.S. is known for specialization, concentrating on getting great in one area. In Europe, we do the opposite. We force artists to experiment with a wide range of styles and materials like ink, tempera, wash and oil. You have to know the materials to understand which one is best for your personal expression."
Responding to the demands of a changing industry, the Scuola Internazionale di Comics will also offers courses in graphic design, animation and 3D-Maya software. But embracing technology has not loosened the school's stronghold on tradition. Caterini stresses, "Even with these new course offerings, we emphasize the art of storytelling, storyboarding and most of all, the need to develop what are called basic hand-skills. These require an appreciation for anatomy and working with pencil and paper, like the good old days."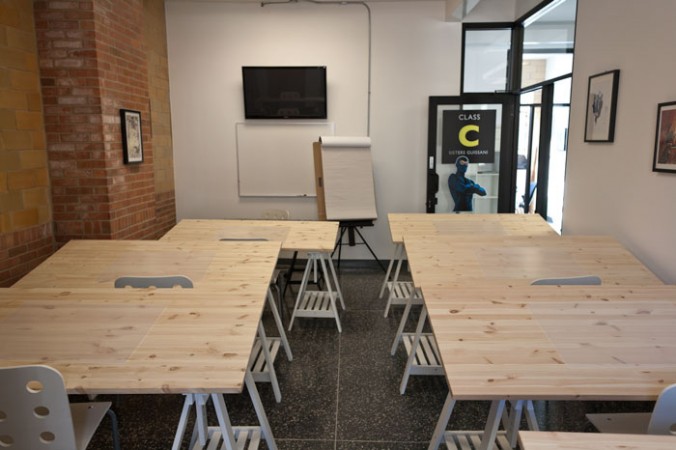 "American West through Italian Eyes," the comic art exhibit which debuted at the school's public opening on March 22, showcases another characteristic of Italian comics' "good old days" — a deep-seeded fascination with the American West. Caterini lends this public interest to the theme's popularity in cinema."The West was totally dominant in the comics scene when I grew up, because it was like 'pocket-size' cinema," he remembers. "Sam
Peckinpah's 'The Wild Bunch' and [Arthur Penn's] 'Little Big Man' influenced us all. You had to have violence, tragedy, humor and romance. Comics creators were the best directors, screenwriters, costumers and actors all in one." "American West through Italian Eyes" displays original pen and ink drawings from Scuola Internazionale di Comics Artistic Director Paolo Eleuteri Serpieri. Serpieri's attraction to the region led him to co-create "L'Histoire du Far-West" ("The Story of the West"), a series on the history of the old West. Serpieri is perhaps best known, however, for his erotic science fiction series "Druuna."
Chicago was not the only contender when choosing a site for the new school, but Scuola Internazionale di Comics International Marketing Director Lesley Pritikin, a Chicago native who has lived in Rome for the last 25 years, still felt strong ties to the Windy City. She ultimately persuaded Caterini of the same. "Her pride in Chicago's amazing and vital artistic community was very convincing, and after my first visit, I cancelled visits to San Francisco and Miami," recalls Caterini. "I knew that our first school outside of Italy was destined to be in Chicago."
Pritikin and Caterini wanted a location near the West Loop gallery district and away from the already college-dense South Loop area. The Kinzie Industrial Corridor neighborhood they selected, once considered an area of high crime, is a burgeoning arts hub. The nearby Arts of Life studio, founded in 2000, is an alternative day program and creative space for artists with and without disabilities. Meanwhile the 1821 Hubbard Street Lofts, on the same street as the new Scuola Internazionale di Comics, house numerous artist studios and exhibition facilities, including the collaborative project space Johalla Projects. It will be interesting to see how Scuola
Internazionale di Comics fits in among this varied selection of local arts organizations. "Like the art our students produce," Caterini notes approvingly of the new site, "we wanted something, unique, distinctive and, as [Lesley Pritikin] puts it, 'very Chicago.'"
Comment on This