by Rita DeAngelo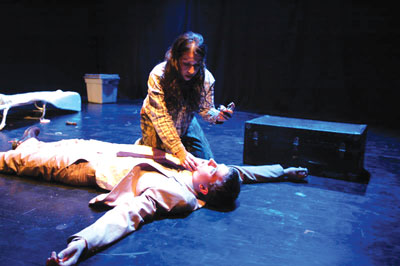 Scott Barsotti's forward and welcoming demeanor makes him feel like an old high school pal. When we met, his dress shirt was hidden by a cozy zip-up sweatshirt and his potentially presentable hair was hibernating underneath a stocking cap. If necessary, he could look professional. After learning of Barsotti's theatrical goals, it seems that the concept of the unknown–whether it be his ambiguous appearance or the situations he creates–is a theme he holds dear.
In September, Barsotti was named one of four new Resident Playwrights at Chicago Dramatists. (Among the other four is SAIC Writing faculty member Ruth Margraff.) Over a 3-year term, with the possibility of renewing for another, the Resident Playwright program provides its chosen playwrights with support in the form of dramaturgical feedback, access to their programs and resources, as well as the opportunity to extend their work to a wider network of theatres. In it's 30th year, the Resident Playwright program has become a nationally known honor.
Born in the blue-collar city of Pittsburgh, PA, Barsotti had no encounters with theatre pre-college. As a Writing major at Denison University, it was not until his friends convinced him to write a script for a One Act festival that Barsotti even considered writing for the stage. As he wrote, he realized that his tendency towards dialogue lent itself well to playwriting. The process of working with actors and a director appealed to him. Barsotti cites this as his most fulfilling writing experience. He was hooked.
In 2004, Barsotti entered SAIC for an MFA in Writing. He worked with Beau O'Reilly and Jenny Magnus, two people with whom he continues his professional relationships through their company, Curious Theatre Branch. In his final year at SAIC Barsotti recognized his interest in fear. In hindsight, it seems obvious to him now, and even as he explained it, the pieces fell into place. Barsotti writes from the subconscious, uninterested in an explanation for every character or exposition for every scenario. He leaves parts of his plays open to interpretation. Often, the production process reveals the intentions of Barsotti's work that he was unable to pinpoint. Other times, the unknown remains unexplained, requiring the audience members to use their imaginations to fill the gaps.For Barsotti, both options are part of the exploratory and collaborative process of theatre.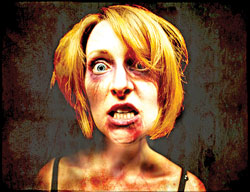 Barsotti's interest in the unexplained is not limited to what he does not describe in his scripts. Rather, it spans the subject matter of the pieces themselves. More than comedy or drama, Barsotti explained, the fear genre is transcultural. Everyone is afraid of the unknown, the supernatural, the Other. As he sees it, decent horror is viscerally frightening, good horror is psychologically frightening, and great horror is both. By creating relatable scenarios, Barsotti's horror is heightened. The audience members then can associate with it, recalling fears and projecting them onto what they are watching unfold. In this way, the viewers fill the unanswered with their own thoughts, inciting fear in a more personal way. With the unanswered stage action serving as a medium, the audience becomes vulnerable, manipulated by their own fears.
"The Revenants," opening at Pittsburgh Playwrights Theatre Company on October 16, illustrates Barsotti's skill to turn a horrific situation into a metaphor that the audience can relate to. In the piece, one representative from each of two couples becomes a zombie. Chained in the basement, the zombies await the next move from their still-living loved ones. As the loved ones deliberate over the unfortunate turn of events, the play turns into a terrifying description of the emotional turmoil and potential collapse of relationships when one partner undergoes an unexpected alteration of any kind: something almost everyone can relate to. Barsotti continues to examine the human psyche through his horror scripts, whether they be about zombies, grave robbers, witchcraft, or torture. "McMeekin Finds Out" is in development to be produced and Barsotti is currently adapting Robert Lewis Stevenson's short story, "The Body Snatchers." In addition to being a Resident Playwright at Chicago Dramatists, Barsotti works with other horror-theatre disciples at Wildclaw Theatre, is involved with the Curious Theatre Branch and EP Theater, where he is working on a December holiday show.
When asked what advice he has for aspiring playwrights, Barsotti's spark of determination shined through. "The most important is to always be writing. Read your own work. Get out and see theatre. Network with people. Chicago's a very unique theatre town and companies are constantly producing so playwrights have constant opportunities to get their work up. It's about just making the work. You can't please everybody so you have to write what you want to write and always be engaged in it."
The Revenants, performance. Images courtesy of Scott Barsotti.