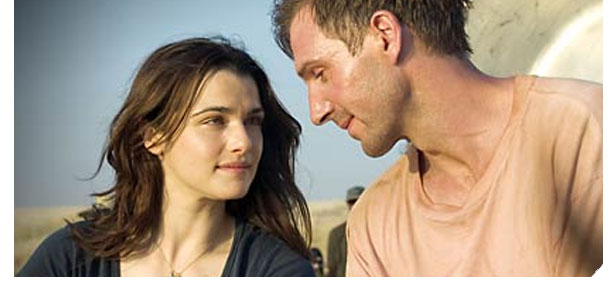 by Scott Barsotti
Dear Ralph Fiennes,
We had a good run, didn't we? You shocked me with your cruelty in Schindler's List. You tore my heart out with your explosive emotion and devoted sincerity in The English Patient. You terrified me with your quiet madness in Red Dragon. Your performance made Spider one of Cronenberg's best. And hearing you'll be playing the dreaded Lord Voldemort in the upcoming Harry Potter and the Goblet of Fire , well, I know that your dry, cold accent and quivering smirk will chill us to the bone. You are, simply put, a wonderful actor with a range that puts your oft uninspired younger brother, Joseph, to shame. (Why didn't you warn him about Killing Me Softly? Why didn't you warn us all?)
But not even you, Ralph Fiennes, could save the political dead weight that is The Constant Gardener ; directed by Fernando Meirelles ( City of God ), screenplay by Jeffrey Caine (GoldenEye) from the best-selling novel by John le Carre. What a shame this movie is, for the potential it had. Moving images of the sick and impoverished in many African villages. A director who has taken on (and brilliantly) the topics of poverty, fear and corruption before. Consummate performers rounding out the cast (including Rachel Weisz in a terrific–albeit ill-written–role). What's not to succeed?
The problems with Gardener began–as many problems do–at the beginning. With the script. Having not read le Carre's novel, I do not know how worshipful an adaptation this was. But the early press revered the film as a haunting peek into the underbelly of corporations (in this case, a pharmaceutical juggernaut) and their corrupt methods that are hidden from us at home in the western world. (Perhaps it is that so much of this corruption exploits Third World societies that we just don't care–a worthy point, and something to make any viewer have a crisis of conscience.) But that's just it. What we get is simply a peek . We get people arguing with each other over what's right and wrong, and a looming sense of conspiracy that offers nothing new. We don't see any more than the characters do, which isn't much. We don't reach the belly of any proverbial beast. It's a lot of build-up and aftermath (as the film is shot mostly in flashback and present, with big gaps left unseen), without the pay-off of tough decisions, flying sparks, or revelations. We are often whisked away from a scene before the moment we'd like to see arrives–a true failure of pacing and storytelling.
As far as the politics are concerned, I know that many will regard this film as an important "liberal narrative," when in fact, it grossly mistreats the liberal voices within. The strongest of these voices is that of Weisz's character, Tessa, who hopes to save the world one AIDS victim at a time and unearth the hypocrisies of the system in the process. But why (oh why?) must they portray her as they do: as a reckless, whiny loudmouth who is more concerned with interrupting people with snide sarcasm and creating embarrassing situations for the hypocrites than actually engaging the issues in a way that will create a dialogue or get a response? She becomes self-righteous and dismissible in the eyes of everyone from her opponents to her husband (Fiennes), which is certainly not a positive face on current liberalism. Not to mention one leaves the theatre with the feeling that the situation(s) in Africa are lost causes. These were possibilities unwisely ignored, I suspect, as "character choices" and "plot devices." Sigh.
The Constant Gardener also suffers under the weight of its own endeavor. The filmmakers, it seemed, felt that the issues of the long-existing AIDS epidemic in Africa and western exploitation of its victims did not lend itself to subtlety. If this were an editorial cartoon, two large hammers labeled "AIDS" and "CORRUPTION" would be pummeling my caricatured head. Ouch. Not to mention my cartoony self would be wearing a large bandage labeled "MISMARKETING," which would be to cover the sting that I felt at being lured into what I thought was a revenge thriller with a political backdrop, not a heavy-handed agenda film that happened to have a sex scene. The love story is so glossed over that the tagline "Love. At any cost" is scarcely earned. It fails as a thriller, a romance, and a political satire. But perhaps it's greatest failure is that the Africans are largely marginalized in a film that ideally would have been sympathetic.
It's not the first time a film with a surplus of talent has disappointed overall, but there isn't much to be done when the foundations are this shaky. Oh well. Goblet of Fire comes out in November. Until then, Ralph, I'll still see anything with you in it. Or that Scarlett Johansson. She's a keeper.
Kindest regards, sir,
Scott Barsotti, MFAW
October 2005