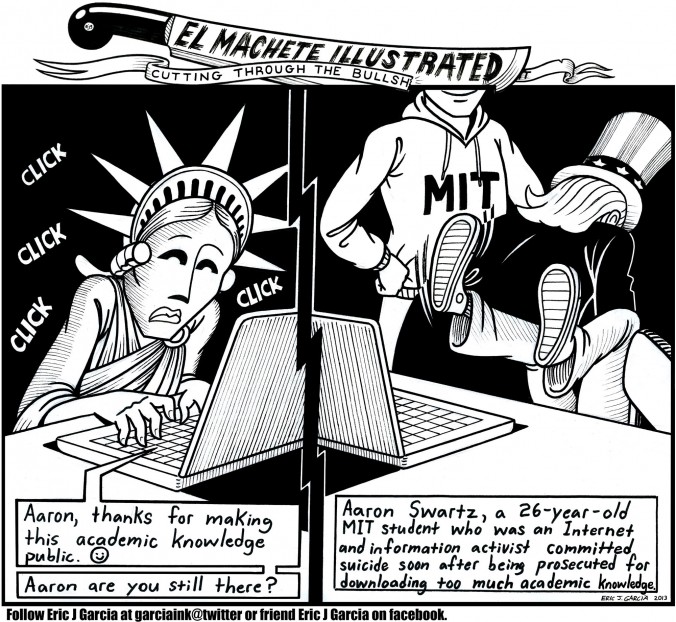 About the Artist
Mixtures of historical, cultural and contemporary themes, Garcia's comics transcend both aesthetics and the medium itself. The artist frames his work as "politically charged criticism" that "creat[es] dialogue about complicated issues." 
Upon earning his MFA from the School of the Art Institute of Chicago in 2009, the national and international recognition for Garcia's art includes the 1st Place College Cartoonist Award for both the New Mexico and Illinois College Associated Press competition. Garcia can be seen in publications and online news networks such as In These Times and The Black Commentator, and The Weekly Alibi.
See more of Garcia's political cartoons, as well as hand-printed posters and sculptural installations, at southvalleyart.com/eric.
Debt Ceiling
·
Jose Montoya
·
Chemical Weapons
·
Stand Your Ground
·
The Ultimate Spy
·
Domestic Spying
·
Jose Can't You See?
·
Whole Foods
·
Caught Spying
·
Corky Library
·
Just Married
·
CPS
·
Back At the Ranch. . .
·
Francis
·
New God
·
Solis
·
Arizona Massacre
·
MLK Today
·
Tiburcio Vasquez
·
Collateral Damage
·
Maria Santos Gorrostieta
·
Iron Dome