November 15th, 2011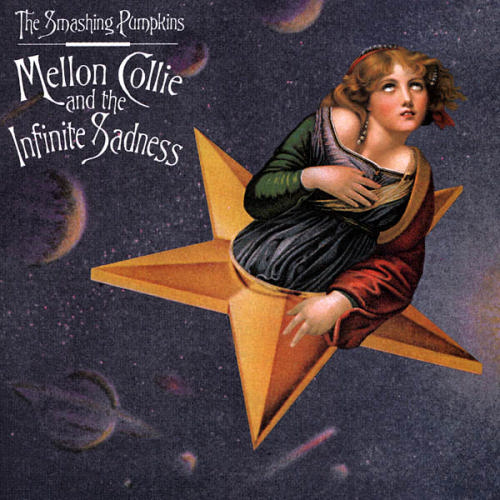 Mellon Collie and the Infinite Sadness is the ultimate expression of unrestrained ambition, zealous stargazing, and confronting the "human condition of mortal sorrow."
On the cover of the album (illustrated by John Craig), the angelic figure embedded in the star is a collaged combination of Saint Catherine of Alexandra (1507) by Raphael and The Souvenir (Fidelity) (1787-89) by Jean-Baptiste Greuze. The provided muse for this album was born across two centuries of European fine art, removed from our earth and cast into a glowing constellation claiming Infinite Sadness.
In 1995, the physical copy of the album came with a booklet of artwork. Corgan's description of the music to designer Frank Olinsky was "psychedelic music by a heavy metal band from the 1920s." The collage-style artwork reflects this with daring and surreal anthropomorphic scenes indebted to both Renaissance and Rococo art. It's simultaneously harming, unsettling, and cryptic.
The ambition is felt throughout the double album. The vinyl edition is divided into six sides titled Dawn, Tea Time, Dusk, Twilight, and Starlight…and stretches beyond the two hour mark. Billy Corgan is the unironic believer in his mid-90s alt rock masterpiece, and "Tonight, Tonight" is his manifesto. The song bursts out of the instrumental opener with the help of the Chicago Symphony Orchestra. As the orchestra and the band swell into the climax, Corgan sings:
We'll crucify the insincere tonight

We'll make things right, we'll feel it all tonight

We'll find a way to offer up the night tonight

The indescribable moments of your life tonight

The impossible is possible tonight

Believe in me as I believe in you, tonight
"Thru the Eyes of Ruby" begins with a piano phrase reminiscent of the album's first song, "Mellon Collie and the Infinite Sadness", before Corgan and guitarist James Iha unleash 70 guitars. It's titanic glam rock performed with enough conviction and prowess to earn the group their silver pants.  Corgan's trademark whine preaching such gems as, "My love for you just can't explain / why we're forever frozen, forever beautiful, / forever lost inside ourselves," and, "To the revelations of fresh faced youth / no one will come to save you / so speak your peace in the murmurs drawn / but youth is wasted on the young." After another couple guitar movements, the piano phrase is back and the "melancholy" concept of the album is reinforced.
The lyrics are printed in yet another booklet, showing off carefully selected typefaces and symbols to accompany Corgan's poetry. There is more than enough artwork provided here to move the listener through the aesthetic experience of the collection. The final product is a strange and beautiful realm as well as a high that the Pumpkins would never hit again. With Mellon Collie, the Pumpkins shot for the moon but ended up on their own planet where an album like this is possible.
---
Artist: The Smashing Pumpkins
Album: Mellon Collie and the Infinite Sadness
Year: 1995
Tracklist & Review (Allmusic)
For more album art reviews, visit Probably Just Hungry.