In part one of this three-part installment exploring the emerging art community in El Salvador, Danielle Mackey visited Artefacto Espacio Cultural, an art space committed to exhibiting the work of emerging Salvadoran artists — from students, to established art makers. In part two, Mackey talks shop with three Salvadoran artists, narrating photos of their work with tidbits from their conversation.
"We have to have these conversations more frequently!" Sara Bolougne, a Salvadoran modern ceramic artist, both a lamentation and celebration of the space that four of us created on a rainy, cool evening on the back porch of a San Salvador café. Bolougne, together with Fredy Granillo and Sandra Leiva, represent three leading figures in the movement of emergent artists of El Salvador. That night they shared with each other and myself some samples of their work, along with thoughts about topics ranging from the power of art in the family, specifics of their own pieces, and the divisions within the Salvadoran art community.
Though all three were educated at the National University of El Salvador's School of Art and Culture, Bolougne and Leiva had never met before that night. What brought them together was Granillo: he had been a student of Bolougne's, and has taken classes with Leiva. This surprising lack of contact within a specific community in a small country became a thread woven throughout our discussion that night. "I can't believe we've never met," Leiva said at once point, confounded. "Clearly we do not have the dialogue spaces we need." Thus, the real power of the evening happened long after I left: Bolougne and Leiva stayed, holed up in our corner table on the patio, smoking cigarettes and reveling in this newfound space for two talented people to lay important groundwork for the future of Salvadoran art.
Fredy Granillo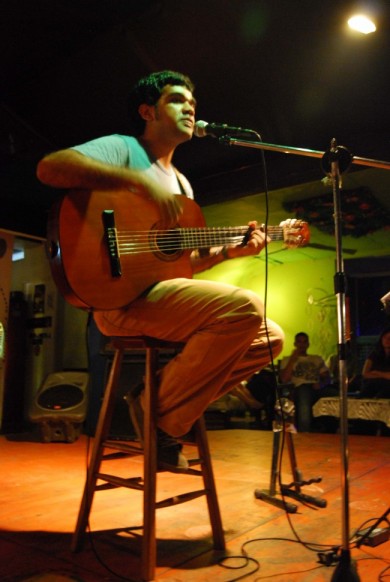 Fredy Granillo is a Salvadoran artist and is 29 years old. Currently he is working on his thesis at the National University.  His is a singer/songwriter, painter, and ceramist.
Image 1: Untitled. Acrylic and screen printing paint. 2007. Experiment with yellow packing tape and sponges
Image 2: Untitled. Acrylic and (olio) on canvas, June 2011. 2 meters by 1.70 meters. The first work of a series on marginalized urban communities still in process. Granillo experimented with some techniques new to him in this work; he used yellow packing tape to create the texture of the brick lines, and a spray bottle to scatter a final layer of red drops. One thing that Granillo wanted to convey in this piece is the "improvised architecture" of this type of community. (Granillo studied some architecture during high school.) "The houses are built atop each other, they're hanging on the sides of steep ravines, etc," Granillo explained. "Yet, I wanted to emphasize that within these marginalized communities there is normal life too: childhood, bike-riding, etc, still happens."
Image 3: (Artist pictured.) The work is based on photographs the artist took of an impoverished and violent inner-city community in San Salvador, called Tutunichapa. The community is located next to one of the largest shopping malls in Central America.
Image 4: "Realiti," 2007. Graphite on paper with some acrylic. 2m x 1.70m.  This work is inspired by reality television shows and the effect that the artist saw on Salvadoran society as they became popular. The faceless bodies and unending lines represent the artists' opinion of how reality series hijack people's individuality in an effort to create drama and sell it to the public. "I am at once part of and judge of this work. I watched reality television shows as I criticized them." This aspect of the piece is clear in the center face, which is a self-portrait. Fredy expresses a particular admiration for this work, stating that he believes he achieved something that he hasn't been able to achieve again in terms of line quality, scene development, and the overall balance of the work.
Sara Boulogne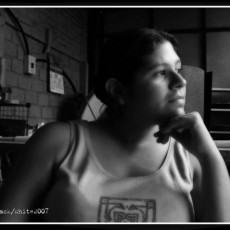 Sara Maria Boulogne was born in San Salvador on January 26, 1980, and graduated with a degree in Plastic Arts from the University of El Salvador in 2006. Her primary artistic expression is in ceramic sculpture. She has worked professionally since her first piece was displayed in the CEFORMA Gallery in 2003, when she was 23 years old. She also considers herself a career educator, teaching classes both at the school of art of the National University of El Salvador and the Experimental School for Arts MINED-UTEC. 
Image 1:  "Rey Zope" (Buzzard King). Though Bolougne is young, she is the most established artist of the three. She states confidently, "I'm concerned not so much with the process, as in contemporary art, as with the concrete object that comes out of my process."
Image 2: "Mujer en Rojo," (Woman in Red), 2009. Glassed (vidriada) ceramic. Sara is a teacher in the Experimental School for Arts MINED-UTEC, for youth who come from economically disadvantaged communities. (The youth's art is currently on exhibit in Artifact Cultural Space, featured in the first installment of this series.) She names this experience a powerful one. "These kids have helped me realize that much of the lack of art production here is because of a lack of interest (in teaching art) in the public school system. These youth can do so much, but local education doesn't permit them to fully develop their creativity, or to express what they feel, transmit it, and receive feedback."
Image 3: "Expectativas de lo inverso I" (Expectations of the Inverse I). Ceramic and found object, 2010. Bolougne narrarates her general history: "My grandfather, Santiago Bolougne, was a painter. I remember sitting on my little stool watching him paint. Basically since I can remember, I've had my hands covered in paint.
Sandra Leiva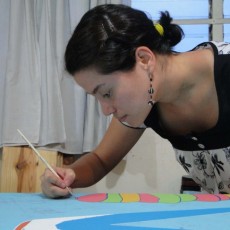 Sandra Leiva Minero was born in Managua, Nicaragua in 1986. She was raised in Mexico City, Mexico until the age of 8, and then came to live where she presently resides, in San Salvador, El Salvador. She is primarily a painter. Leiva is currently finishing her degree in Plastic Arts from the University of El Salvador. Her paintings are characterized by their color and her manner of representing form.
Image 1: Untitled. Leiva considers herself a late bloomer in art, though she, like Bolougne, carries it in her blood. Her mother's parents were poets, the Guatemalan Raul Leiva and Salvadoran Lilian Jimenez. "It's because of them that I'm very sensitive. I'll cry for any reason," laughs Leiva. But they didn't have more of a direct effect on her artistic career until late in her academic formation. "My grandfather was the painter Camilo Minero. It wasn't until I was studying medicine in the university and got frustrated that I began to flip through my grandfather's books." That book, among others, awoke her interest in art. She claims that she is still developing her style.
Image 2: Untitled. Leiva delineates the main divisions in the Salvadoran artist community as, "old school vs. youth, and modern artists vs. contemporary artists." Leiva explains, "My deepest desire for the future of the artist community here is that there be unification. Before being an artist, we are human. Many of these divisions we perceive aren't worthy of consideration. You can't even say, 'I am (contemporary, modern, etc),' because we are all beings in constant development; we are verbs."
Image 3: Untitled. "What is the role of a young artist? To do what you like to do. To know how to choose. To be honest with yourself — you can perceive that in works of art, when it's honest and when it's not. To investigate and research. To be professional: to be committed to art, real, consistent and principled."
*All photos and bios are courtesy of the artists.
Stay tuned for the third and final installment of "Emerging Art in El Salvador," a Q&A with Renacho Melgar, a painter and the coordinator of a well-respected emerging artist collective, Colectivo Urbano. Melgar will speak about his art, the importance of community and unity in artists' work, and criticisms of and hopes for Salvadoran art.