7 Must-Sees at the Chicago Humanities Festival
With exhibitions, performances and discussions covering a wide range of disciplines including the arts, literature, philosophy and public affairs, the Chicago Humanities Festival has become a must-attend event for self-proclaimed humanities geeks from around the world.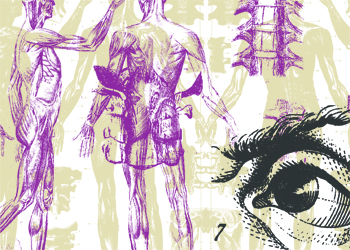 The 2010 Festival is devoted to "The Body," and offers something for the body percussion enthusiast, the Jane Austen fan clubber, and everyone in between. Headline acts are predictably sexy (hyped events include a talk by Dan Savage and a lecture on the history of the condom), but the program caters to a wide range of tastes. F takes a closer look at seven exciting events to help you plan your time this November.
Tania Bruguera and Hamza Walker
Who? Hamza Walker, associate curator and director of education for the Renaissance Society. Tania Bruguera, Cuban artist, MFA in Performance from the School of the Art Institute of Chicago ('01).
Event: Richard Gray Visual Art Series: Sculpting Politics, Debating Art: Tania Bruguera and Hamza Walker in Conversation
Why: Tastemaker and award-winning curator Hamza Walker will talk with provocative performance artist Tania Bruguera in "a freewheeling discussion about the relationship between art and politics." There is no word if this "freewheeling" will involve the circulation of free cocaine, like at Bruguera's performance last year at the National University of Columbia, Bogota.
In her own words: "I don't want art that points at the thing. I want art that is the thing."

In his own words: "Alienation turns me on." — "University of Chicago Magazine"
Where: University of Chicago, Fulton Recital Hall, Goodspeed Hall, 4th Floor.
When: October 24, 11:30 a.m. – 12:30 p.m.

Cost: $5; students free.
—Abraham Ritchie
Sam Shepard
Who? Shepard, pioneer of the postmodern narrative and excavator of the fractured family dynamic, has received numerous accolades for his playwriting, including the Pulitzer Prize for his play "Buried Child," a Tony nomination and numerous Drama Desk and Obie Awards. Chicago Tribune literary editor Elizabeth Taylor says this year Shepard's work will be honored in "…all its forms – from the plays first staged here at Steppenwolf Theatre, to his essays and short fiction."
Event: Presentation of the Tribune Literary Prize
Why: To listen to one of the most famous American playwrights of the pasat 100 years, of course! If that isn't enough, there's also a Chicago connection. Chicago Tribune literary editor Elizabeth Taylor says, "It's the cherry on the literary sundae that Sam Shepard spent his formative years just outside Chicago."

In his own words: "You can't force a thing to grow. You can't interfere with it. It's all hidden. It's all unseen. You just gotta wait til it pops up out of the ground. Tiny little shoot. Tiny little white shoot. All hairy and fragile. Strong enough. Strong enough to break the earth even. It's a miracle." —"Buried Child"
Where: Symphony Center Armour Stage
When: November 13, 10:00 – 11:00 a.m.
Cost: $15, teachers and students $5.
—Elizabeth Cronin

Tom Boellstorff
Who: A cultural anthropologist and professor at the University of California at Irvine who has conducted pioneering research into the Second Life community.
Event: The Virtual Body: Coming of Age in Second Life
Why: Whether it's steampunk superheroes, purple aliens, or the omnipresent "furry," there's never a shortage of weirdness in the virtual world of Second Life. And Boellstorff's lecture also has the distinction of putting its money where its mouth is — the session is the first and only to occur simultaneously in the physical world as well as the virtual world of Second Life.
In his own words: "Virtual worlds create the option for someone to create avatar bodies that look in some way like their physical-world bodies, are radically different from their physical-world bodies, or both," says Boellstorff. "The choices people make in this regard tell us a lot about what it means to have a body online and offline as well."
Where: University of Illinois at Chicago Forum Main Hall (or on your laptop at home).
When: November 6, 2:30 p.m.
Cost: $10; teachers and students free.
—Brandon Goei

Margaret Livingstone
Who?: Margaret Livingstone is a neurobiologist at Harvard Medical School. She is also the author of a popular book for both scientists and non-specialists, "Vision and Art: The Biology of Seeing."
Event: What Art Tells Us About the Brain
What you'll find out: What makes Mona Lisa's smile elusive? Why do Impressionist paintings shimmer? Livingstone will analyze how color and luminance processing create the impression that an Op Art painting is moving, how the Impressionists painted air, and the principles of Henri Matisse's use of color.
Margaret Livingstone and her team at Harvard Medical have discovered a specific connectivity between distinct regions in our field of vision and how they help us process form, color, motion, and depth.
Why: Livingstone will explain the biological mechanisms that drive our appreciation of great paintings and ultimately make them work. "Frequently, it's got something to do with luminance, which artists refer to as value," she explains.
In her own words: When asked, "Why do you think art students should attend your lecture?" she answered, "I get my most interesting questions and feedback from people in different fields from my own."
Where: The Art Institute of Chicago, Fullerton Auditorium.
When: November 6, 11:00 a.m. – noon.
Cost: $5.00; teachers and students free.
—Alejandra Monserrat Gonzalez Romo

Martha Lavey and Joseph Roach
WHO ARE THEY? She is the artistic director and an ensemble member of the Steppenwolf Theatre, who also has performed on stage a dozen times in both Chicago and New York City. He is Sterling Professor of Theater and English, chair of the Theater Studies Advisory Committee, and director of theater at Yale University.
Event: The Actor's Body: An Owner's Manual
What you'll find out: More than an incarnation of humor and harmony, the actor's body is an instrument that can be used for anything, from lofty, heroic acting in a Shakespearean tragedy to hilarious mime in a Charlie Chaplin silent movie. This discussion draws insight from the viewpoints of both the performing practitioner and the theater study scholar, shedding light on the source of actor's craft through a survey from ancient to present.
Why: Martha Lavey has been a grant panelist for major awards in the performance art world, including for the National Endowment for the Arts, The Steinberg Distinguished Playwright Award, and The Theatre Communications Group (TCG). Roach's books on theater, acting and charismatic celebrity have won him numerous awards, including the James Russell Lowell Prize from MLA and the Calloway Prize from NYU.
Where: Harold Washington Library Center, Cindy Pritzker Auditorium.
When: November 13, 3:30 p.m.
Cost: $5; students free.
—Ziyuan Wang

Chandler Burr
Who: Acclaimed perfume critic for the New York Times, Chandler Burr, will be presenting one of his well-respected and entertaining lectures on creating and maintaining his prominent role in the world of scent. Previous to working on perfume, Burr primarily wrote stories requiring the use of his Advanced International Studies degree.
Event: The Art History of Scent: 1889-2011
What you'll find out: A chance meeting with olfactory scientist Luca Turin on a train from Paris to London "scent" Burr into a journalistic-frenzy, and launched his journey to becoming the only English-speaking perfume critic to date. Burr's column, Scent Notes, defines the latest and greatest of both men's and women's colognes, from summery scents to olfactory orgasms and pungent perfumes.
Why: Burr's words laced with vivid description affix an indisputable vision of a perfume mastermind. So it's no wonder his presentations leave you feeling swept away on an amusing, whimsical journey of scent.
In his own words: In the San Francisco Chronicle, Burr describes Lovely, a perfume developed by actress and fashion extraordinaire, Sarah Jessica Parker. "Lovely is the lightest olfactory party dress of powder and sweet. … It reveals the scent of the skin of the shoulders below, the scent of a clean, warm very human body that might be walking energetically up Bleeker Street past Goodfellas and Ovando toward Greenwich Avenue."
Where: Northwestern University Law School's Thorne Auditorium.
When: November 14, 11:30 a.m. – 12:30 p.m.
Cost: $10; students and teachers $5.
—Shannon Race

Amy Adler
Who?: Amy Adler is a law professor at New York University.
Event: Censored! The First Amendment, Sex, and Obscenity
What you'll find out: Why does the influx of oversexed youth mean our rights as free, law-abiding, and masturbating citizens have to be taken away from us? While laws forbidding child pornography are one thing, outlawing sex toys is quite another. Has America gone too far? When does censorship go from protection to prevention?
Adler will address these questions and more as she discusses everything from child pornography to feminist theory to "sexting." Joined by law professors Geoffrey Stone of University of Chicago and Martin Redish of Northwestern University, Adler seeks to dissect the lurid details behind how and why censorship exists and what it means in a time filled with the oversexed chat-roulette and minors sending nude photos of themselves over the Internet.
In her own words: "Child pornography law was crafted to protect children from pedophiles, but now what we have is the law applying to situations where the child himself is making the pornography. So it's this odd situation where suddenly the pornographer and the victim are one and the same person. And in my view that's not the kind of scenario that child pornography law should cover," says Adler in a recent interview.
Where: Northwestern University Law School's Thorne Auditorium.
When: November 13, 4:30 p.m.
Cost: $10; students and teachers $5.
— Sarah Taylor